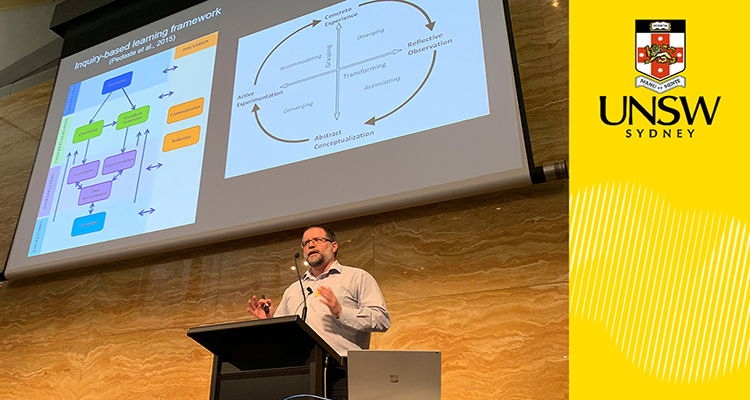 The University-wide, cross-faculty Learning and Teaching Forum will showcase good practices for educational excellence and student support experiences. 
Passionate educators from across UNSW will come together in November to share insights and innovation with their peers and the wider UNSW community at the 2020 Learning and Teaching Forum. 
This year's theme, 'Learning without limits: Leading the change', will focus on the challenges and triumphs of teaching during this disruptive learning and teaching period of 2020. 
As one of the many examples of such disruption in education, for the first time, the Forum will be run fully online over two half-day morning sessions on 19 and 20 November 2020.  
"The Learning and Teaching Forum gives staff an opportunity to share their research and teaching practice, bringing learning, and teaching out of the classroom and into professional conversation," said Catherine Ryan from Academic Development Services in the Pro Vice-Chancellor, Education portfolio. 
"The event allows staff to learn of good practice examples across other disciplines and to feel part of a bigger cohort of enthusiastic educators. Including the student voice in all presentations, either in person or via video, provides a balanced and important perspective of the learning and teaching being undertaken. The Forum continues to be inclusive, stimulating, and collegial," Ms Ryan said. 
Now in its 17th year, the Forum will feature presentations and poster submissions from all corners of the University, making it one of the most important interdisciplinary events for educators at UNSW.  
Presentations and posters can focus on, but are not confined to, the following areas: 
Developing an online learning community 
Online assessment 

Using synchronous or asynchronous lectures as a preferred method of delivery 

Capability building 

Rethinking assessment 

Student assisted course design. 
Expressions of interest for presentation and poster submissions will close on Friday, 25 September 2020. 
 
Find out more details about the Forum and submitting an expression of interest at unsw.to/lntforum 
Comments