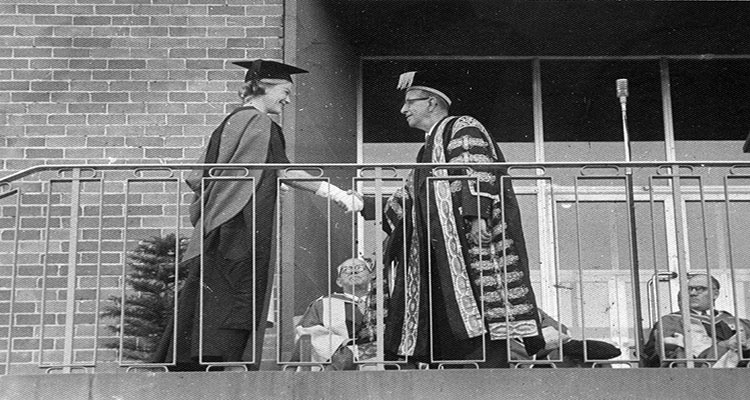 To celebrate UNSW Archives' 40th anniversary and to pay tribute to UNSW's female trailblazers, Archives has announced the launch of the UNSW Women Exhibition.  
The online exhibition profiles some of the great women who have achieved key firsts at UNSW throughout its history.  
You may have eaten at JG's Café in the Dalton Building, but did you know it was named after the University's first female graduate?  
The JG in question is June Griffith, who graduated from the university with a Bachelor of Science in Applied Chemistry in 1952, and later became a lecturer in the School of Chemistry. The café was named in her honour in 2000.  
Did you know that UNSW was the first university in Australia to appoint a female professor to be the head of a university school?  
Judith Robinson achieved this distinction in 1963 when she took up her position as UNSW's Foundation Chair of French and as Head of the then School of Western European Languages. She was also the first woman to hold a full professorship at UNSW and the first woman in Sydney with a full and permanent chair.  
And did you know that UNSW had the first Indigenous graduate in Law?  
That was Pat O'Shane, who was admitted to her degree in 1976. Pat O'Shane was also Australia's first Indigenous barrister, as well as the first woman and Indigenous person to be appointed head of a government department. 
To read out more about these pioneering UNSW women and many others, visit the UNSW Women Exhibition here.  
Comments