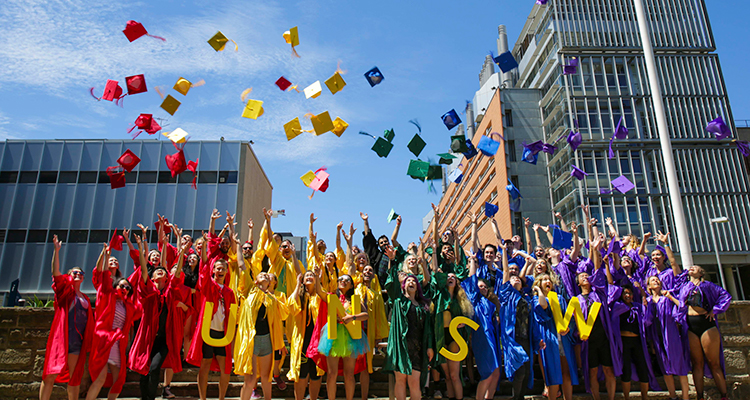 The theme for Sydney Gay and Lesbian Mardi Gras 2020 is 'What Matters! Together, we create the community we live in, and united we can fight for the issues that matter to us.'
As part of the Sydney Gay and Lesbian Mardi Gras celebrations, UNSW is calling for 1,000 people to make UNSW's first Human Rainbow on Wednesday 26 February at 11am – 12pm down University Mall, Kensington Campus.
Staff, students, and alumni are invited to join together as a community to wear vibrantly coloured shirts as a symbol of our solidarity and acceptance of the LGBTIQ+ community both here and across the world.
The event marks the beginning of a series of activities held to celebrate Mardi Gras at the University – an important time to empower and celebrate the LGBTIQ+ community.
While there has been significant progress made to achieve greater equality, this community is still experiencing high rates of discrimination. For example, the proposed Religious Freedom Bill could undermine the human rights of LGBTIQ+ people, by giving religious businesses, schools and organisations the right to exclude or object to people on the basis of their sexuality and/or gender identity.
The UNSW Human Rainbow is a colourful opportunity to unite against discrimination and acknowledge the achievements of the rainbow community.
You can register to attend the event here
Other fantastic events taking place on campus as part of Mardi Gras include:
All week: Queer Collective student-built Interactive Installation, University Mall
Find out more about UNSW's commitment to Equality Diversity & Inclusion here.
Happy Mardi Gras!
Comments