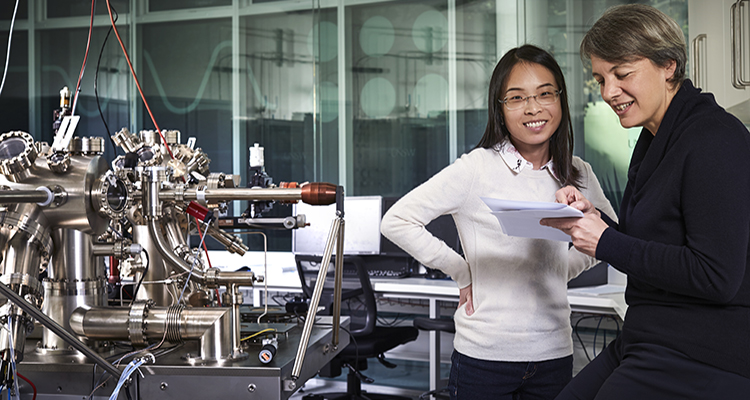 The UNSW Scientia PhD Scholarship Scheme is looking for high-quality research projects to support the recruitment of Higher Degree Research (HDR) candidates.  
The call for projects for the UNSW Scientia PhD Scholarship Scheme 2021 round will open on 17 February 2020. This provides UNSW research supervisors the opportunity to nominate their project for the UNSW Scientia PhD Scholarship Scheme commencing in term 1, 2 or 3 in 2021. Supervisors with an approved project will be able to recruit up to two PhD candidates for their project.
The Scheme funds candidates for four years and also provides support for career and leadership development. There are 90 scholarships available for the 2021 round.
"The Scientia PhD Scholarship Scheme offers key benefits to researchers as they get to define research projects of interest to them and determine the ideal candidate for that project," says Professor Jonathan Morris, Dean of Graduate Research and the Chair of SHARPest (Strategic Hires and Retention Pathways educational stipend).
"We are looking to engage candidates who have not only the academic excellence to succeed but also have experience in social engagement and global impact.
"These well-rounded candidates bring diverse and unique perspectives to our research."
To support Scientia PhD candidates, the Scheme seeks high-quality projects and supervisory teams across all faculties and disciplines. These will be assessed by the SHARPest committee according to the quality of the supervision team, alignment with strategic research areas and alignment to the aims of the UNSW Strategy 2025. In contrast to our other prestigious UNSW scholarship schemes, the UNSW Scientia scheme is targeted so applicants must apply to a specific research area with an identified supervisory team and project.
Preparing your project submission
Supervisors are encouraged to submit a project title and descriptions that will be attractive to potential PhD candidates. The Graduate Research School has tips in making sure your project resonates with the right candidate:
Project titles and project descriptions should be engaging to potential applicants: explain your research using language that provides specific detail of the subject matter but avoids overly technical language.

Share your project title and abstract with someone outside your field of research before submitting. Do they understand what you are trying to achieve and who you are looking for in an ideal candidate?

Discuss your plans with your Associate Dean of Research Training (ADRT) or Director of Postgraduate Research before submitting.
The 2021 round of the UNSW Scientia PhD Scholarship Scheme will support key strategic areas of research: 
Biomedical Sciences

Contemporary Humanities and Creative Arts

Global Health

Grand Challenges

Indigenous

Interdisciplinary Research

Law, Business and Economics

Social Justice, Government and Health Policy

Technology and Innovation.
Scientia PhD candidate Jane Qian and Scientia Professor Michelle Simmons speak about the benefits of a Scientia PhD Scholarship
A successful initiative of UNSW's 2025 Strategy, the UNSW Scientia PhD Scholarship Scheme is now in its fifth year of recruitment with the first cohort submitting their PhD theses in the next 12 months. It aims to attract exceptional people into strategic research areas and provide them with an enhanced culture of research excellence, mentoring, career development, leadership and community. The scheme will ensure that candidates reflect the disciplinary, gender and cultural diversity of UNSW.
Projects can be submitted for assessment between 17 February and 13 March 2020.
Teams and projects will be assessed by the Faculty's Associate Dean of Research Training (or equivalent) and then reviewed by the SHARPest committee. Successful projects will be advertised in mid-April 2020.
Find out more about the Scientia PhD Scheme.
Comments