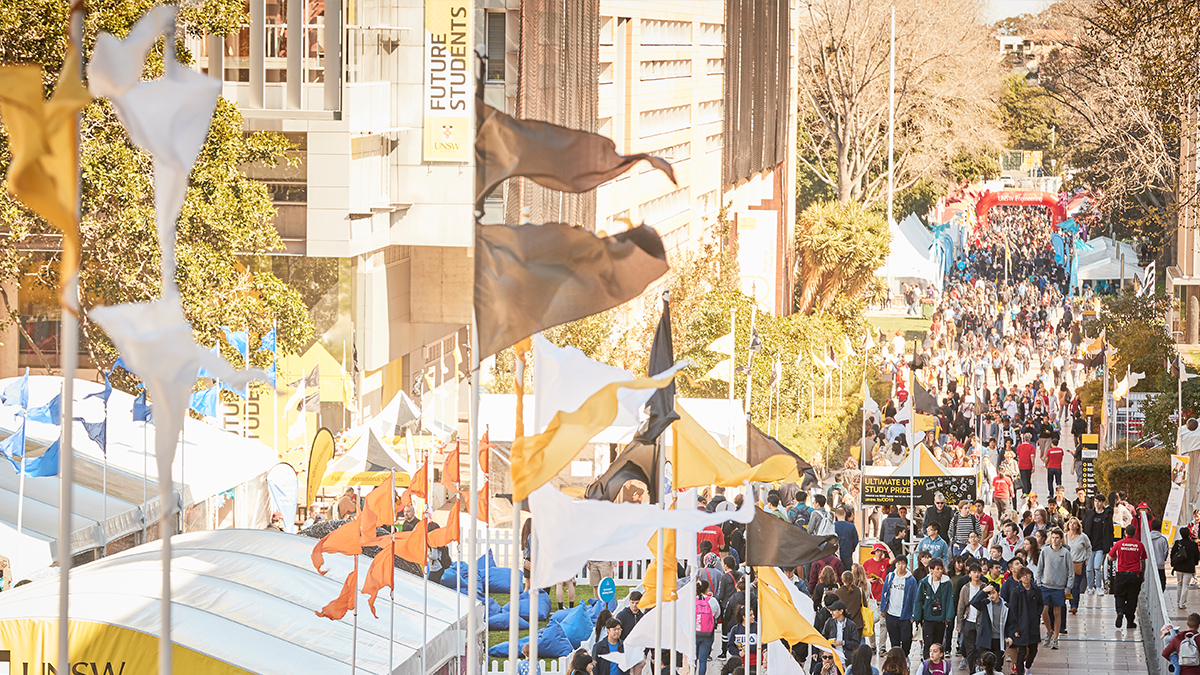 UNSW Sydney's Open Day will be held 9am – 4pm, Saturday 2 September 2023.
With over 35,000 attendees expected, Open Day is UNSW's largest on campus event of the year. It is an important opportunity to open our doors to curious high school students considering their future study options, their parents/caregivers, postgraduate students, alumni and the general community.
"Welcoming future students and their families on campus provides them with a unique opportunity to experience UNSW firsthand and understand the benefits of attending a global top 20 university which is #1 in Australia for graduate employment outcomes," says Sofia Lloyd-Jones, Director of Future Students.
"It enables us to showcase the best of UNSW, including our distinctive brand, degrees, and our vibrant student experience opportunities. Most importantly, connecting prospective students with our people is key to bringing our community to life. We really appreciate the effort across the entire institution that goes into making Open Day a spectacular experience for all."
This year's Open Day creative theme centres around students joining the Mission for Earth Habitation, which aims to bring UNSW's purpose to life for a Gen-Z audience while showcasing our graduate employability and world-leading research and teaching impact. The creative theme threads through the Open Day promotional campaign, which is live across digital channels and out of home locations across greater Sydney, and it comes to life on the day through large scale event activations and keynote panel talks.
"Through the Mission for Earth Habitation we hope to excite and inspire students to take action in shaping a better future across areas including climate action, mental health & wellbeing, and humanity & technology."
With the release of Gateway Admission Pathway and Portfolio Entry early offers and early conditional offers on the 1 September, this year's Open Day will also be a key opportunity to engage and convert the cohorts of prospective students applying through these entry pathways.
"From providing tailored advice across the central and faculty advisory zones to delivering lectures, behind the scenes tours and activities, and showcasing our diverse student life opportunities, thank you in advance to all the staff involved for the wonderful knowledge, expertise and passion you bring each year to making this important student recruitment event such a success," concludes Sofia.
Comments