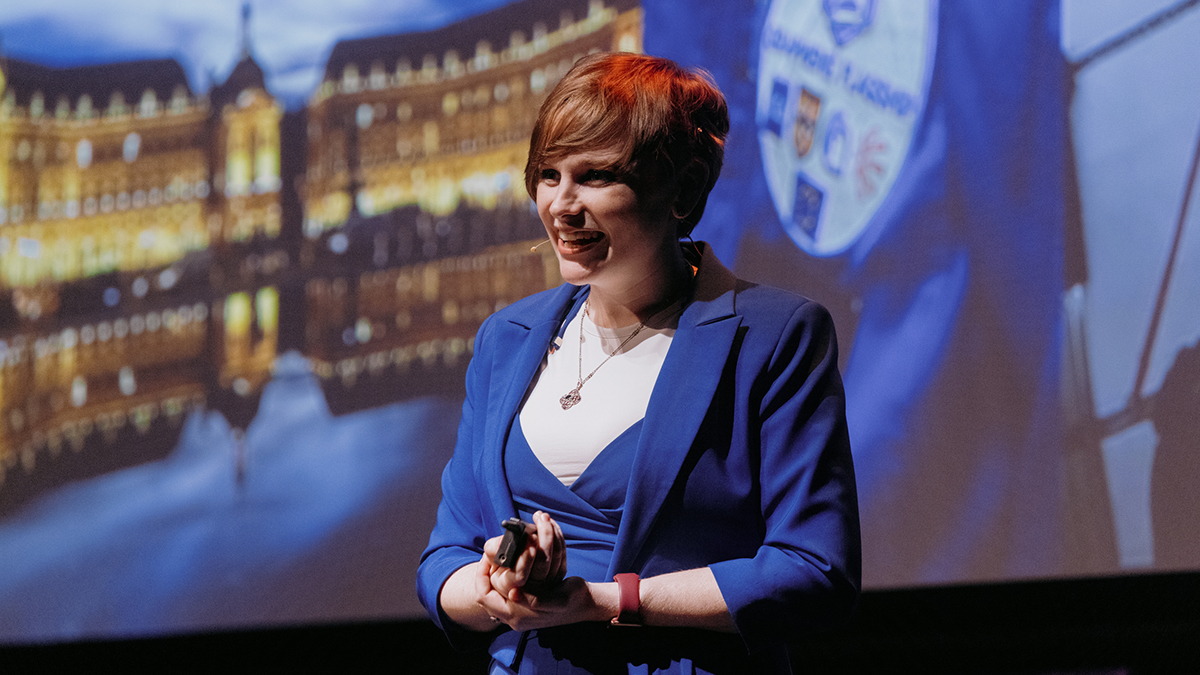 World-leading researchers from UNSW came together in a celebration of science, medicine, and engineering for the 2023 UNSW x National Science Week which ran from 14-21 August.
The UNSW Centre for Ideas, with faculties of Medicine & Health, Engineering and Science presented an awe-inspiring program featuring many UNSW scientists and researchers that delved into topics such as becoming an astronaut, the secret to happiness, medicinal benefits of psychedelics, and reversing the impact of climate change on our ecosystem.
Headlining this year's Science Week was UNSW alumna Meganne Christian, who is poised to become one of the first Australian women in space. Her flagship event titled Meganne Christian: An Evening with a Future Astronaut was chaired by Aude Vignelles, Chief Technology Officer of the Australian Space Agency.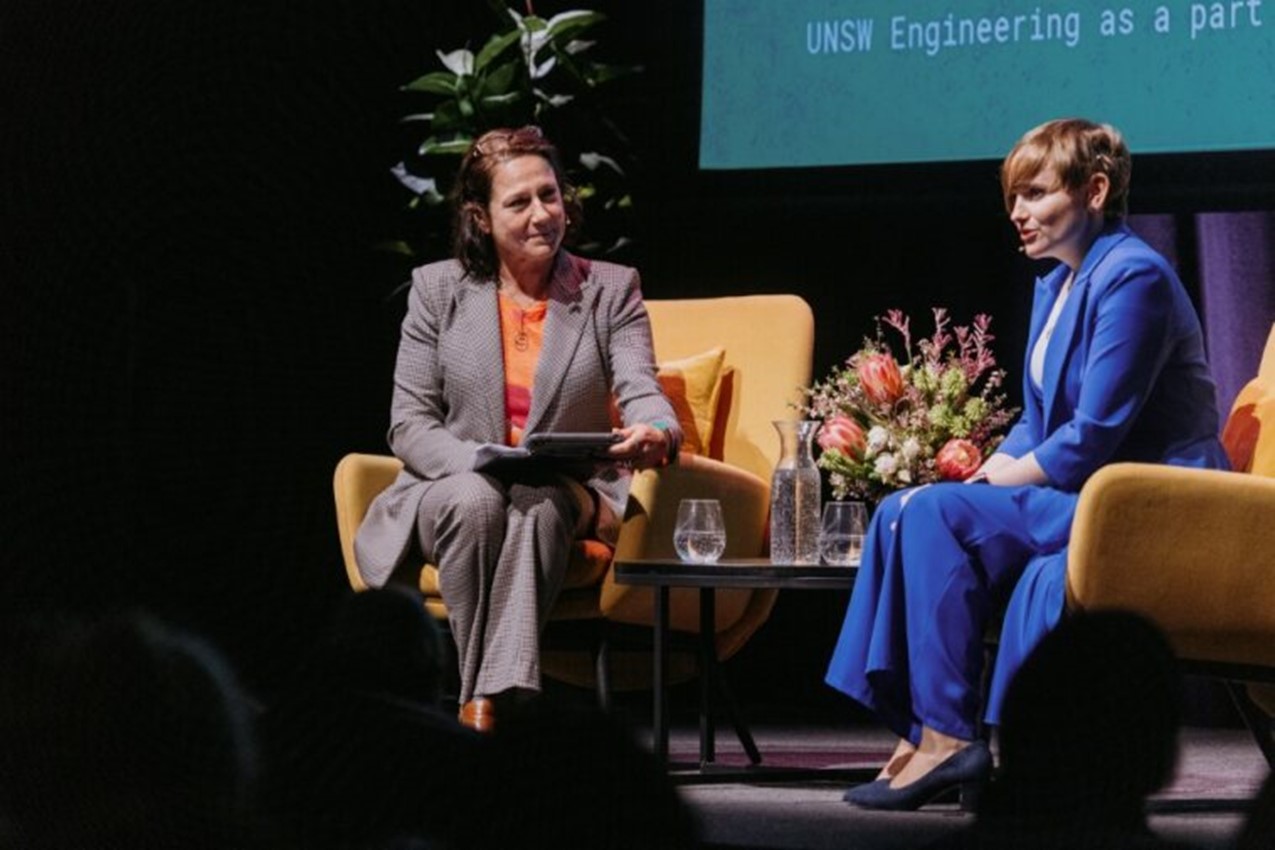 Aude Vignelles and Meganne Christian
The pair discussed Dr. Christian's inspiring journey from being an engineering student at UNSW to becoming a member of the European Space Agency astronaut reserve, and the rigorous selection process that tested both physical and mental strength.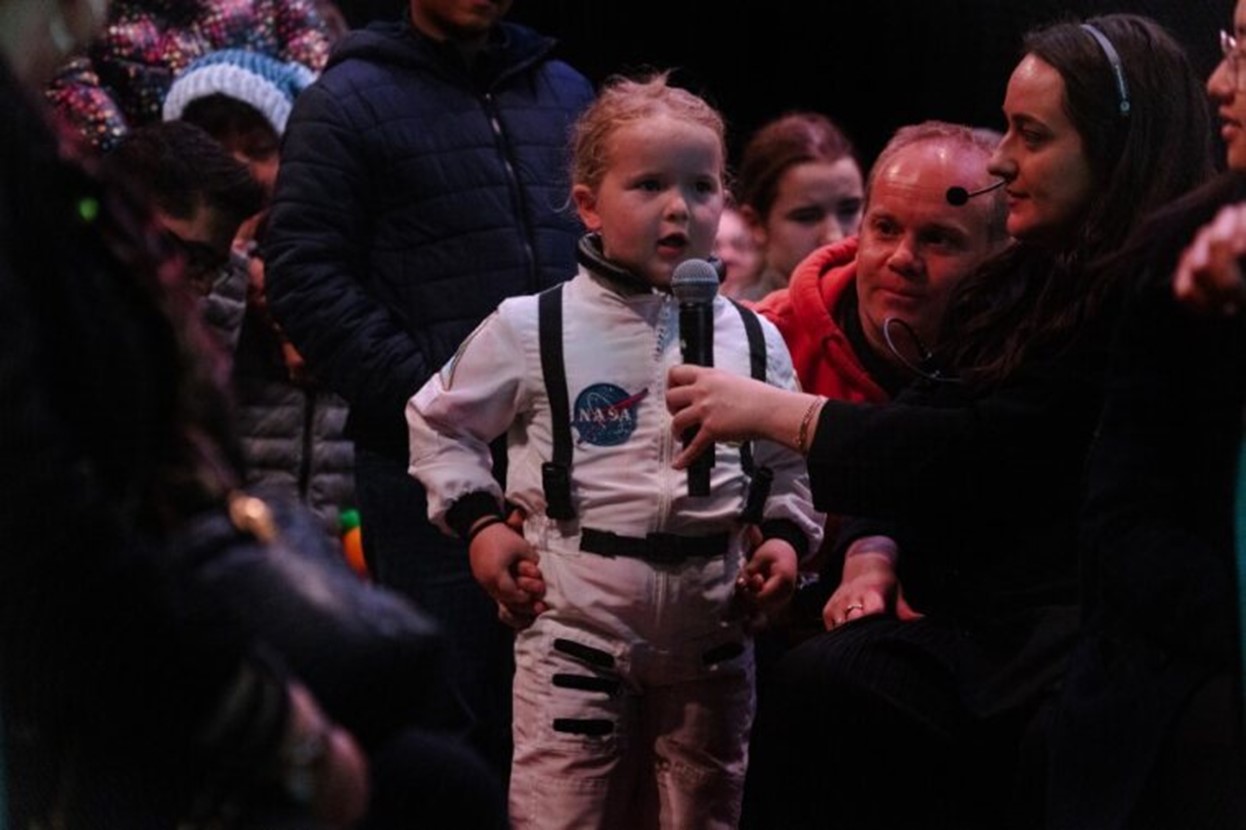 Science Week aims to celebrate and foster inspiration for the sciences.
Dr Christian's presentation stressed the importance of space research and the impact such research has on our everyday lives.
A special morning tea attended by UNSW Vice-Chancellor and President Professor Attila Brungs was also held last Thursday where Dr Christian shared her story with a group of UNSW Engineering students, including the presidents of The Women in Electrical Engineering and Telecommunications (TWEET). This event was also attended by high school students who won the UNSW Girls in Engineering Club Humans in Space Innovation Challenge.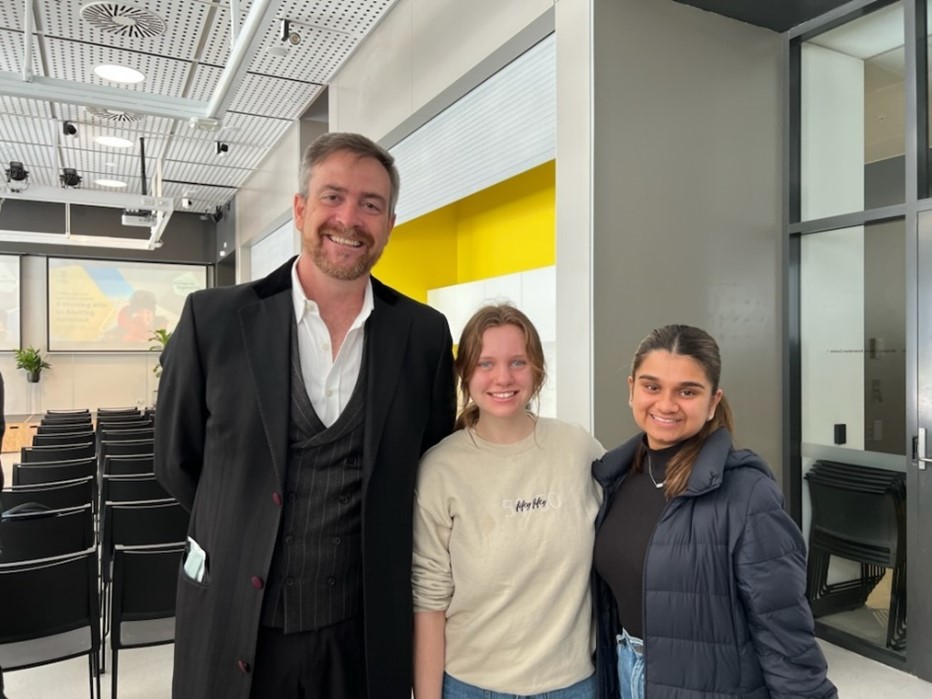 UNSW Vice-Chancellor Attila Brungs pictured with UNSW engineering students Josie Kelly, current President of TWEET, and Pavitraa Hathi, President of TWEET in 2022. 
A host of other in-person and online events were held during the week, such as the Rewilding panel discussion, Robert Waldinger's Unlocking the Secret to Happiness, and the Psychedelics panel discussion that unpacked the possible medicinal benefits of psilocybin and MDMA.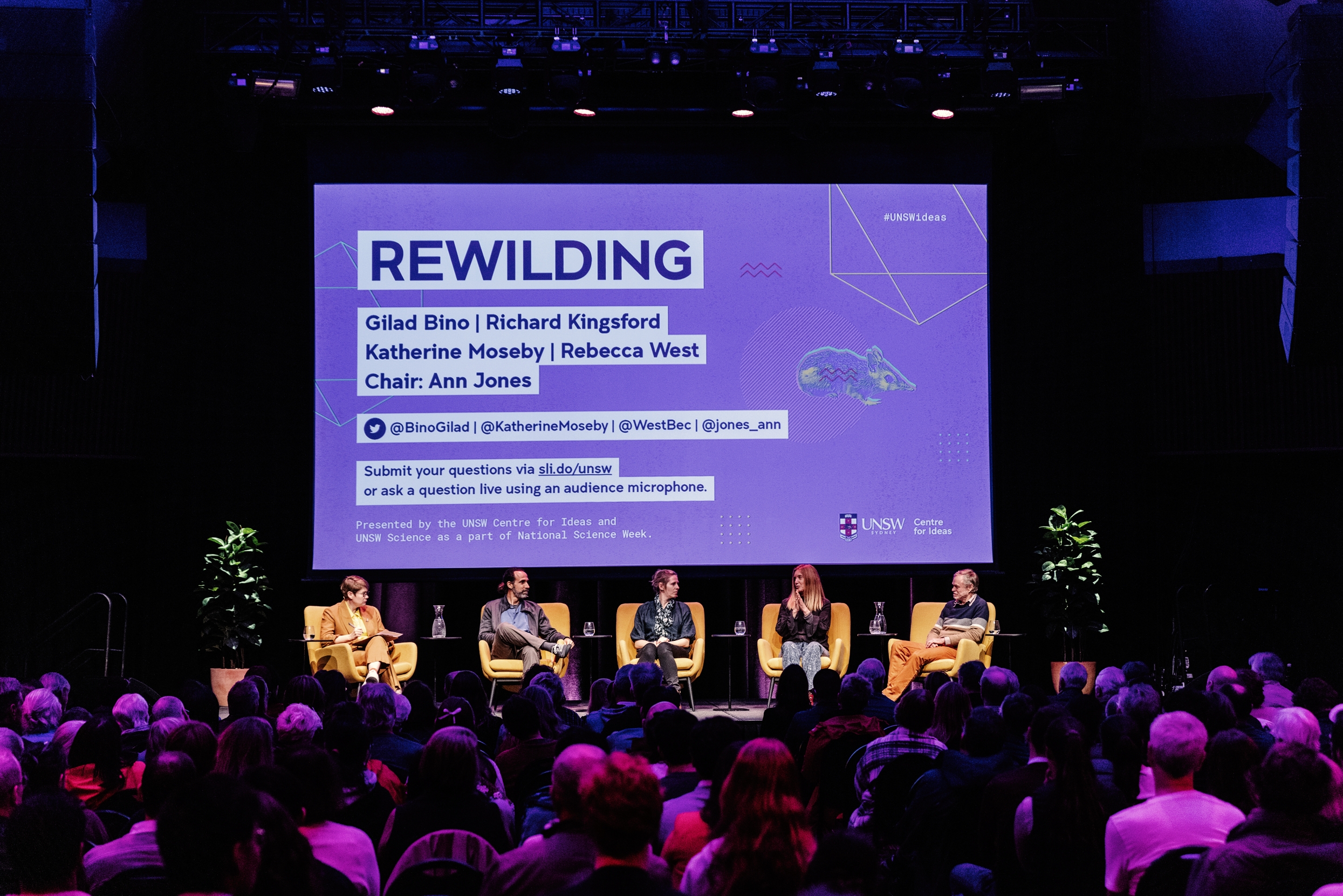 Panellists at the Rewilding event: Ann Jones, Gilad Bino, Rebecca West, Katherine Moseby and Richard Kingsford
The Rewilding event highlighted the power of rewilding Australia's fragile ecosystems to save threatened and declining native species in the face of climate change. Panellists included UNSW Sydney's Director of the Centre for Ecosystem Science, Professor Richard Kingsford, Principal Ecologist for the Wild Deserts project Dr Rebecca West, Scientia Fellow and Associate Professor Katherine Moseby, and Lead Researcher for the Platypus Conservation Initiative Dr Gilad Bino.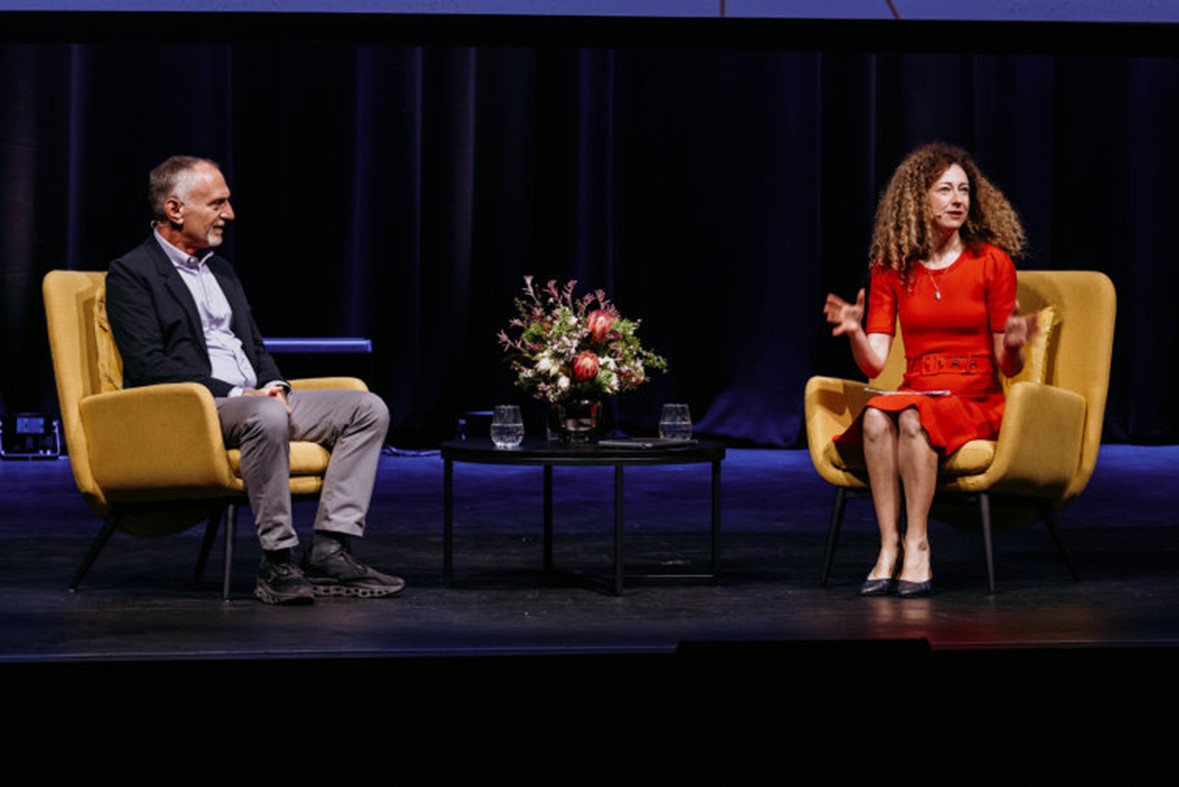 Robert Waldinger and Dr Stephanie Ward
A remarkable 85 years of research from the Harvard Study of Adult Development was discussed by panellists Robert Waldinger and Dr Stephanie Ward, who highlighted the power of relationships in fostering happiness rather than financial wealth or our work.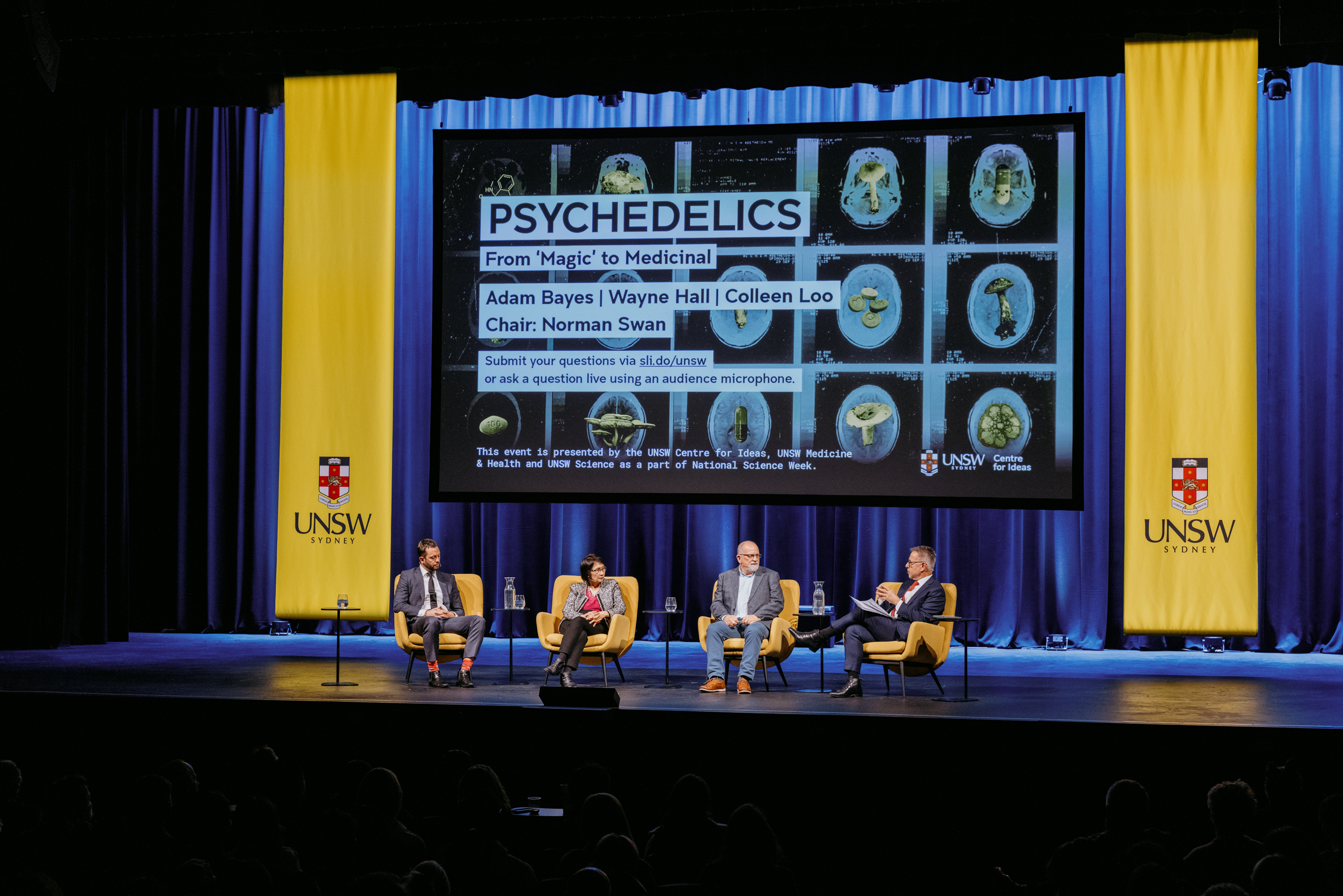 Panellists at the Psychedelics event: Adam Bayes, Colleen Loo, Wayne Hall and Norman Swan
UNSW research fellow and psychiatrist Dr Adam Bayes, Professor Colleen Loo, and Emeritus Professor Wayne Hall unpacked the stigma, myths, and possible paths forward in relation to the application of psychedelic drugs for psychiatric treatment in light of psilocybin and MDMA becoming available for prescription.
UNSW Dean of Science, Scientia Professor Sven Rogge, said he felt proud of the University's contribution to this year's National Science Week.
"Last week, I had the pleasure of attending our National Science Week events. The breadth of our conservation impact was on display at the 'Rewilding' event. Discussions on platypus and desert marsupial restoration projects highlighted Australia's capacity to restore our ecosystems," Prof. Rogge said.
"At 'Psychedelics: from Magic to Medicinal', I enjoyed the exploration of how psychedelics have the potential of unlocking answers for treating complex mental health issues and the discussion around how scalable these solutions are."
Comments