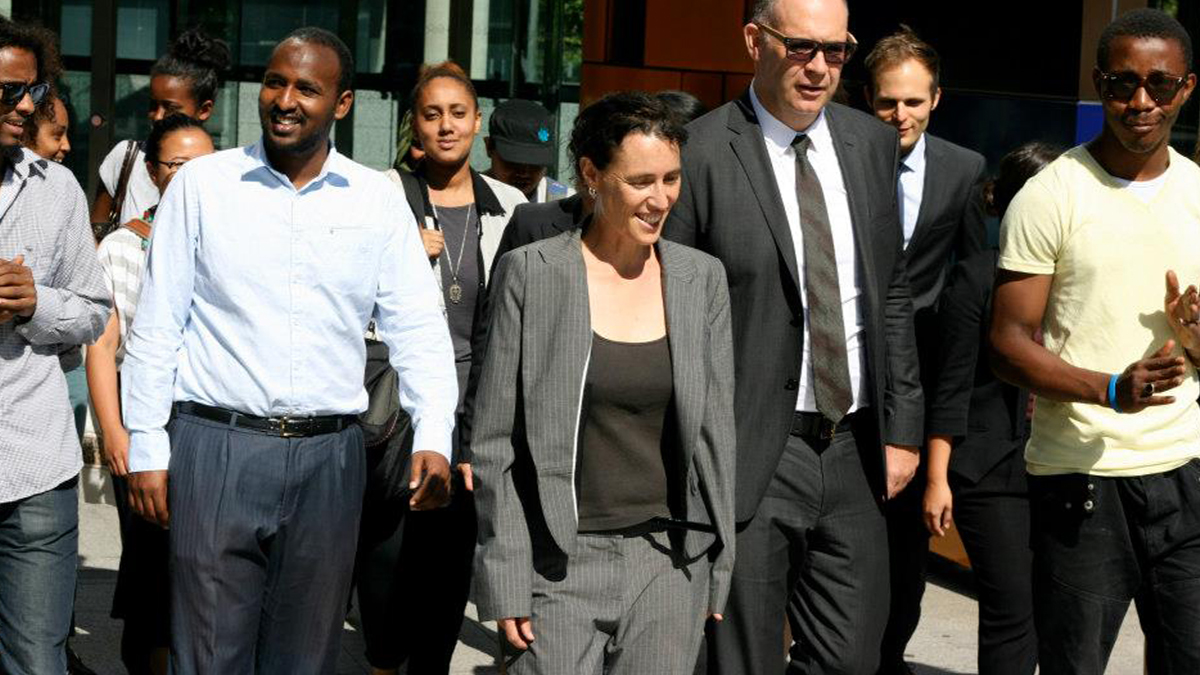 Tamar Hopkins has been awarded the PhD Award for her thesis on racial profiling of law policing in Australia.
Racial profiling is an under researched area of law and policing in Australia. No police organisation in Australia routinely releases data relevant to racial profiling, nor is racial profiling defined in any Australian legal case. The aim of Tamar's thesis was to explore whether there was any evidence of racial profiling in Australia.  As part of this exploration she examined whether common law foundations for understanding racial profiling exist in other jurisdictions. If so, what effect would applying these concepts to existing Australian case law have on the visibility of any unspoken story of racial profiling within them?
Tamar's thesis investigated the meaning of racial profiling and its application in an Australian context. Her thesis asked: 'Does racial profiling exist in Australia?'. Three methods were used to examine this question. In the first strategy Tamar applied four common law concepts developed by Canadian courts to existing Australian caselaw to determine whether they enable the disclosure of racial profiling in those cases. In the second strategy, she conducted a survey of 981 people from Victoria, Australia who have been stopped, questioned or searched by the police following a vehicle, pedestrian or cyclist stop. Her third strategy used the same survey data to explore whether there were particular tactics the police used more frequently against racialised people.
"Tamar's thesis gives original and fresh scrutiny to the practices that make up institutional police racism," said Tamar's supervisors, Dr Vicki Sentas and Professor David Dixon. "Her work goes further, providing a method to identify and respond to racial profiling that can change how courts, policy makers and police think about, and become accountable for racism. Tamar's research is already making an impact in shaping understanding of racial profiling in practice in Victoria. This is remarkable in a field notoriously resistant to critique and reform. What's inspiring about Tamar is her work all throughout her candidature to use her research to support impacted communities and for systemic change."
Professor Lyria Bennett Moses, Associate Dean (Research) in the Faculty of Law and Justice who collected the award on Tamar's behalf, added "Tamar's receipt of this important and highly competitive national award is testament to the quality, originality and importance of the work she did in her PhD, under the guidance of her supervisors."  
The Australian Legal Research Awards PhD Award celebrates research excellence by PhD students. The objective of this Award is to recognise excellence in doctoral studies by candidates who have been awarded a PhD in Law from an Australian university. 
Tamar was very proud to receive the prize for PhD research. "It raises the profile of racial profiling in Australia and underscores the value of both quantitative and legal research in this area," she said. 
"I would like to thank my incredible supervisors Dr Vicki Sentas, Professor David Dixon and Emeritus Professor Janet Chan. I would also like to thank Dr Gordana Popovic from the UNSW Statistical Consulting Unit. I dedicate this award to the movement for racial justice and to  communities, advocates and lawyers working to expose and make accountable the machinery of racial injustice."
Comments