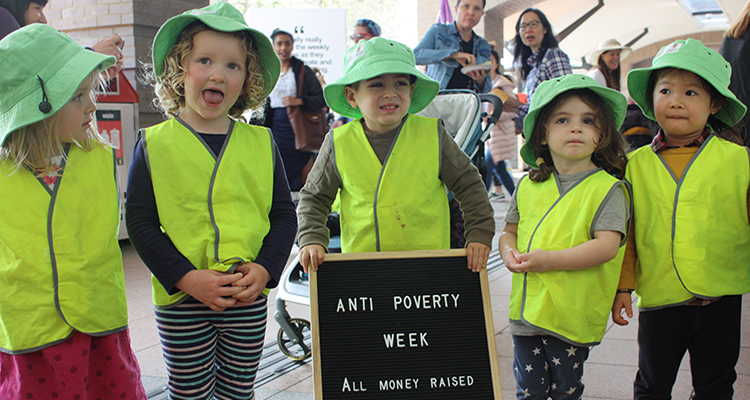 The annual Tigger's Honeypot Anti-Poverty Week bake sale this week taught preschoolers valuable lessons, while also raising money for OzHarvest.
"Who wants cake? Cakes for sale!" shouted three-year-old Sia Dunbar by the UNSW Library Lawn.  Around her were groups of her little friends from Tigger's Honeypot at UNSW Early Years carrying baskets of goodies and selling them to staff and students.  
The Tigger's Honeypot's annual bake sale was held on the Kensington campus this week. Children, families and educators baked an amazing array of cakes, cookies and creations and sold them by the Library Lawn to raise money for Anti-Poverty Week. 
Tigger's Honeypot Co-Director Kristina Xenos said the childcare centre's embedded philosophy towards social justice means the bake sale is more than selling baked goods. "The children are aware of why Tigger's holds the cake stall during Anti-Poverty Week. We involve them at all stages of the event: designing the promotional posters, baking, selling the goodies around campus, choosing the charity, and even counting the money after the event," she explained. "By involving the children, they learn they can be active participants in their world and are capable of positive change within their community."   
The bake sale also provided an opportunity for families to spend some time with their children and friends. "Not only are we supporting Anti-Poverty Week, but it was so lovely to take an hour out of my day and have some quality time volunteering with my daughter," said Rob Dunbar, father of Sia and part of the Office of the Pro-Vice-Chancellor (Education). "To see her face light up when I saw her was priceless, and almost as happy as the faces of my colleagues when I brought a group of the children selling treats back to the office!" 
The centre raised over $1,300 which will be donated to OzHarvest, the charity chosen by the children.  
Comments