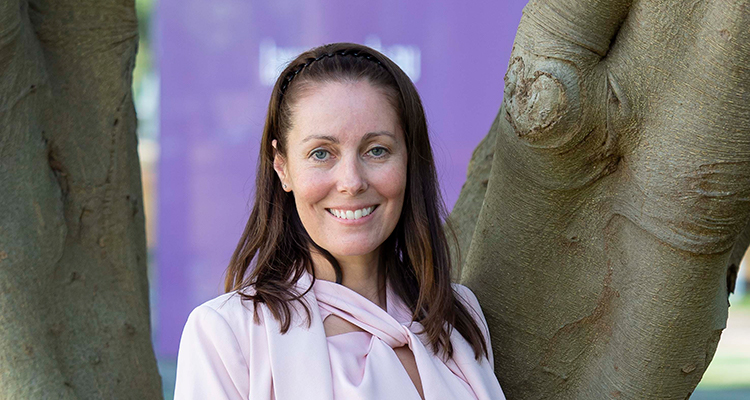 Dr Jennifer Schulz Moore from UNSW Law has taken out an industry-sponsored accolade for the best teacher in a first year UNSW undergraduate program.
As a teacher, you know you're doing something right when almost all your students consider you the best at what you do. 
UNSW Law Senior Lecturer Dr Jennifer Schulz Moore is certainly the most inspiring. 
Dr Moore is a lawyer with a PhD in Public Health. She combines these fields to specialise in health law and torts, throwing her passion into every classroom interaction. 
Almost 87 per cent of her students voted for her as the KPMG Inspiring Teacher Award, acknowledging her outstanding teaching and mentoring as the students transitioned to university life while taking on study that, to many, was daunting. 
The award comes in just the second year of Dr Moore's UNSW tenure. She was runner-up for the gong in 2017, shortly after joining the University's teaching staff. 
She also received the Law Dean's Award for Educational Excellence last year. 
Organised by the Office of Pro Vice-Chancellor (Education), the Inspiring Teacher Award celebrates teaching excellence of first year undergraduates at UNSW Sydney. 
The Law Faculty says the fact that 58 of Dr Moore's 67 students took the time to vote showed how much she deserved the recognition. 
Comments from her students say she is a "phenomenal teacher" with "endless enthusiasm and passion that she brings to each lesson". 
One remarked that Dr Moore had been a "perfect mentor for first semester and beyond" and had even influenced their study direction. 
"I have always wanted to do criminal law, but her focus on health law and medical negligence has opened a new door for me, and I will most certainly be taking this course in the future," the student wrote. 
Dr Moore is inspired by the recognition, which she sees as a reflection of her hard-working, bright and committed students. 
"I'm absolutely thrilled and delighted. It's inspiring for me, actually. It has really, really encouraged me to keep up the hard work," she says. 
"I put a lot of effort and time into my teaching, so it's just great to get the feedback from students that they appreciate it. 
"I wake up and have a spring in my step and think, 'Ooh yay, it's teaching [time]'. 
"I miss the students when it's the non-teaching period because they're so great. It's just wonderful to come to work, really." 
One reason behind her students' overwhelming response to her teaching is the small size of law classes which, she says, allows for more interactivity. 
It's something for which she is quick to credit the University. 
"I think it's really important at this law school that we teach to small groups," she says. 
"I want to thank the UNSW Law leadership team, and the University, for creating and sustaining a wonderful learning environment. It is one of the reasons I wanted to work here." 
Another factor is Dr Moore's nurturing approach to her students, many of whom had expressed fears about studying law, before taking her classes. 
"I do meet lots of students who say, 'Ooh, I thought I could never study law. I thought it would be too hard'," she says. 
On top of this, Dr Moore's teaching is informed by her interdisciplinary approach. 
"I'm trained in a range of subjects – law, health policy, medical sciences, particularly epidemiology, and health sociology," she says. 
"I started my university studies with humanities and social sciences, then I studied medical sciences, and then law – and now I combine all these academic disciplines to specialise in health law and torts." 
Dr Moore's 'giving back' relates to her own, clearly inspired, time at university. 
She finished the first of her six degrees, a Bachelor of Arts (Honours), in 1999, ranking as top student across all faculties at the University of Canterbury in New Zealand. 
She graduated from Victoria University of Wellington in New Zealand in 2010 as the top-ranked student in law (LLB). 
Between those years, she completed a PhD in epidemiology at the University of Melbourne and worked as a lecturer in medicine at Monash University in Melbourne and the University of Otago in New Zealand. 
"When people ask why I have studied so many different disciplines, I respond that I genuinely love learning," Dr Moore says. 
"In class, I share my passion and love of learning with my students. The intersection between the health and legal systems is really fascinating." 
In addition to her UNSW Law teaching, Dr Moore works with UNSW Medicine in teaching, supervisory and research roles. 
Away from UNSW, she is a barrister and solicitor of the New Zealand High Court, having completed her professional legal training for admission in 2010. 
Comments