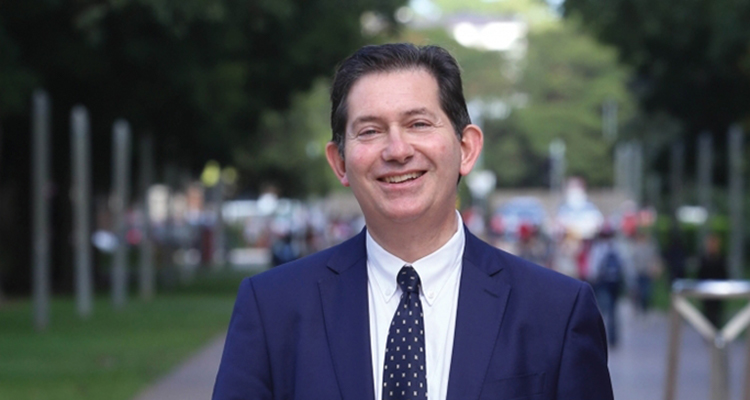 Colleagues
There was a wonderful sense of collaboration and generosity in partnership at the Town & Gown dinner on Wednesday, UNSW's annual event bringing together UNSW's supporters and partners from across the community and industry. The event provides a chance for us to celebrate the many individuals and organisations that work with and support our university, and to showcase our achievements. From the Gown, we heard from Gemma McKinnon, from the Office of the Pro Vice-Chancellor (Indigenous); Inaugural Judith Neilson Chair in Architecture, Professor David Sanderson; and Director of the Andrew and Renata Kaldor Centre for International Refugee Law, Scientia Professor Jane McAdam. From the Town, we heard from Dr Graeme Innes AM, Former Disability Discrimination Commissioner; Shamal Dass from the Centre for Social Impact Advisory Council; and Ayesha Nazir, current ASPIRE Project Officer within AimHigh at UNSW and recent UNSW student. Thanks to everyone who contributed to a successful and inspiring event. 
The same evening we heard the exciting news that Professor Megan Davis, our Pro Vice-Chancellor (Indigenous), had been awarded the 2018 Australian Financial Review Women of Influence Award at a ceremony at Sydney Town Hall. As well as taking out the public policy category, Megan was also recognised as the overall winner, a prestigious and thoroughly well-deserved accolade. Megan's legal advocacy work and her key contribution to last year's Uluru Statement of the Heart, are examples of her outstanding leadership. Congratulations, Megan. 
Congratulations also to Dr Caroline Ford from the Lowy Cancer Research Centre, who was recognised at the Women's Agenda Leadership Awards recently for her contribution to promoting opportunities for women of diverse backgrounds. Dr Ford has supported a number of important initiatives promoting diversity in STEMM, including her role on UNSW's SAGE Athena Swan Committee, and running the STEMMinist Book Club, an online community of almost 3000 supporters of diversity in STEMM. Well done to Associate Professor Phoebe Phillips, also from the Lowy Cancer Research Centre, who has been awarded the prestigious International Eisenhower Fellowship. Associate Professor Phillips is a leading pancreatic cancer expert and will work with US business and political leaders, and leaders in the pharmaceutical industry, to explore new ways to bridge the research-commercialisation gap. And more congratulations to Senior Lecturer at UNSW Law, Dr Jennifer Schulz Moore, for receiving a KPMG Inspiring Teacher Award on the recommendation of her undergraduate students. 
Last week I joined NSW Premier, Gladys Berejiklian, and the Vice-Chancellor of Western Sydney University, Professor Barney Glover, to announce our new collaboration – a joint UNSW/WSU Engineering Innovation Hub in the heart of Parramatta. The hub is an innovative approach to collaboration between universities and a welcome opportunity to increase our engagement in Western Sydney and to deepen our partnership with WSU. 
My thanks and congratulations to everyone who has contributed to the launch of our new Annual Enrolment system, which is one of the key components of the UNSW3+ calendar. Since the first round of student enrolments for 2019 went live on 2 October, more than 23,000 students have enrolled, totaling more than 140,000 course enrolments. In addition to the great work of Shane Griffin and the UNSW3+ team, this has involved key contributions from the IT and scheduling teams, staff at Student Central and the faculty student centres. An enormous effort. Thanks also to the students who supported their peers as UNSW3+ Ambassadors by answering questions in the pop-up student information hubs around campus. Congratulations and thank you, all. Your hard work is greatly appreciated.
Earlier this week I had the pleasure of introducing the new NSW Chief Scientist, Professor Hugh Durrant-Whyte, who delivered the 2018 Kenneth Finlay Memorial Lecture at the invitation of the School of Minerals and Energy Resources Engineering. He gave an impressive and insightful presentation on data automation and innovation in the future of mining, which had lessons applicable to a broad range of industries. 
It was good to hear of the role UNSW played in starting the stellar career of 2018's Prime Minister's Prize for Science recipient, ANU Emeritus Professor Kurt Lambeck AO, who graduated from a Bachelor of Surveying here at UNSW in the 1960s. His research into the changing shape of our planet has contributed to space missions, GPS technology and navigation, precision agriculture and mining exploration, as well as a better understanding of sea level changes.  
I encourage you to go along to next week's Meet the New Professor lectures, if you can. Professor Richard Buckland and Professor Con Doolan from the Faculty of Engineering will present on Tuesday, followed by Professor Norman Wildberger and Professor Jan Seidel from the Faculty of Science on Wednesday. 
Finally, a save-the-date. The UNSW Family Day will be on Wednesday 28 November in a new location this year – on the Village Green. Family Day is a fun community event with food and entertainment for the whole family. It is always a relaxing way to get together towards the end of a busy year. I hope you and your families will be able to make it.
 
Best wishes,
Ian
Comments