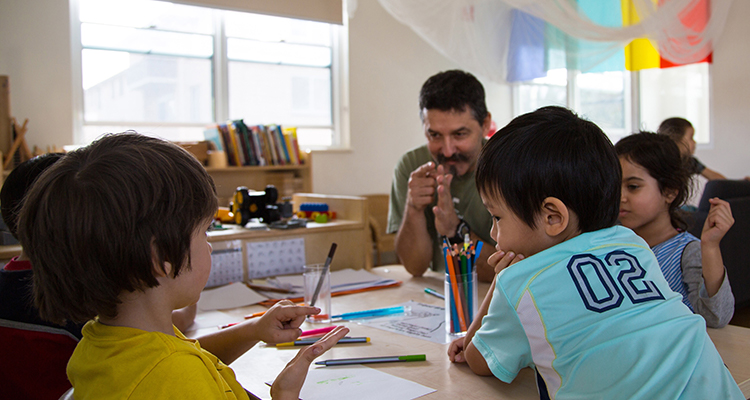 Educator Anthony (Anti) Stopic is challenging children to think about gender bias and develop cultural awareness through a new play program at Owl's House, one of the University's four early childhood education and care centres. His work highlights just one reason why UNSW Early Years is an award-winning provider in the sector.
Through group play, Stopic is helping the children learn about the values of equity, diversity and inclusion. The program aims to develop a sense of belonging and relationship building skills in children.
"Children begin to form opinions at around age three, based on things they've experienced from their extended community, and practise these ideas on each other. Play is the platform for addressing any issues, and the starting point for each child at Owl's House is that everyone belongs to this centre and has a right to play here," he says.
"Once children are comfortable in being who they are, where they are, then they are open and ready to learn."
Having only started the program in 2018, Stopic says there have already been plenty of opportunities to challenge the children's thinking through play.
"One recent example is when a child stated that ballet was only for girls in frilly dresses. We addressed this by asking what everyone knew about ballet; where it was done, and what you can wear. Then we showed some images that challenged the original statement, including Indigenous dancers, boys, a girl in a wheelchair and others." The photographs were left out for children to copy positions and poses.
Stopic often uses music to develop the children's learning once an issue has been raised. While playing the accordion he gets the children to dance freely, then freeze, and copy a position on one of the photographs of the dancers.
Having worked in early childhood education for 16 years, Stopic says that having the ability to teach from a broad curriculum empowers educators in the sector. Centres can choose what they want to teach based on shared goals and values.
"It was actually my choice to focus on anti-bias and cultural awareness; they go hand in hand," says Stopic. "Every centre has their own philosophy, and [anti-bias and cultural awareness] are part of the research that says how a good early childhood centre should be running their programs."
He also acknowledges strong support from the Acting Director of Owl's House Dasa Ellery and fellow educators, in helping the program take off. "There's clear support from Director Dasa Ellery, fellow educators Monica Pose and Rusi Tjioe and other educators at the Centre."
Cultural awareness, particularly around Australia's first nations people, is a focus area at Owl's House too. Stopic says that it forms the foundation of all learning at the centre.
"Whenever we begin a new interest, our first step is looking at it from an Indigenous perspective. When children ask questions about nature, for example, our thinking is that an Aboriginal child here 200 years ago probably had the same question of their parents or elders and what type of answer would have been given."
In parallel to this, Stopic is keen to develop literacy skills. He and other educators are teaching the children languages from the culturally diverse Centre.
"Alongside English letters, we include the scripts and alphabets of the cultures present in our room; including Farsi, Sinhalese, Hindi, Hebrew, and Mandarin. We're also learning the alphabet in sign. Some children are using letters from many scripts to write their own words."
Stopic has started noticing changes in the children's language and behaviour since introducing the program, too. "We arm them with the words to say in particular scenarios and let them know that if they need help they can ask a friend or one of the educators. Everyone is much more aware; you hear a lot more 'that's not fair!' and we then ask 'But why isn't it fair?'," he says.
UNSW Early Years provides high quality education and care to UNSW staff, students and a small number of community families. There are currently some vacancies across Early Years, including a limited number of vacancies for children aged under two years. 
UNSW Early Years encourages staff and students to enrol and maintain their place on the waitlist to take advantage of opportunities for care as they arise. To find out more visit earlyyears.unsw.edu.au.
Another UNSW Early Years centre, Tigger's Honeypot, was recently awarded the Excellent rating by the Australian Children's Education & Care Quality Authority (ACECQA).
This is the highest rating an education and care service can achieve under the National Quality Framework and recognises that a service is embracing continuous quality improvement and practice and is evolving to improve outcomes for children and families.
Read more about the Excellent rating application in the Inside UNSW article or on the ACECQA website.
Comments