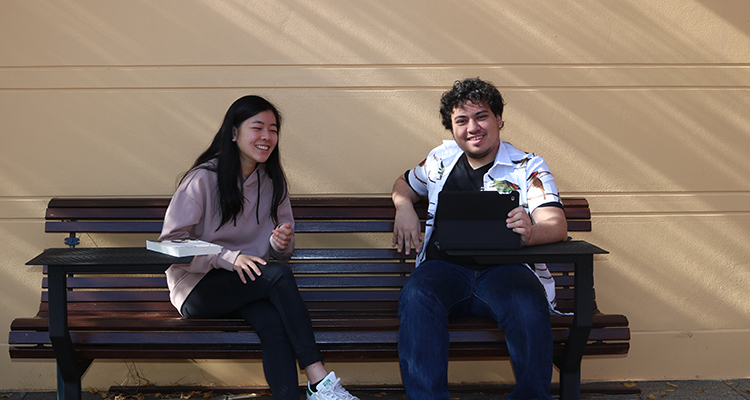 UNSW Student Life and Communities highlights the success stories of our equity students in a new series of videos, UNSW Student Stories.
Ciaran Farrell is an Economics/Science student at UNSW. Ciaran also lives with a disability. In his first year of university, Ciaran "had a lot of trouble fitting in." He failed one course; dropped another because it was too much. He didn't make friends, join societies or volunteer.
But this changed when he was invited to attend a pitch competition in Brisbane. After that, Ciaran discovered opportunities outside the classroom and has since flourished. He then volunteered for the First-Year Live Chat program, chatting online to other students from equity backgrounds who had accepted offers for UNSW but did not know what to expect. This led to a paid internship, an achievement he is proud of: "I was surprised I would get selected for that!"
Ciaran says his co-curricular programs have been enormously beneficial. "They've helped me realise that I can do more than I thought I could, and that I have a lot of time at uni that I wasn't using. The programs have influenced me to work harder, volunteer more and help me figure out what I want to do in life." Ciaran has discovered an interest in social sciences research and is considering a career in behavioural economics, "because I love working with people, I love working with psychology and behavioural sciences, and I like economics." Ciaran is one the students profiled in the first episode of UNSW Student Stories. 
Students come to UNSW from all backgrounds. Many of our students face challenges along the way:  poor health, financial stress, disruptive family circumstances, language proficiency, or managing a learning or physical disability. UNSW Student Life and Communities aims to help students manage these challenges and succeed at university.
Know a student whose story would inspire others? Email studentlife@unsw.edu.au or point them to https://unswstudentdev.wordpress.com/.
Comments