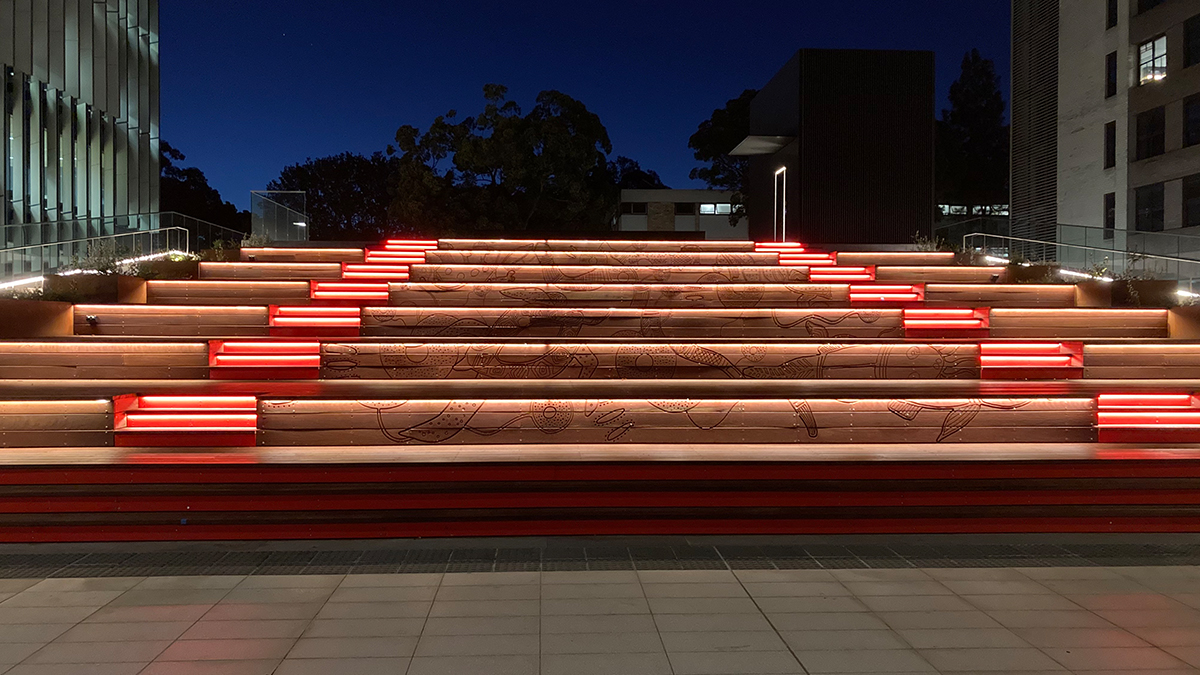 Construction is finalised and ready for the UNSW community to enjoy upon return to campus.
The completion of Alumni Park by Estate Management has delivered another new recreational outdoor space to the campus, creating an interactive and engaging space for all to enjoy.
The new Alumni park provides recreation facilities for students and staff, embraces the history of the land and its people, and recognises the contribution of UNSW's alumni.
Alumni Park has been redesigned with a focus on the student experience, providing new facilities for events, performances and club activities, as well as unique and welcoming spaces for the University community to relax and socialise.
The new landscape embraces its past with the inclusion of native plants and tree species along with integrated local indigenous artwork. Consultation with the local Aboriginal Community, the traditional owners of the land on which Alumni Park is situated, has been an important aspect of the project.
Alumni Park enhances this creative area of the campus, adjacent to the Esme Timbery Creative Practice Lab. It also prioritises pedestrian pathways by improving the connection with College Walk and providing a direct link from the new Anzac Parade light rail stop through towards the UNSW quadrangle. The contribution of UNSW Alumni is also acknowledged in a much more visible location with embedded plaques within the pavement of College Walk.
Jeff Peers, Chief Technology & Infrastructure Officer, is delighted with the revitalised Alumni Park that has delivered another project with a key focus on enhancing the student experience on campus.
"The Park offers new recreational facilities providing a space to host events, performances and club activities."
"Within the park the UNSW community will be able to relax, have fun, socialise within the outdoor theatre, relax on the sundeck and sunlounges or play a game of foosball," Mr Peers said.
Thanks to the generous donations from the UNSW Alumni, the Alumni Park Revitalisation received a significant contribution, a wonderful gift from past generations to the future students and UNSW community.
"Our alumni community contribute to UNSW in many tangible ways such as mentoring students, providing financial support, and improving the campus experience," said Vice President - External Engagement, Fiona Docherty. "Alumni Park is a wonderful way to openly celebrate this contribution, and represents an open invitation for our graduates to visit campus and remain connected with the University long after graduation."
We look forward to welcoming students, staff, alumni and the UNSW community to Alumni Park when we start returning to campus.
For more information about the project, visit Alumni Park Revitalisation on the Estate Management website.
Artwork credit
Guruwaal 2021
Engraving in concrete paving, counter-relief on wooden bleachers.
Uncle Greg Simms (Gadigal/Dharug), with guidance by Aunty Marjorie Dixon (Bidjigal) and Uncle Assen Timbery (Bidjigal) and interpretations by Danièle Hromek (Budawang/Yuin) and Samantha Rich (Wiradjuri).
Comments