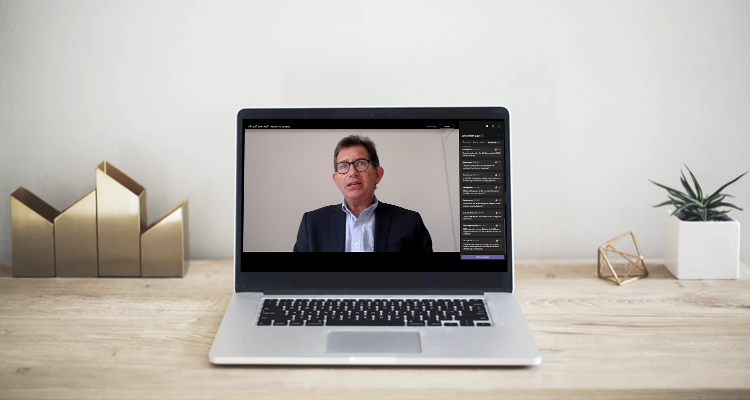 The online all-staff forum held on Thursday 7 October provided valuable information about UNSW Sydney's transition out of lockdown in the coming months.
The forum discussed key topics such as the vaccination survey, flexible work, leave, travel and the University's staged plan to return to campus. Speakers included key members of the Campus Recovery taskforce: Anne Simmons (Provost), Deena Amorelli (Chief HR Officer), Jeff Peers (Chief Technology & Infrastructure Officer) and Rebecca Ivers (Head of School, School of Population Health).
The speakers addressed the top questions asked by staff members during the forum, which was attended by 5,000 staff. There were many questions asked by attendees and a Frequently Asked Questions page has been developed to answer many of the common queries.
UNSW's return to campus will be cautious and phased to allow the University to properly assess changing public health orders and guidance as they evolve, before finalising each stage of return. While the University will continue to carefully follow public health guidance and the NSW Government's Roadmap, return to campus plans will also be focused on the needs of the University and its teaching calendar.
Further updates to phase 1 of the University's return plans were communicated on Friday 8 October and are incorporated below.
The campus return will be in three phases:
Phase 1 - from 11 October
All courses and assessable tasks including labs, practical and studio classes will continue online.
Staff and students should continue to work and study from home. We will however allow staff and students who cannot work or study from home to return to campus in certain circumstances.
For those seeking to come to campus, you will require the approval of your Dean or Divisional Head, or their delegate. If you currently have permission to be on campus, you will need to seek permission again. Further information on how to do this will come from your local area.
Vaccination requirement – staff and HDR candidates
The NSW Public Health Order states that: "An employee who is not a fully vaccinated person must not work at a place other than the employee's place of residence unless it is not reasonably practicable to work at the place of residence".
In accordance with the Public Health Order, unvaccinated staff can only come to work if it is not reasonably practicable to work from home.
If you are on campus  you will need to be able to provide evidence that you are fully vaccinated (two doses) or have a medical exemption. If you are unvaccinated and you would like to seek permission to work on campus, contact your Dean or Divisional Head to arrange a Safety Risk Assessment.
Vaccination requirement – students
During this transition phase, only students who are fully vaccinated (two doses) or have a medical exemption are allowed on campus to access campus services and facilities or attend any events or activities arranged by your faculties. You must be able to show evidence of your vaccination status.
Other rules
If you do come to campus the following rules will also apply:
You must comply with all rules in the relevant Public Health Orders (PHOs) 
Do not come to campus if you have any symptoms or feel unwell
You must wear a mask indoors. Cloth masks are appropriate for general use with surgical masks (or equivalent) required in labs or where physical distancing cannot be maintained
Maintain physical distancing and density at not more than 1 person per 4 sqm indoors
If possible, avoid using public transport to and from campus
You must swipe and QR into all buildings
Tea/lunchrooms or areas where people can congregate should not be used
You must stay in your area and not move around the building or campus unnecessarily
These measures and vaccination requirements allow the university to minimise the risk to vaccinated staff, unvaccinated staff and the university.  They are in place to help ensure the ongoing health and safety of everyone on campus during our transition phase while community vaccination rates continue to increase.
Phase 2 - from 1 December 
Further relaxation of Public Health Orders will inform the UNSW response from 1 December. Changes will build on the framework outlined in Phase 1 and final details will be communicated in due course.
We expect campus research activity to return to a 'new normal' level of activity as soon as possible.
As in Phase 1, teaching/learning and all assessments will continue online for the duration of Term 3. 
Phase 3 - from Term 1 2022
UNSW anticipates a fuller reactivation of our campus from the start of Term 1 2022 including a return of all staff, research activity and on-campus events, subject to any public health orders in place.
While there is every intention to return to as much in-person teaching/learning as possible from Term 1 2022, many students will still be unable to attend campus and online and in-person options will continue to be provided where required. Further work will be undertaken to determine the framework for teaching in 2022. 
Further details on plans for 2022 will be communicated in due course.
Further information on the return to campus roadmap are available on our COVID-19 website and FAQs can be viewed here. 
Comments