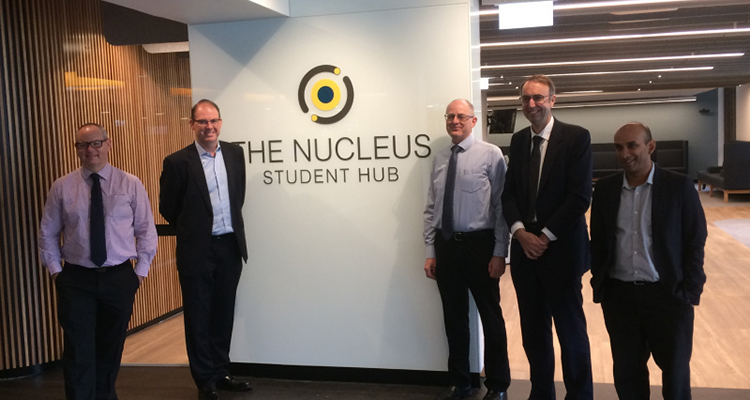 Whether it's advice on essential University processes or connecting students with UNSW support and development services, The Nucleus: Student Hub on Level 2 of the Library is here to help students from enrolment through to graduation.
Opened in December 2018, the official launch of the new student service space was held on 17 January 2019 and featured an Indigenous smoking ceremony before Professor Merlin Crossley, Deputy Vice-Chancellor, Academic, declared The Nucleus: Student Hub open.
"The nucleus is the coordination centre of our cells. It is a repository of knowledge that supports the cell in its activities - this is exactly what the new student hub is for our students. The name The Nucleus reminds us that students are at the centre of what we do," Professor Crossley said.
The Nucleus: Student Hub will transform the way in which services are delivered on campus. Consultation involving students and staff has seen the development of a fantastic contemporary design.
"Staff have provided support for over 3,500 students since its opening," said Kathryn Whittingham, Director, Student Client Services. "We are using a new virtual queuing system, which allows students to relax and better manage their time. Feedback has been overwhelmingly positive so far.
"The Nucleus provides a space for students to get help with enquiries during the day and somewhere to study out of office hours, including weekends."
Comments