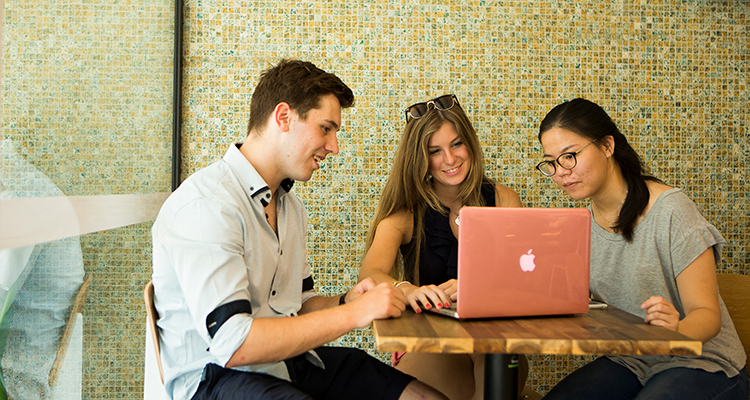 Strong growth of online offering reflects student demand for flexibility.
UNSW Online has reached a major milestone of more than 1000 new students. Since teaching commenced in June 2019, 1096 students who are new to UNSW Academic Career have enrolled in a UNSW Online Program.
The UNSW Online programs include the Master of Analytics, Master of Cyber Security, Master of Data Science, Master of Financial Technology, Master of Management and a new Marketing Analytics specialisation.
"I am thrilled to reach this milestone. This achievement reflects the strong partnerships with faculties and schools, Keypath Education and of the UNSW Online team. We could not have achieved this on our own and I am extremely grateful for the collaboration and support of our stakeholders," Liz Smith, Director of UNSW Online, said.
In highlighting the progress of UNSW Online to date, Professor Merlin Crossley, UNSW Deputy Vice-Chancellor, Academic, noted that UNSW Online was established as part of the 2025 Strategy to expand the University's digital learning portfolio.  
"UNSW Online is assisting the University to expand its global market and increase the number of students in fully online offerings. This is an important role to play, helping accelerate the development of courses, while building internal capabilities in online education. By delivering a range of subjects that focus on in-demand skills by employers, such as cyber security, there is significant opportunity for UNSW to strengthen partnerships with industry." Prof. Crossley said.
Professor Rorden Wilkinson, Pro Vice-Chancellor, Education & Student Experience, emphasised the University's commitment to the student experience and the importance of responding to student needs.
"The fully online model responds to growing student demand for flexibility, especially in postgraduate study. The ability to balance work, study and other competing demands with study is contributing to strong growth. UNSW Online has experienced a steady rise in enrolments each Hexa including a 15% increase from Hexa 5 to Hexa 6 2020," Prof. Wilkinson said. 
The Analytics Program has been extremely successful and enabled the Business School to attract a large new cohort of postgraduate students. "This would not have been possible without our partnership with UNSW Online," said Professor Leisa Sargent, Senior Deputy Dean, AGSM.
Since the launch of the UNSW Online program suite, 29 students have graduated, including six from Data Science and 23 from Analytics.
UNSW Online is passionate about providing a world-class, high-quality online experience for our students, and consolidates the institutional efforts in enhancing and expanding our fully online offerings.   
If you are interested in developing a fully online postgraduate program for your school or faculty, please get in touch at online@unsw.edu.au.
*Source: UPP Report - Date 9 November 2020
Comments