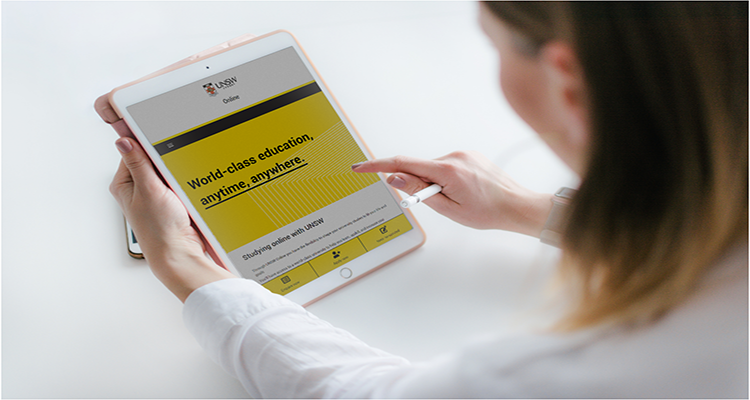 UNSW Online Hexamester 4 myExperience results reveal that 96% of our students are satisfied with the quality of  teaching. 
UNSW Online students have recorded a 96% satisfaction rate when measuring the quality of teaching in the recent myExperience survey for Hexamester 4.  
"I am delighted to see the overall teaching satisfaction for our fully online programs has increased and the teachers of the UNSW Online programs should take great pride in these latest results," said Professor Rorden Wilkinson, Pro Vice-Chancellor, Education & Student Experience, congratulating the Online teachers on this significant milestone.  
Director of UNSW Online, Liz Smith, was equally thrilled with the results and praised the online teachers in the Data Science and Analytics programs.  
"It is through the commitment and enthusiasm of our online teachers, striving to improve the student experience, that we received these great results in Hexamester 4," said Ms Smith. 
"The UNSW Online team supports teachers with an in-depth onboarding process and a professional development program encouraging the delivery of a high-quality student experience. Teaching coaching sessions run each Hexamester for teachers new to Online or for those who would like to improve on their skills."  
Online teaching has come into even clearer focus in 2020 following the adaptation of education to the COVID-19 pandemic, with many finding an agile approach and eagerness to learn as critical characteristics to ensure success.  
"Learn today and apply tomorrow [is my philosophy]," said Dr Khimji Vaghlijani, a UNSW Online teacher.  
"Many of our students are at a later stage in their careers, where they are looking for new standards, frameworks, examples and case studies to then apply in their professions. 
"It is crucial at the start of each course to provide a rigorous check of all assessments and rubrics, review all modules for consistency, and properly onboard new staff so they have an appreciation of the course overall."
A UNSW Online student from the Principles of Programming course identified his positive experience and the reasons why.  
"UNSW staff working on this course were exceptional in the level of support provided to students. They were quick to respond to questions on the discussion board and provided tailored responses to students who raised challenges," he said. 
To find out more information about teaching fully online courses, please visit the UNSW Online SharePoint site here.  
Comments