Since online teaching beganin 2019, UNSW Online has gone from strength to strength.
The program has brought 2,709 new students to UNSW with 11,277 enrolments across 17 new fully online programs.
UNSW Online was established in 2018 with the aim to:
Increase the number of fully online programs
Increase the number of fully online students
Build the organisational capability to design and deliver fully online programs 
The Master of Analytics and Master of Data Science were the first suite of programs to launch in July 2019, followed by the Master of Financial Technology, Master of Cyber Security and Master of Management in 2020, and the Master of Applied Finance in 2021.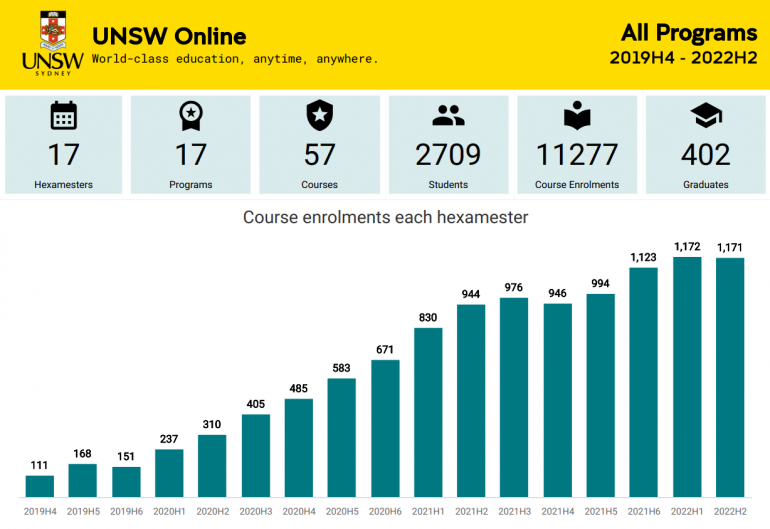 UNSW Online students tend to be mid-career professionals looking to progress or change careers. Often, they are time poor and juggle responsibilities outside of work and study. UNSW Online's offerings are relevant and well balanced, catering to this cohort's needs with flexible study options. This approach has been well received. 
"In my years of education completing multiple degrees from various institutions - I am yet to encounter another teaching staff, as dedicated, as passionate and as committed to delivering a great learning experience. I cannot talk highly enough of this course and especially because of this course, I recommend my degree at UNSW to everyone I know." - Principles of Programming student
"This course was very well thought out, laid out in a way that would provide a good balance of quality content without overwhelming students who also work full time and have family responsibilities. In my personal opinion, the teaching style was very dynamic and engaging." - Cyber Threats and Crime student.
Enrolments have grown steadily over time, from 111 in the first offering in Hexamester 4, 2019 to 1,171 in Hexamester 2, 2022. It celebrated its first graduates in 2020. In total, 402 students have graduated from UNSW Online programs to date. 
Since its conception, cross-faculty partnerships have been developed with Business (including the AGSM), Engineering, Science, Law & Justice, and UNSW Canberra. 58 new courses have been created involving a network of more than 150 academics, with another 17 new courses in the pipeline. It is exciting times ahead for UNSW Online as it advances to a future where fully online education becomes an integral part of UNSW's core offerings. 
More information about UNSW Online programs can be found in the UNSW Online 2021 Annual Report. 
 
Comments