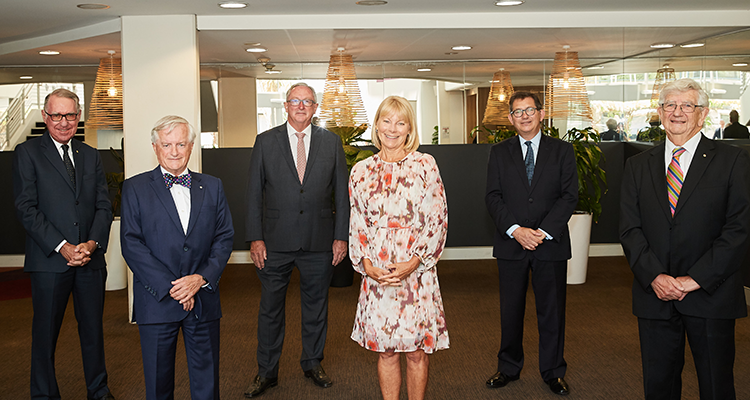 David Gonski AC, Chancellor, UNSW Sydney; Dr Peter Tyree AM, Director and past Chairman, Sir William Tyree Foundation; The Hon. Brad Hazzard, NSW Minister for Health and Minister for Medical Research; Robbie Fennell, Chair, Sir William Tyree Foundation; Professor Ian Jacobs, President & Vice-Chancellor, UNSW Sydney and Emeritus Professor Ian Webster AO, Director, Sir William Tyree Foundation. Photo: Richard Freeman.
The Tyree Foundation Institute of Health Engineering (Tyree IHealthE) will support innovation in health.
UNSW Sydney has announced a $10 million gift from the Sir William Tyree Foundation which will help establish an institute focused on transforming healthcare by delivering commercially and clinically viable solutions to major 21st century health issues.
The establishment of the Tyree Foundation Institute of Health Engineering (Tyree IHealthE) exemplifies the ongoing commitment of the Sir William Tyree Foundation to support innovation in health.
President and Vice-Chancellor at UNSW Sydney, Professor Ian Jacobs, said Tyree IHealthE aims to be a global leader in development of leading-edge health technology, building on the University's strengths in Biomedical Engineering and Medicine.
"UNSW is thankful for this generous gift from the Tyree Foundation which will allow us to develop and deliver innovative and cost-effective health technologies to meet patient and clinical needs," Prof. Jacobs said.
"COVID-19 has put a spotlight on the critical need for innovative approaches to address health crises and improve health outcomes for people across Australia and the world. For example, remote monitoring and telehealth have rapidly become standard practice during the pandemic, and agile design and implementation of such solutions are required.
"One of Tyree IHealthE's flagship projects – to use telehealth technology to help people with chronic diseases better manage multiple medications – will be piloted in the Randwick Health & Innovation Precinct, a partnership between the University and NSW Government which is set to become the largest co-located health, innovation and education zone in the state."
The Sir William Tyree Foundation has committed $10 million to establish and fund Tyree IHealthE over 10 years, supporting flagship projects to address the challenges associated with Australia's ageing population, the management of chronic disease, and many other health conditions.
Tyree IHealthE will improve patient outcomes by reducing hospital admissions, offering earlier diagnoses, providing more targeted therapies, and delivering remote care and self-care.
"We plan to leverage UNSW's partnerships with a number of local healthcare providers and industry collaborators to ensure Tyree IHealthE's innovations are adopted into mainstream healthcare practice," said Scientia Professor Nigel Lovell, Head of the Graduate School of Biomedical Engineering, UNSW and inaugural Director of Tyree IHealthE.
To enable its mission to translate discoveries into clinical practices that can benefit patients, the institute will adopt a proven framework from the US and UK to establish the Sydney Consortium for Improving Medicine with Innovation and Technology (SCIMIT). SCIMIT will bring together clinicians, technologists, entrepreneurs and industry to ensure that all projects have clinical and commercial relevance.
"As longstanding supporters of UNSW, we are thrilled to support the establishment of Tyree IHealthE and join the global effort to generate sustainable and accessible solutions to burgeoning healthcare challenges," said Mrs Robbie Fennell (nee Tyree), Sir William Tyree's daughter and Foundation Executive Director.
"I'd like to thank my colleagues at the Tyree Group whose efforts make this possible. I want to acknowledge their hard work and successes that enable our Foundation to have this incredible impact."
The gift will also support scholarships for exceptional students to advance their multi-disciplinary studies and make a vital contribution to healthcare innovation.
"My father's philosophy was 'an investment in education is an investment in Australia', and we are also very proud to be able to honour his legacy and support deserving students with this gift," Mrs Fennell said.
The Sir William Tyree Foundation has a longstanding relationship with UNSW, with a total philanthropic commitment to the University of almost $25 million. The Foundation has played a significant role in enabling engineering achievements that have helped make UNSW an epicentre of innovation, from establishing a Chair of Electrical Engineering in 1970 and funding a number of scholarships, to establishing the Tyree Energy Technologies Building, an education hub for expert engineers and a landmark in Australian building design.
A visionary engineer and technology pioneer, Sir William Tyree was one of UNSW's most distinguished alumni. A graduate of the Sydney Technical College, Sir William was awarded a Doctor in Science, honoris causa, in 1986 for his contribution to the profession of engineering and UNSW.
Comments