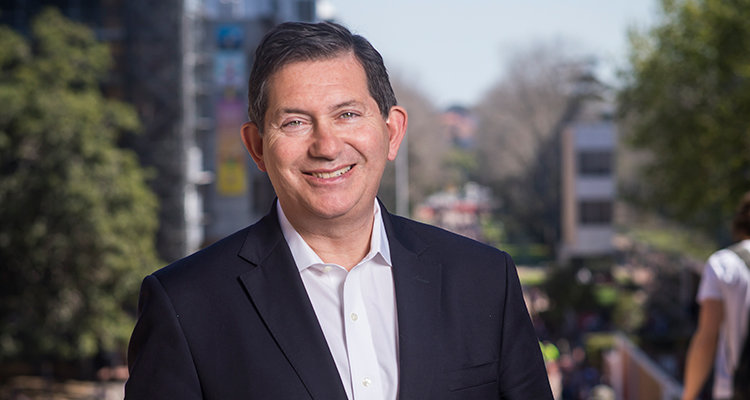 Dear colleagues
It has been exciting over the past few weeks to see our campus alive with larger numbers of students and staff at the end of a disruptive year. I salute the many people who have made our safe return to campus possible over the past few months, and I thank all who have cooperated with our guidelines.
With the NSW Government easing restrictions on the number of people who can gather (from 1 December), and easing the guidance for people to work from home (from 14 December), I look forward to our campus once again being the vibrant and enjoyable place we are used to at UNSW. Please do continue to observe our Safe Return to Campus procedures and guidelines, to ensure we stay the COVID-19-safe course.
On campus yesterday, I was delighted to attend a reception to mark the Sir William Tyree Foundation's generous gift to UNSW of $10 million over 10 years to establish the Tyree Foundation Institute of Health Engineering. Tyree IHealthE is an inspiring initiative, working at the crossroads of health and technology, bringing together the disciplines of medicine and biomedical engineering. By facilitating partnerships between disciplines, between institutions and with government and industry, the program aims to reduce hospital admissions, offer earlier diagnoses, provide more targeted therapies, and deliver technology-enabled remote care and self-care. Tyree IHealthE will drive improvement in Australian innovation by uniting business and research to create interdisciplinary teams. I thank the Tyree Foundation for its ongoing commitment to UNSW and to innovation.
My newsletter this week is again filled with noteworthy achievements across our University. It has been a tough year, but one which has been punctuated by many positives: my hearty congratulations to all who have achieved professional and personal milestones in 2020.
UNSW Awards for Teaching & Research Excellence
Congratulations to all who were recognised in the UNSW Awards for Teaching & Research Excellence this year, announced at the Learning & Teaching Forum on 20 November. These awards celebrate our University's best and emerging educators and researchers, and their profound contributions to student learning and/or academia. The quality of our educators and research supervisors is impressive and the calibre of this year's award winners is top-class, among a strong cadre of nominees. In a year of great challenges, I applaud all our award recipients and I thank you for your dedication to improving the experience of our students. You may never know explicitly the positive impact you have on those you teach, but your work changes the lives of your students.
Highly Cited Researchers
Well done, too, to the 31 UNSW academics who have been named Highly Cited Researchers for 2020 in the renowned annual list compiled by Clarivate. These 31 researchers, from our Faculties of Engineering, Medicine and Science, and UNSW Canberra, are now among the world's most influential in their fields, as they have demonstrated by publishing multiple highly cited papers over the past decade. In testament to the world-class research conducted at UNSW and the talent of our people, UNSW's representation in the list continues to increase each year: in 2020, we are third among the Go8 universities and 25th among universities globally. A tremendous credit to our HCR-listed colleagues.
Professor Gregory Dore wins Eureka Prize
The Kirby Institute's Professor Gregory Dore has received the Eureka Prize for Infectious Diseases Research in the Australian Museum's prestigious science prizes for 2020. The prize recognises Gregory's world-leading research and advances on antiviral therapy for hepatitis C virus (HCV). Gregory has made an immense contribution to the health of people who inject drugs – among the most affected by HCV – through research that has driven equitable provision of antiviral therapy to this group of people in Australia. Please join me in congratulating Gregory for his tremendous work, recognised deservedly in these national awards.  
The Eureka Prizes reward excellence in the fields of research and innovation, leadership, science engagement, and school science. My compliments to all seven academics from UNSW who were finalists in this year's prizes.
Scientia Professor Toby Walsh advances artificial intelligence
Scientia Professor Toby Walsh has been named a Fellow of the American Association for the Advancement of Science (AAAS), for intellectual leadership and significant contributions to automated deduction, constraint programming and fairness in artificial intelligence (AI). Toby's election as AAAS Fellow is a great honour – one reserved for the best scientists in the world – and fitting for Toby, who is renowned for his work to ensure AI advances our wellbeing and is not used to humans' detriment.
Toby has also received the International Joint Conferences on Artificial Intelligence (IJCAI) Donald E. Walker distinguished service award, having served as Program Chair and Local Chair of IJCAI, and as the longest-serving trustee on the conference's steering committee.
Congratulations, Toby, on these accolades for your stellar work in a fascinating field.
Temporary: A new podcast
The Centre for Ideas, in partnership with the Kaldor Centre for International Refugee Law and Guardian Australia, has launched Temporary, an eight-part podcast series. Temporary tells stories of people who have sought refuge in Australia, and their experiences of a system that has denied them permanent protection. The series is hosted by Sisonke Msimang, a Perth-based writer born in South Africa. Temporary will provoke thought and aid understanding of the lives and experiences of people who seek protection in this country. Do consider subscribing to this new series.
G20 Declaration of the International Universities Climate Alliance
I am proud that at UNSW we conceived and established the International Universities Climate Alliance bringing together 46 leading universities from across the globe. On 18 November, UNSW hosted two events, one for the Asia-Pacific region and one for the UK, to launch the G20 Declaration developed by members of the Climate Alliance. With G20 member countries representing nearly 80 per cent of global CO2 emissions and 85 per cent of global GDP, they have the obligation, the opportunity, and the means to lead global systemic change. In its first joint statement, Climate Alliance members called on G20 leaders to be bold and ambitious and not delay agreeing a net-zero emissions plan. The Climate Alliance will continue to work across the world to bring together the diverse perspectives of our members, and to offer fact-based information on climate change and innovative solutions to the transition to the net-zero emissions target. Congratulations to Scientia Professor Matthew England and his UNSW team for their efforts in coordinating the joint statement.
Controlling climate change underground
Collaboration on a lesser-considered element of climate change – that which happens underground – is the focus of a new joint project between researchers at UNSW, University of Cambridge and University of California Berkeley. Dr Asal Bidarmaghz, Lecturer in Geotechnical Engineering in the School of Civil and Environmental Engineering and a member of Think Deep Australia, is investigating the extent of underground climate change in complex cities such as London, San Francisco and Sydney.
The project, on Modelling and Monitoring of Urban Underground Climate Change, will provide insights into the impacts of urban underground infrastructure. I look forward to hearing more of this work.
News from the NUW Alliance
Last week, in a further strengthening of the NUW Alliance, my fellow Vice-Chancellors from the Universities of Newcastle and Wollongong and I were pleased to welcome Western Sydney University as a member of the Alliance. Our four universities are already great collaborators through our joint work on the educational model for the new Sydney Aerotropolis which incorporates TAFE NSW and industry-partnered education, training and research. The new agreement puts us in excellent stead to deliver collaborative projects with real impact, including the exciting planned developments in the Western Parkland City.
Together, the universities are a rich resource from which governments, business, industry and the wider community can draw to tackle challenges, both immediate and emerging.
And in more NUW news, the NUW Energy partnership announced in November will combine research expertise from Alliance universities to find solutions for Australia's future energy needs and reduce the cost of energy for households and businesses in NSW. NUW Energy will harness the power of more than 200 discrete areas of world-class energy research capability and access to more than 30 world-leading research facilities, centres and institutes of research and innovation in NSW.
Important international observances this week
In closing, I would like to draw your attention to two important international observances this week. Today, 2 December, is International Day for the Abolition of Slavery. While some may associate slavery with a bygone era, it is sadly not an issue of the past. UNSW has published our Modern Slavery Prevention Policy, which expresses our commitment to human rights and creating a just society, as well as our obligations under the Modern Slavery Act 2018 (Cth). You can read more about what UNSW is doing in the fight against modern slavery.
Tomorrow, 3 December, is International Day of People with Disability. The theme for 2020 is 'Building Back Better: toward a disability-inclusive, accessible and sustainable post COVID-19 World'. UNSW will mark the day with the launch of the online exhibition Stories of Strength: Paintings from the NuunaRon Art Group. The exhibition is presented by NuunaRon Art Group, an initiative of First Peoples Disability Network Australia, in partnership with the UNSW Division of Equity Diversity & Inclusion and UNSW Library. You can register to attend the launch online.
Please continue to check the NSW Government website for news and updates related to COVID-19 health alerts. If you need support, free, confidential counselling is available through our Employee Assistance Program. The service is also available for immediate family members. Assistance for our students is available via The Nucleus on 02 9385 8500 and our Student Support Advisors.
Take care and stay well
Ian
Comments