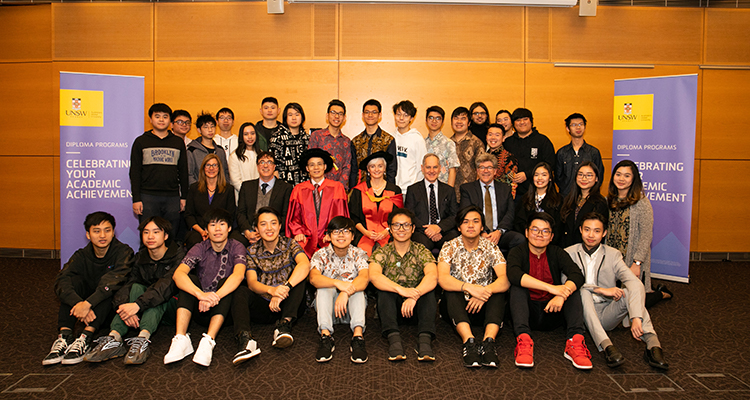 Presentation ceremony celebrates the success of international Engineering and Science students who can now fast-track into the second year of undergraduate degrees.
A group of nearly 50 students are celebrating after becoming the first to complete UNSW Global's Diploma programs.
The UNSW Diploma is a new qualification specifically designed as a pathway for international students to achieve their goal of attending UNSW. The tailored programs provide students with a supportive environment to enhance their English Language and Academic Literacy in conjunction with their formal academic studies.
"The Diploma in Science and Diploma in Engineering are brand new. They have been designed to allow good students to have an opportunity to undertake well supported academic programs that will enable them to reach their potential and gain entry to the Second Year of an undergraduate degree in Science or Engineering at this university," Group Executive (Education) at UNSW Global, Marc Weedon-Newstead said.
"The academic program is rigorous, preparing students for the challenges they will face as students in the Second Year of undergraduate degree programs."
The ceremony was a chance to celebrate the students' success and the success of the program. 
"Today is not only a celebration for you, the students, but also a celebration for all of the staff," noted Dr Suzann Malaney, Academic Head of STEM Programs, in her farewell speech. "The diploma program has been a big success and exceeded its diversity target enrolling students from 22 countries in the first two intakes. Also, the program attracted a good number of outstanding students who, having achieved the standards set by UNSW faculties are now well prepared to continue their success at UNSW.  
Engineering students from the Diploma program showcased the work they had carried out to build a prototype of a remote-controlled vehicle which could potentially be used to carry supplies on Mars.
The project was inspired by science fiction movie The Martian, with students having to problem-solve a solution to deal with the dangerous and perilous environment that would confront such vehicles on Mars.
The students expressed their delight at successfully completing the Diploma program, which provides equivalent accredited courses to those taken by First Year UNSW undergraduates.
In a speech, Engineering student Dua Dharma Hanayong said: "When I first started here I was just an Indonesian boy with huge dreams. The transition from each of our nations was honestly very difficult, but here we are standing as winners, survivors, adapted to foreign culture and education. I would like to thank my teachers, because what are students without their teachers."
Engineering student Aileen Inez Widjaja, added: "The Diploma program has taught me a lot and really gives me a positive impact. The pride and experience are really indescribable."
UNSW Global is set to extend their STEM Diploma pathways with the Diploma in Computer Science which is expected to be available from January 2020. UNSW Global is also currently preparing plans to offer a Diploma in Business. Visit the Diplomas website for more information about available programs.
Comments