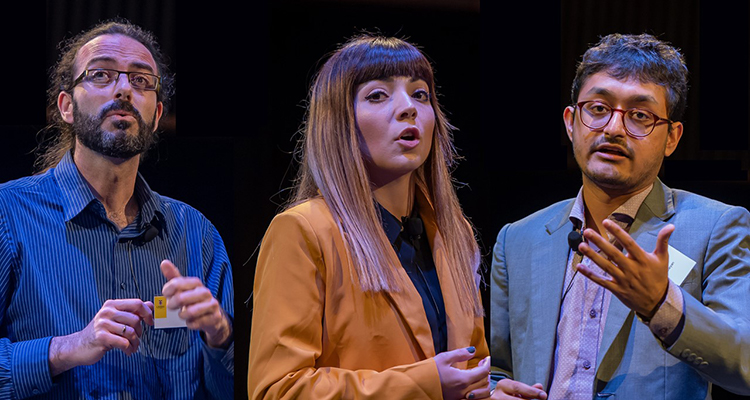 The 3 Minute Thesis Final for 2019 will showcase UNSW's best and brightest PhD candidates who have just 180 seconds to explain their research and why it is important.
The 3 Minute Thesis (3MT) is an academic competition developed by the University of Queensland for PhD candidates. With just three minutes to give a compelling presentation on their thesis topic and its significance, the 3MT competition encourages research candidates to consolidate their ideas and crystallise their research discoveries.
"3MT provides a showcase of research communication at its finest," said Professor Jonathan Morris, Dean of Graduate Research at UNSW.
"Our PhD candidates work on cutting-edge research projects, tackling some of the greatest challenges facing the world today, from inequality to climate change. The 3MT competition is a tremendous way to showcase the University's most exciting doctoral research," Professor Morris said.
The UNSW 3MT Final will be held on Tuesday, 17 September 2019 from 4:30pm in Leighton Hall, John Niland Scientia Building.
The winner will receive a $3,000 cash prize; the runner-up $1,500; third prize $500 sponsored by Arc Postgraduate Council; and the recipient of the People's Choice award - as determined by the audience - will receive $1,000. A selection of high school students from the UNSW ASPIRE program will award their own prize of $500 for their favourite presentation of the night. 
The overall winner will represent UNSW at the Asia Pacific competition at the University of Queensland as well as the international Universitas 21 final – a virtual event with judges watching video presentations.
UNSW Medicine's Jonathan Berengut was crowned the 2018 global winner for his PhD research on how programming nanoscale robots to group into larger formations might help health scientists achieve complex biomolecular tasks.
UNSW congratulates the 22 contestants who have qualified for the UNSW 3MT Final.
Comments