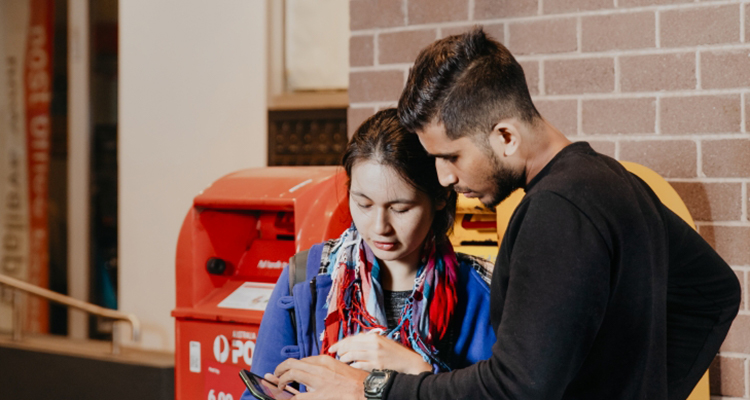 If you're planning on studying and staying on campus after dark this Term 2 exam period, UNSW Security provides a number of services to help keep you safe on campus.
With Term 2 for 2019 underway, it's a great time to find out about the essential services Security & Traffic Management provide on campus to help keep you safe: 
Catch the night shuttle bus– look out for the

 

bright yellow courtesy bus on campus. This free service operates Monday – Friday 7.00pm to 11.30pm (excluding public holidays) around the Kensington and Randwick campuses and surrounding streets. You can track the location of the night shuttle bus on the StaySafe@UNSW app.
Download the StaySafe@UNSW app– the Security

 

app provides you with direct access to a number of security services to help keep you safe. You can use Friend Walk to send your location in real-time to a friend or family member so they can watch you as you walk to your destination. This app also features a flashlight and alarm, security tips and access to emergency procedures. Download the app for free from the App Store or Google Play.
Request a safety escort– UNSW Security is on call to accompany you from your location on campus to car parks, bus stops and taxi ranks. This is a free service. Safety escorts are available after hours, including weekends all year round. Call 9385 6000 to request or visit one of the Help Points located on campus to request an escort.
Locate a help point– help points are strategically located across the campus to help ensure your safety. Pressing the red button will connect you directly to UNSW Security.
Beware of scams - Don't get caught by a scammer. Be alert to people who may approach you with an offer that sounds too good to be true. Don't provide personal information or give money to anyone you don't know well. If you are concerned you are being scammed or have been caught by a fraudster, please contact UNSW Security. 
Keep valuables

 

secure - laptop, tablet and mobile phone theft are some of the most reported crimes at UNSW. Most are stolen when left unattended, even for a brief moment. Make sure you keep an eye on your valuables.
Gate 2 Security Office - the Security Office located at Gate 2 on High Street is open 24 hours a day / 7 days a week. You can report incidents, enquire about lost property and use it as a safe and handy meeting point location or to wait for a taxi pick up at night.
Campus Security Officers - Security Officers provide a 24/7 patrol of the campus, ensuring a rapid response in the event of an incident. They are hightly visible in their red uniforms and they wear a country flag on their collar to indicate the languages they speak.
Security buggies - If you need assistance on campus there are two buggies that can seat up to six people each to help less mobile people around campus.
Register for UNSW Alert SMS - if a major incident occurs on campus - a building fire, for example - the UNSW Major Incident Response Team will alert you via the UNSW Alert SMS. To be sure you receive these alerts, you must make sure your mobile phone details are up to date in myUNSW. It only takes a minute to update and verify your details to make sure you know exactly what to do in an emergency on campus.
Find out more on how to stay safe on campus both day and night.
Need to contact Security?
Call 9385 6000 for General Security
Call 9385 6666 for Campus Emergency
Visit the Security Office at Gate 2, open 24/7.
Comments