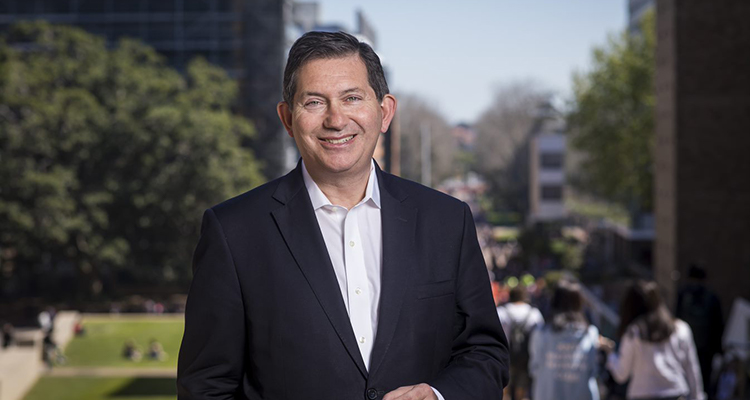 This week is NAIDOC Week, and this year's theme is 'Voice. Treaty. Truth' – three key aspects of the Uluru Statement from the Heart. You will remember that the Uluru Statement was presented to the Australian people in 2017 after a long process of consultation with Aboriginal and Torres Strait Islander Australians across the country. Enshrined in this historic document is a call for the establishment of a First Nations Voice, and a Makarrata Commission to oversee a process of truth-telling and agreement-making between First Nations People and Australian governments. UNSW Law and our PVC Indigenous, Professor Megan Davis, has played a key role throughout this process and you can read her reflection on recent developments here in the AFR. Highlighted in this edition of Inside UNSW are a couple of ways you can participate in NAIDOC Week at UNSW. If you haven't already, take a look at the 'NAIDOC After Dark' lighting display up University Mall between Anzac Parade and the Scientia Building. You might also watch the latest instalment of our Everyone Belongs video series, featuring current UNSW staff member and Master of Public Health student, Leanne Howard, who is a proud descendent of the Biripi and the Worimi people from the mid-NSW north coast.
I was pleased to join with our Chancellor, David Gonski, in an interview with The Australian to emphasise our shared commitment to free speech at UNSW. We are both in agreement that freedom of speech on the UNSW campus should be the same as elsewhere in Australian society, constrained only by the law. Linked to this, I wrote an op-ed last week, also published in The Australian, with my comments on the draft university model code proposed by Justice Robert French. The code was proposed as part of Justice French's review of freedom of speech in Australian universities and is laudable in its intention to protect speech. However, the draft code contains clauses which, if applied at UNSW, would actually constrain free speech compared to our current approach and would lead us to decline some speakers we would currently host. Having raised these concerns I hope to see them reflected in the revised version of the code. I will keep you updated.
I visited the UK last week for meetings with our PLuS Alliance partners from King's College and Arizona State University. The focus of our discussions was the next steps in delivering our joint PLuS engineering school, which has been named 'The Engineering and Design Institute, London' or TEDI: London. TEDI will be based at Canada Water and from 2021 will offer undergraduate engineering courses with a strong design and applied approach, with a masters program from 2022. A group of six UNSW engineering students were half-way through the initial TEDI summer school during my visit. They seemed to be having a fun time and were completing a range of fascinating projects.
I'm pleased to announce that nominations are now open for the inaugural UNSW Emerging Thought Leader Prize. This new prize is a way for UNSW to recognise the next generation of leaders who are using their expertise, creativity and courage to inspire and persuade the community on critical topics. Experts today have the unenviable task of challenging opinion with fact and I am continually impressed when I see colleagues leading change with evidence and deep critical thinking. I encourage you to nominate an emerging leader you know – there are many rising stars at UNSW and I look forward to hearing their stories. You can read more about how to make a nomination in this edition of Inside UNSW. Nominations will be open until 11 August.
You may have read in the Newsroom that the AGSM @ UNSW Business School has been once again ranked the best online MBA in Australia, and among the best programs worldwide. The 2019 QS Online MBA rankings had our AGSM MBAX course ranked 6th in the world, up from 8th in 2018, and first in Australia. Congratulations to AGSM Director and Deputy Dean of the UNSW Business School, Professor Nick Wailes, and all staff, on this impressive result.
Congratulations to Associate Professor Xiaojing Hao and UNSW alumnus Julian O'Shea, who have both been named by Engineers Australia in their 2019 list of Australia's most innovative engineers. Associate Professor Hao, who is a Scientia Fellow in the School of Photovoltaic and Renewable Energy Engineering, is a world expert in building solar cells using kesterite materials, and together with her team has made some major breakthroughs in making this cheaper and more environmentally-friendly technology more efficient. Julian O'Shea, who graduated from UNSW with a Master of Engineering Science in 2008, was recognised for the work of his education foundation, Unbound, and its solar electric tuk tuk project. You can read more about both achievements here.
Congratulations also to UNSW medical data researcher, Scientia Fellow and Yawuru woman, Dr Kalinda Griffiths, who has received a major Lowitja Institute award for her research into health inequalities across Australia. Dr Griffiths' research into Indigenous data governance, cancer epidemiology and health disparities between populations across Australia covers a critically important area of health data research. Dr Griffiths received the 2019 Emerging Aboriginal and Torres Strait Islander Researcher Award at the Lowitja Institute's International Indigenous Health and Wellbeing Conference in Darwin. This is a well-deserved accolade for one of our talented researchers. Congratulations, Dr Griffiths.
There are a number of exciting events happening on campus next Wednesday 17 July around the Centre for Ideas Martin Luther King Lecture, which this year will be delivered by American historian and writer, Dr Jelani Cobb. Dr Cobb's lecture will be held in the Clancy Auditorium at 6:30pm, and there are seats are available if you would like to register to attend. The Boston Children's Chorus (BCC), which is visiting Sydney for the Gondwana World Choral Festival, will also perform. Earlier in the day, there will be a lunchtime performance on the library lawn from the BCC together with the Australian Human Rights Institute Choir and the UNSW Burgundian Consort. Both Dr Cobb's lecture and the choral performances promise to be powerful tributes to one of history's most important and inspiring civil rights figures. I hope to see many of you on the day.
Thank you to everyone who has participated in the BACS #DitchtheDisposableUNSW challenge so far this month. By getting involved you are supporting the UNSW Environmental Sustainability Plan, and in addition to developing some sustainable habits, and you may even find yourself one of the five weekly winners, receiving a limited-edition pack of reusable UNSW merchandise, including a lunch bag, lunch box, bottle and cutlery set.
As a new Universities Australia board member, I was invited to contribute a piece to the recent edition of UA's online magazine, Higher Ed.ition. I wrote about some of the changes our sector should embrace in the decades ahead, including providing more flexible options for student learning, finding a better way forward for research funding, and incentivising more university/business collaboration in R&D. If you are interested in higher education policy, I can recommend the publication as a good source of analysis and opinion on matters facing our sector.
Yesterday, I had the opportunity to welcome to UNSW Australia's next Ambassador to China, Graham Fletcher, shortly before he takes up his role at the end of the month. The visit gave us an opportunity to discuss the importance of our Chinese students and alumni, of our TORCH partnership with Chinese business and industry and of the cultural and language benefits of our Confucius Institute. Ambassador-designate Fletcher gave an insightful and positive perspective on Australia-China relations and was impressively well informed about both the challenges and opportunities for the higher education sector.
Finally, the Foundation Day celebrations last Thursday were a reminder of just how far UNSW has come in our first 70 years. Thank you to Arc, the Roundhouse staff, and everyone who contributed to making Foundation Day such a success.
Best wishes,
Ian
Comments