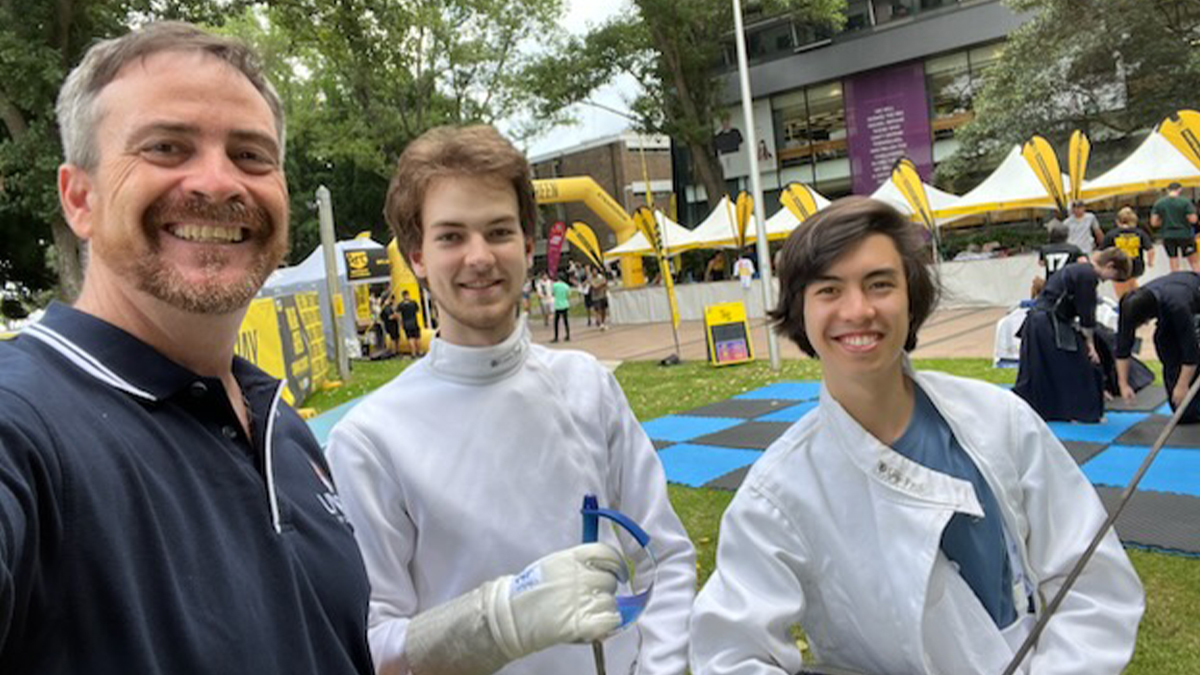 Dear colleagues
I am absolutely delighted to be writing to you during O-Week. This is one of my favourite times of the year, as campus comes alive with new beginnings and infinite potential. With our return to predominantly on-campus learning in 2023, we're experiencing a huge O-Week. Walking around, it's hard not to feel excited by the energy and warmed by the enthusiasm. I was pleased to see the crowds at two of my personal-interest sports clubs: rowing and fencing. It's wonderful to see thousands of students making new friends, joining clubs and societies (the market stalls up University Mall are a fantastic sight!), heading to their Faculty welcomes, and generally soaking up the atmosphere as they embark on an exciting chapter of their lives. My heartfelt thanks to everyone – students, staff, our friends at Arc – who have created a vibrant O-Week program that's dedicated to making sure our new students feel welcome, supported, inspired and a valued part of the UNSW community.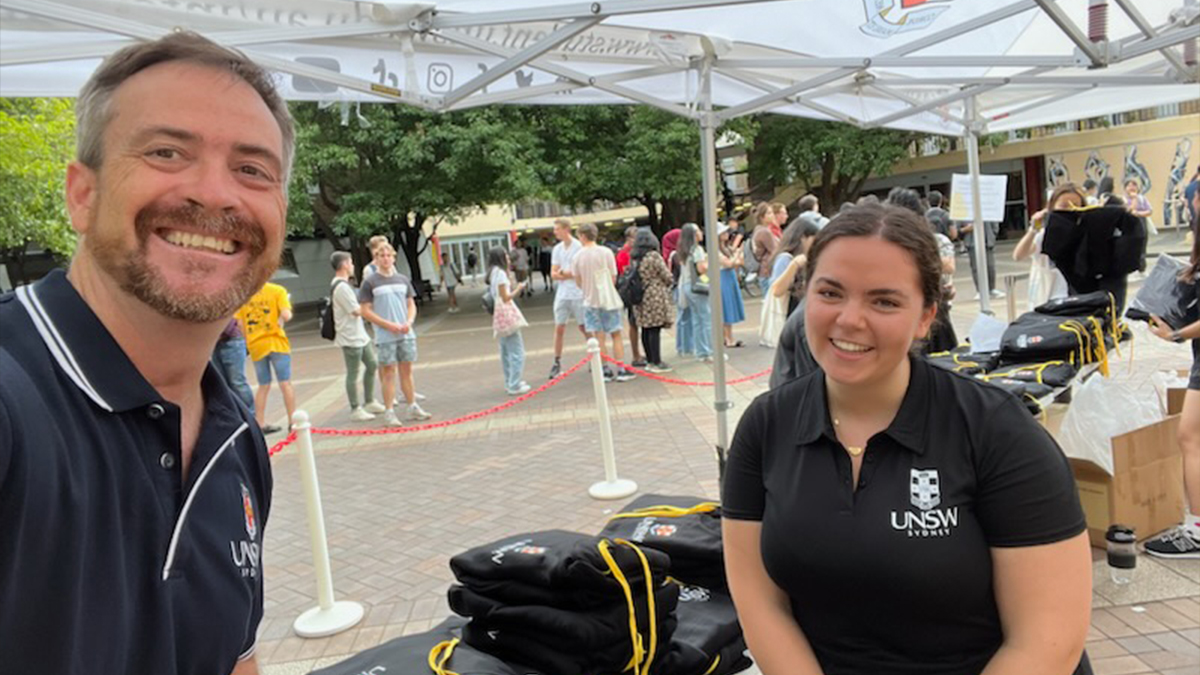 Just as O-Week helps our new students discover all that UNSW has to offer (including the Basser Steps), there is also a terrific schedule of events to welcome students and staff back to campus for 2023. Culminating with a DJ set in The Lounge on Thursday 2 March, the Welcome Back to Campus program includes 'Hidden Gem' campus art tours, café buskers, $15 lunch specials at The Lounge and a free sausage sizzle at the Alumni Park on 14 February (note-to-self). Thank you to all who have organised these events for us to enjoy.
I had the pleasure of attending the Lunar New Year celebrations last week. It was a vibrant gathering, resplendent with Asian cuisine and experiences – including traditional dragon and lion dancers. I wish all our Chinese friends a happy and prosperous Year of the Rabbit, and to our Vietnamese friends, I wish you a happy and prosperous Year of the Cat.
We are dedicated to ensuring UNSW is a sustainable and safe place, but also an engaging, vibrant place for students and staff. How we welcome our new students and how we welcome each other back is important. Please take the time to soak up some O-Week activities and atmosphere this week and engage in some Welcome Back to Campus events with your colleagues. I look forward to seeing many of you out and about. As always, I really appreciate it when colleagues give their precious time to say hello or start a conversation with me as I wander about campus.
Positive results for UNSW in the 2022 QILT SES
In more positive news for the beginning of the year, I hope you've read my email about our improved results in the Quality Indicators for Learning and Teaching (QILT) Student Experience Survey (SES). The results show student satisfaction with their overall educational experience at UNSW increased again in 2022.
Thank you for your ongoing efforts to understand and respond to students' changing expectations and needs during the past few years. Overall undergraduate satisfaction with educational experience at UNSW was 70 per cent in 2022 – our highest score in the past four years, up from 67 per cent in 2021 and 60 per cent in 2020. Postgraduate outcomes were also positive, with overall educational experience at UNSW at 77 per cent in 2022, up three percentage points from the previous year.
The outcomes of the SES help inform key strategic decisions about the student experience at UNSW. While we know there is more to do to continue to improve, our results for 2022 are a testament to your hard work, expertise and sustained endeavours to provide the best student experience possible.
By continuing to embrace opportunities to enhance the student experience, I am confident our SES results will continue to improve in 2023 and beyond. Read more insights from the 2022 SES.
UNSW Enterprise Bargaining
Negotiations in the UNSW Enterprise Bargaining process recommenced this week. All parties are committed to finalising new agreements for academic and professional staff as soon as possible.
I encourage you to keep abreast of updates on the UNSW Enterprise Bargaining pages on the HR Hub and to get involved in the process. Please contact HR via the details on the Enterprise Bargaining pages if you have any questions or comments.
Prioritising health and safety at work
I would like to begin the year by emphasising the importance UNSW – and I – place on the health and safety of our students and staff. Safety is a shared responsibility that every single person at UNSW, beginning with me, needs to keep top of mind.
The Health and Safety Team has created some new resources, like the Safety Card, to help us all keep safety at the forefront. Deputy Vice-Chancellor Planning & Assurance, Scientia Professor George Williams, and I have recorded a short video message to encourage us all to apply the UNSW safety motto in all our activities this year: Think Safe – Be Safe – Home Safe.
2023 Alumni Awards nominations open
Nominations for this year's Alumni Awards are now open, providing a wonderful opportunity to recognise some of the 362,000 UNSW graduates who are doing remarkable things in 135 countries around the world. As an alumnus I was pleased to attend last year's 50th anniversary Alumni Awards and hear about the incredible vision and accomplishments of our UNSW graduates. I'm looking forward to seeing this year's nominees and celebrating their achievements with the UNSW community.
Nominations close on 20 February and the winners will be announced later this year. Find out more about the 2023 Alumni Awards.
UNSW and ADFA contract extended
I'm pleased to advise that the partnership that UNSW and the Australian Defence Force (ADF) have enjoyed for more than 50 years has been further strengthened, with the extension of our contract to provide tertiary education at the Australian Defence Force Academy (ADFA).
The extension will see UNSW Canberra continuing to provide future leaders of the ADF with the foundational knowledge and high-level skills essential for their careers in the military, while also supporting their lifelong learning. I applaud the team and leaders at UNSW Canberra for their recent stellar work in strengthening the close, positive collaborations with our Defence partners at ADFA.
We are proud that UNSW continues to be a part of the fabric of Defence research and development and education delivery in Australia.
Help make Inside UNSW the best it can be!
Thank you to everyone who has participated in the short survey about the Inside UNSW newsletter. It would be great to hear from more staff, so please take a minute today to complete the survey – and have your say in shaping our staff communication.
Australia Day Honours for the UNSW community
Congratulations to the UNSW academics, current and former colleagues, and alumni who received Australia Day Honours this year. These extraordinary people were recognised for their distinguished service to the community in fields including tertiary education, social justice, law reform, international policy, coastal science, visual arts, community health, genetic pathology, clinical genetics, medical research, to name a few. These award recipients exemplify UNSW values and aspirations for a better world. I am inspired by their vision and commitment. Read more about their achievements.
Celebrations, commendations, cyber-safety actions
It is my pleasure to welcome you to 2023. I look forward to seeing you and saying hello on campus.
Best regards
Attila
Professor Attila Brungs
Vice-Chancellor and President
Comments