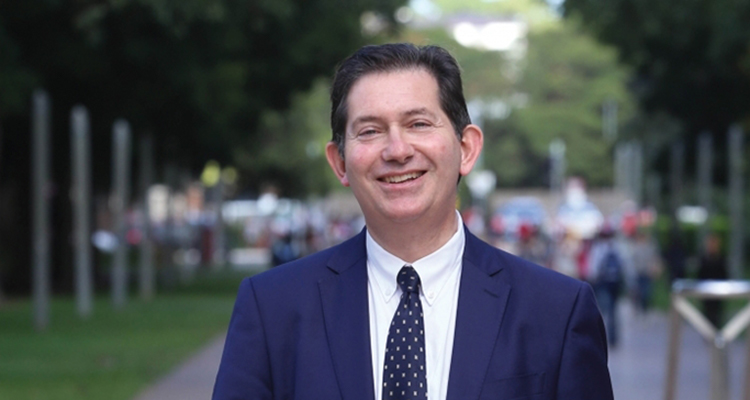 Dear colleagues
The newly refurbished Roundhouse has been put to good use since being reopened in February. ARC held an event to relaunch the student program in early March and we were honoured to have Professor John Niland as one of the VIPs. John is not only a previous UNSW Vice-Chancellor but was President of the Student Representative Council in 1961 when The Roundhouse was built. There will be reopening events for alumni and staff later in the year and I hope that many of you will get a chance to use the building. It is an iconic Sydney venue and an important part of UNSW history and folklore. 
One of the first events at the refurbished Roundhouse was the launch of the UNSW Human Rights Institute in March. Under the directorship of Professor Louise Chappell, the Institute will drive applied and interdisciplinary research to develop innovative responses to human rights issues, with a particular focus on health, business and gender. The launch event included an expert panel comprising actor and activist Magda Szubanski, the George Institute's Professor Vlado Perkovic, and Katerina Kimmarley from Pollinate Energy. There were also musical performances by hip-hop artist Mirrah, and we had Denis Golding, Honours Student and Kamilaroi/Gamilaraay artist and graphic designer, invite guests to collaborate with him in creating artwork throughout the evening. A vibrant and positive way to launch this important initiative which is the next step in a strong tradition of work in human rights at UNSW. 
I suspect that we will be using the Roundhouse frequently for UNSW community events. It was a perfect venue to hold a Town Hall on March 19th to update staff on our 2025 Strategy. Some 800 staff and students attended and there was standing room only. It provided an opportunity to acknowledge the hard work and resilience of so many professional and academic staff members in delivering a challenging change agenda and to run through the benefits that are already being delivered – I highlighted 71 areas in the presentation. Those who attended asked a range of perceptive questions which were answered by members of the UNSW Management Board. You can watch the presentation and Q&A session and download the Strategy 2025 Update document. My thanks to everyone for working so hard to bring our strategy to life and for your resilience in getting us through the most challenging period of change.  
In my UNSW capacity and as Go8 Chair I have been involved in explaining the role of our universities in Australia in advancing both social progress and economic prosperity. An important aspect of that is advocating for adequate funding for research to drive innovation. In that context I have recently made proposals to inject more public investment in to the discovery-translation-commercialisation pipeline. I explained these proposals in an op-ed for the Australian Financial Review which was published on Monday 19 March. The op-ed outlined a two-pronged approach to bridging gaps in research translation and incentivising universities and industry to work more collaboratively. One part of the proposal was the establishment of an 'Australian Research Future Fund' for non-medical research, complementing ARC funding, as a parallel  to the way the Medical Research Future Fund complements the NHMRC. The other part of the proposal was for an R&D tax incentive for industry to partner with publicly-funded research institutes. This was a recommendation in the 2016 R&D Tax Review and the Innovation and Science Australia's Australia 2030: Prosperity through Innovation statement.  
I also contributed an op-ed in The Australian to coincide with the ASEAN leaders summit. UNSW had a 5% increase in students from ASEAN countries between 2016 and 2017, taking our total to nearly 3000. The biggest cohort increase was from Myanmar, a nation with which UNSW has many links as it makes its transition to democracy. One UNSW team is working with local scholars and policy thinkers on how constitutional law and reform can bring greater social and economic benefits, while another team is helping to build medical education capability, increase the research capacity of local clinicians and enhance the country's ability to combat diseases including HIV, tuberculosis and malaria. We are developing our engagement with the ASEAN nations of Indonesia, Cambodia, Laos, Myanmar, the Philippines, Singapore, Thailand, Vietnam, Malaysia and Brunei through research, student links and our global impact efforts.  
I have just returned from a busy trip to India and the UK where I joined UNSW colleagues in establishing new partnerships and reinforcing existing ones. In Delhi we reached agreement with the Energy Research Institute (TERI), for UNSW to partner with TERI to run the GRiHA summit in December this year, showcasing UNSW's strengths in solar engineering, built environment and waste recycling. We had an opportunity to meet with the Australian High Commission to discuss UNSW's work in India and our contribution to the forthcoming AusFEST – an Australian culture and innovation showcase in India run by the Australian Government, which will take place from October 2018 to April 2019. I also met with leaders of the World Health Organisation Asia office which is based in India to pursue our discussions about opportunities to collaborate on health research in the region. On March 26, I attended the PluS Alliance Executive Committee meeting in London where exciting plans for a major collaborative venture in London between ASU, KCL and UNSW were discussed. I hope that this will lead to an announcement later in the year. 
I had the honour of addressing the opening session of the Academic Women in Leadership and Professional Women in Leadership program earlier this month. The initiatives, in their tenth and fourth years respectively, nurture tomorrow's UNSW leaders and support our quest to bring greater gender balance to senior roles, part of fostering a more diverse, equitable and inclusive UNSW environment.  
Congratulations to staff and students who received awards in the last month. Four UNSW academic staff members received 2017 Awards from the Royal Society of NSW: Professor David Keith (School of Biological, Earth and Environmental Sciences) received the Clarke Medal; Scientia Professor Gordon Parker AO FASSA FAHMS (School of Psychiatry) received the James Cook Medal; Dr Angela Nickerson (School of Psychology) received the Edgeworth David Medal; and Professor Andrea Morello (School of Electrical Engineering and Telecommunications) received the Pollock Lectureship. Furthermore: Scientia Professor Justin Gooding FAA FRSC (School of Chemistry) received the 2017 International Society of Electrochemistry's Katsumi Niki Prize in Bioelectrochemistry; Professor Jason Evans (Climate Change Research Centre) received the 2017 Priestley Medal from the Australian Meteorological & Oceanographic Society; Professor Cyrille Boyer (School of Chemical Engineering) received the 2018 Polymer International Award from the International Union of Pure and Applied Chemistry; and Scientia Professor Katharina Gaus FAHMS (School of Medical Sciences) received a Khwarizmi International Award from Iranian Research Organization for Science and Technology. Most recently, four talented UNSW Business School students won the prestigious Copenhagen Business School Case Competition. Our team beat some of the best business schools in the world in one of the world's most highly regarded student challenges in this field.  
Finally, UNSW has established a new strategic partnership with Wonkhe (pronounced Wonky), an influential and highly respected think tank focused on higher education policy debate, analysis and thought leadership in the UK. Wonkhe founder, editor and CEO, Mark Leach, will visit Australia next month as a delegate of the UK Global Engagement Program and will be keynote speaker at a UNSW-hosted roundtable dinner on 19 April. The dinner will focus on the important issue of raising the quality of the higher education debate in Australia, bringing an international perspective and drawing on the recent experience of the UK. UNSW has become Wonkhe's first international university partner and this reflects the success of our thought leadership and profile-raising agendas. 
Best wishes, Ian
Comments