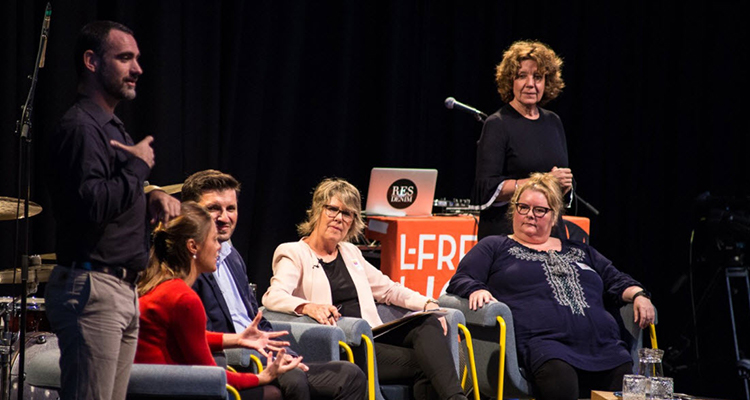 The launch of the Australian Human Rights Institute at UNSW Sydney has highlighted the possibilities for collaborative research, and the potential for young people to use their technology, idealism and power to make positive change.
At the launch of the Institute on Tuesday evening, UNSW Sydney President and Vice-Chancellor Professor Ian Jacobs described the Institute's role in the University's important mission to better the lives of people in some of the world's most marginalised communities.
Institute Director Professor Louise Chappell told the audience these changes would be possible when STEM and non-STEM researchers joined forces around rights challenges.
"In building these collaborations, our Institute will be unique in the world," Professor Chappell said.
The launch, hosted by ABC broadcaster Fran Kelly, featured a panel discussion where actor Magda Szubanski, The George Institute Executive Director Professor Vlado Perkovic, and Pollinate Energy co-founder Katerina Kimmorley shared their experiences in affecting positive change.
Pollinate Energy is a social business bringing life-saving energy, water and sanitation technology to people living in poverty in India.
Kimmorley said key to the model's success had been using technology to raise awareness of problems and then building a community around the solutions.
"When you turn on a light in someone's life it actually changes everything and exposes a lot of societal and other issues you can then find complementary solutions for," she said.
"Technology, both social media and fundraising, has unlocked the ability to mobilise people around these big human rights issues in ways that even five or 10 years ago I don't think we had the ability to solve."
Professor Perkovic talked about the collaborative approach behind the world's first affordable dialysis machine, a solar-powered machine that fits in a suitcase, making it available to remote communities.
Globally, about 5 million people die each year because of lack of access to kidney dialysis. The solution developed with inventor Victor Garvey makes treatment available at about 5% of the cost of regular dialysis.
"Unless you have the will to actually go out there and choose to take on a challenge, you'll never know how many other people out there in the community feel the same way and the sort of momentum you might be able to get, and it's often not people in your own field," Professor Perkovic said.
Szubanski, who emerged as one of the clearest and most unifying voices in last year's campaign for marriage equality, said being part of that history had been more exciting than anything else in her career – and she urged young people to become active in campaigns.
"I think a lot of young people are extremely idealistic and entrepreneurial in a very exciting way," she said.
Szubanski said the arts had played a key role in getting the general public to care about LGBTIQ+ equality, and to move them to vote on same-sex marriage.
"As artists ... we try and find the best ways to communicate the pain sometimes of situations that's not always obvious to people," she said.
"If you can find a great phrase or way of saying something, you can make a lightbulb go on in someone's head and really change their attitude.
"Technologies are all part of it, but if you don't have that will … it's not going to go very far."
The arts were celebrated on the night, with UNSW Art & Design Honours student Dennis Golding painting an artwork titled Pathways to Our Right. Guests were invited to contribute to the piece, which used traditional symbolism and merging colours to convey messages of unity.
For updates about the Australian Human Rights Institute, sign up for emails here or follow on Twitter @HumanRightsUNSW.
Comments