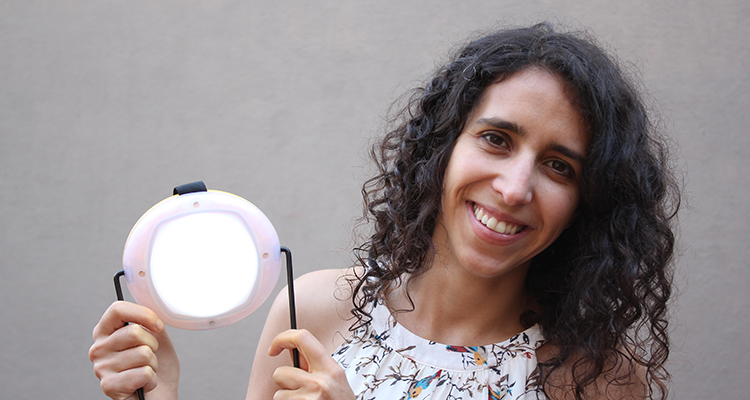 Thousands of people live in slums on the edges of India's major cities and have no access to essential services such as electricity and clean water. Not-for-profit company Pollinate Energy, founded by UNSW Engineering alumna Monique Alfris, works hard to provide these communities with affordable solar lights, having distributed almost 25,000 in slum communities to date. 
It all started with studies at UNSW, where Monique says she was strongly encouraged to address global problems like those in India's slums. "I wanted to be part of the solution to the problem of climate change and was so drawn to the vision of the School of Photovoltaic and Solar Energy Engineering," she says. "I had always wanted to work in the developing world - something that was strongly encouraged when I was at university." 
The story of Pollinate Energy 
After graduating in 2005, Monique began working in a solar lighting firm in Asia, and in 2012 she had an idea that would help her to provide a better quality of service to customers, driven by a desire to bring life-changing products to those who need them most. "I was given the opportunity to try my (and my five co-founders') ideas in a slum in India. It was there that Pollinate was born." 
Through their solar products, users have access to a sustainable, economical and reliable source of light. This means children can do their homework, the adults can cook safely, and businesses can stay open after sunset. Pollinate Energy's products also help to tackle issues around safety and environment, as dwellings in these slums are traditionally rely on candles, fires and kerosene lamps, which are expensive, dangerous and polluting. 
Customers pay for the lights upfront by taking a loan from Pollinate, which they pay back over several weeks. The light will long outlast the loan period, and drastically reduce the amount they would normally spend on kerosene. Today, Pollinate operates in five cities across India and has plans to expand into five more. The organisation has reached thousands of communities in need, with around 120,000 people benefiting, and has won several awards for the positive impact it has had on the lives of India's urban poor. 
Shaping the next generation of social entrepreneurs 
As part of its sustainability mission, Monique's business also employs local residents to sell and install the solar lamps, encouraging them to become small business owners. These workers, known as the 'Pollinators', come from disadvantaged backgrounds themselves, and will organise payment plans for customers, show them how to use the products, and collect repayments. 
Pollinate also presents opportunities for students and fellow graduates, with the organisation now running unique fellowship programs to allow young people to spend a month working on strategic projects for the organisation. The funding and manpower that the volunteer program provides has helped Pollinate expand into five cities and is seen as a crucial part of the business. 
A number of UNSW students and alumni have taken part in these programs, which offer a deep dive into social entrepreneurship. Monique says the program can help volunteers "learn how to apply their studies to significantly change a person's life." 
Nurturing networks and ideas 
During a presentation during O-Week 2018, Monique gave an inspiring talk to newly enrolled UNSW students on the power of a university education and taking time to realise your potential. "The people you go to university with are the future leaders of our country. Don't underestimate the power of the networks you will form at university," she said. "It's okay if you don't know what you want to be when you grow up – explore things you are interested in and don't be afraid to take a year out to try something different. A year is a short period of time in what will likely be a 40 or 50-year career." 
To fellow UNSW alumni and current students, Monique says the fellowships are more than a volunteering activity; they're an opportunity to build one's resume. "Experiences like our fellowship programs are important for creating future leaders because they show you that you will create the future world that we will live in, and how much of a positive difference your studies at UNSW can make to the world!" 
Current students and recent graduates can apply for a graduate fellowship with Monique and Pollinate Energy. Visit the fellowships website for more information. 
Comments