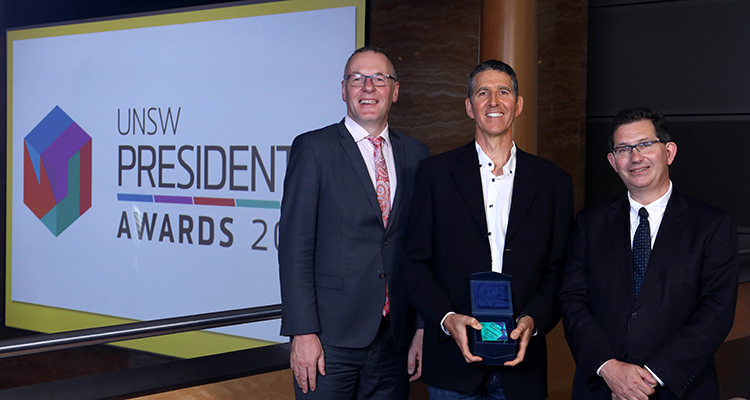 Inside UNSW spoke with Jonathan Pritchard, winner in the category of Innovation at the 2017 President's Awards. A Postgraduate Administrator in the Faculty of Engineering, Jonathan explained how he transformed a manual process to an automated, colour-coded system that benefits both staff and students and how we all have the power to innovate sitting on our desks.
Tell us about you. What is your role at UNSW and what team do you work in? 
I started off as a Postgraduate Administrator in the School of Mechanical and Manufacturing Engineering. My supervisor, who hired me, then moved on, so I'm basically doing his job and my job. It's been a great learning curve and I've been working there for a year and a half now. I've learnt a lot. 
Tell us a little about why you were nominated in the innovation category? 
We had a database that was purely for calculating a student's Honours Weighted Average Mark (WAM) so you could tell which honours class a given student may receive. That database was very manual and prone to human error, so I developed a new database – which pulls data from SIMS every day – that shows the whole transcript of the student. It's all colour-coded, so you can instantly see where a student is up to in their degree and you can make changes accordingly for different things like types of courses they've done. It's a really handy tool, not only when you're talking to a student or a graduand. 
What effect did your new database have? Who did it help? 
It frees up a lot of time. Previously you would need to go to myUNSW and download a pdf of the student's transcript. To get an idea of where they're up to in their degree, you would need to go into the pdf and look at every course. So you have to have a plan next to you, on a piece of paper, and you tick off each one as you go through. With this new database, it's already telling you what's been ticked off; and with it being colour coded, it's very easy to pick up where an issue is or where something is missing because it will be in red. 
If something is wrong, like the student has done a course that isn't in their plan, there is an alert there and we can see that instantly and take steps to make sure the student isn't doing something that will impact their degree or impact them financially. Usually, these things don't get picked up until graduation time. 
So there's a benefit to students too? 
Students love it! They see that I can plan their degree out for them; a bunch of students are coming to me because the news spread like wildfire. I can plan their double degree, which can be quite complicated, in the UNSW3+ model because that's the real unknown for students. I sit down with them and plan for their future courses and let them know when they can graduate. 
And has it expanded to other schools in the Faculty of Engineering? 
A few other schools are now using it too – Solar Engineering, Civil Engineering, Chemical Engineering, Maths and Statistics – it is spreading around a bit. And I'm getting great support from the faculty. 
Like any piece of software, any internet site, you're always looking for improvements. It's always changing; people give me feedback and suggestions and we look at what we can do. One of the things I'm doing with my award – I received $5,000 to go towards my career development – is toying with the idea of doing programming in another language, like PHP or a browser-based language, so I can do what I do in Microsoft Access in a browser platform to make this more accessible.  
What does Innovation mean to you and why is it important? 
Systems and processes are always going to be changing and morphing into different things. People have their own ways of working, but in this day and age with so much technology – we get a new computer every three years and it's sitting on your desk with so much power, with apps, programs and tools on there that have been paid for by the university – we should be using all that stuff to make our lives so much easier. Innovation is quite easy if you're willing to delve into the technical side of things that you have available to you. 
And people are doing it, particularly in the space of Microsoft Office and Office 365. Professor David Kellerman (Engineering) is doing some great stuff with interactive teaching and courses by using Microsoft Teams. He was also nominated for Innovation and when I saw his name come up as one of the nominees I thought: "Well, I'm not going to win". He has to win next year! 
It also makes your job more interesting. I do this a lot because it's creative and it means I delve deeply into the processes to make them easier and take out the human error factor, which means it's a benefit to me and everyone around me. And it frees up time for my team, too. 
Like the myth that we only use 10% of our brain capacity, I think we only use about 10% of what's capable of our machines. Everyone should be doing something innovative on our computers because they are so powerful but I don't think people realise what they can do. 
This is something you're clearly very passionate about. What are your other passions away from work? 
Before I had children, I cycled a very long distance across the world. Traveling is one of my passions and I would love to do that again, but it is a bit hard with young children! Outdoor pursuits are certainly up there as well, but right now I'm focussed on the small children. 
I also revamp old computers. I grab things from e-waste and they're perfectly good, working machines. I have a 27" iMac that had a faulty video card so someone chucked it out, I grabbed it, put the video card in an oven for ten minutes and I've been using it for two years now. I just hate the waste, the technology waste. This whole rotating of these machines every year or two years disturbs me. I like to try and see how long I can make these things last – it's a weird passion of mine! 
This interview has been edited for length and clarity.
Comments