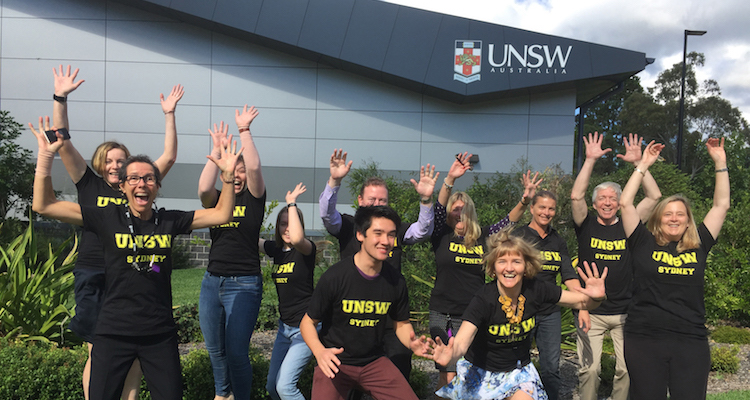 The Global Challenge is a team-based 100-day health and wellbeing event that takes place in thousands of organisations around the world every year from May until the end of August. UNSW has participated in the Global Challenge since 2015 as part of the University's investment in employee wellbeing. The Global Challenge encourages participants to increase their activity levels to a baseline of 10,000 steps per day over 100 days. Sections of the Challenge are also devoted to nutrition, mental health, sleep and improving focus. 
For the past two years, UNSW has won the title of 'Most Active University in Australia', beating close challenges from the University of Sydney, QUT and the University of Tasmania. In 2017, 153 teams and 1,071 staff members from UNSW participated in the Global Challenge, with teams representing all faculties and divisions. By the end of the 2017 event, 76% of participants were exceeding the 10,000 steps per day target, compared with only 18% before the Challenge commenced. UNSW staff collectively lost 313kg and together walked the equivalent of nearly 19 times around the Earth. 
"We are expecting a bumper year in 2018," said Liza Poppert, Wellbeing Coordinator and UNSW Organisation Manager for the Global Challenge.  "We've had over 25 teams register already - in only four days. I think most people who participated last year will return, and many who didn't participate last year will join us for the first time in 2018. It's going to be a great event!" 
Registrations are now open! Staff members who wish to participate in the Challenge need to: 
Put together a team of seven. 
Choose a team captain.  
Choose a team name. 
Register here. 
All faculties and divisions have an Area Manager (see below) who should be contacted to determine if funding is available for teams. If your faculty or division does not yet have an Area Manager listed but you have a team assembled and ready to register, please contact Liza Poppert. 
Art & Design: Leanne Thebridge
Arts & Social Sciences: Winnie Hii
Built Environment: Nicole Fierro
Business: TBA
Canberra: Vaish Muralidharan
Engineering: Blathnaid Farrell
Law: Kyle Allen
Medicine: Greg Maxwell
Science: Lance Islip
DVC Academic: Rachel Abel
DVC Enterprise: TBA
DVC Inclusion & Diversity: Kylie Brenton
DVC Research: Freya Mearns
Division of External Relations: Norma Abeyaskera
Division of Philanthropy: Susie Phe
Division of Strategy & Quality: Rebecca Mann
Human Resources: Ellie Polias
Finance & Operations: Ashley Milosavljevic
VCO: TBA
Comments