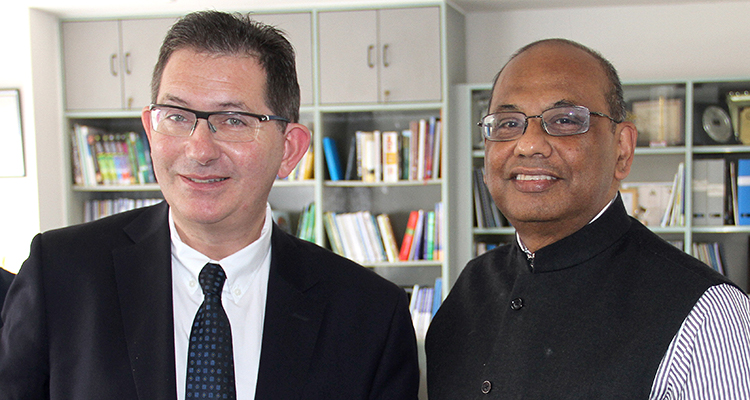 UNSW has been invited to co-host and co-create India's prestigious 2018 Green Rating for Integrated Habitat Assessment (GRIHA) Summit to be held in New Delhi later this year. This is a first in the history of the Summit and acknowledgment of UNSW's global reputation for research excellence in environmental sustainability and smart cities. 
While in New Delhi last month, Vice-Chancellor Professor Ian Jacobs joined the President of GRIHA Council and Director of The Energy and Resources Institute (TERI), Dr Ajay Mathur, to announce the initiative which was first raised during UNSW's inaugural India Research Roadshow last November.  
Professor Jacobs and Dr Mathur said that UNSW's partnership with GRIHA and TERI furthers a shared commitment to develop tangible applications of joint research in energy, wastewater treatment, intelligent transport systems and sustainable housing – including photovoltaics.  
In its tenth anniversary year, the GRIHA Summit is poised to mark a significant contribution by UNSW, TERI and the GRIHA Council towards transforming the sustainable development agenda, not only in India but globally. 
The Summit will once again bring together national and global leaders working in the field of sustainable habitats as well as thousands of delegates from India and across the world. It will showcase innovative solutions to major challenges including clean energy, efficient technology, smart mobility, economic and social development and policy. The Summit is integral to the Indian Government's commitment to ensure access to adequate, safe and affordable housing and basic services for all citizens by 2030. 
With the overall residential housing demand in India expected to increase exponentially, transforming, innovating and developing environmentally and economically sustainable housing solutions at scale is imperative. Smart Cities are becoming central to India's development agenda with the Indian Government investing more than US$15 billion to build 100 sustainable urban centres over the next five years.   
The partnership with TERI is one of a series of strategic investments in developing transformative relationships to support UNSW's robust India Strategy, which complements the developmental aspirations of the Indian Government. India is a priority in terms of the Global Impact pillar of UNSW's 2025 Strategy. Developing valuable collaborations with academic, industry and government partners, such as that established with GRIHA, will be the key to success.
Comments