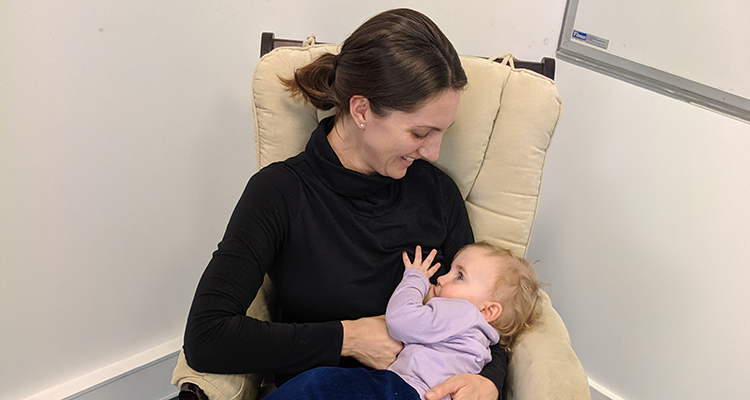 UNSW is a breastfeeding friendly workplace and supports mothers in achieving their breastfeeding goals. 
Every woman has the right to breastfeed their baby or express breastmilk anywhere and anytime. UNSW supports staff in achieving their breastfeeding goals and is recognised as an accredited Breastfeeding Friendly Workplace with the Australian Breastfeeding Association. In the lead up to World Breastfeeding Week, Inside UNSW spoke with two women who breastfeed their children at work in UNSW's parent room facilities.
Suzanne Austin - UNSW Canberra, Startegic Research Engagement Manager, Research and International Office
Ms Austin (pictured above) returned to work in 2018 when her daughter was five months old. As the primary salary earner for her family, she decided having six months parental leave at full pay was the best option for her family.
"A full year has passed since I returned to full-time work and I'm delighted to say that my daughter still continues to receive my breastmilk. The supportive environment at UNSW has been a key contributing factor in this," said Ms Austin.
Before returning to work, colleagues in HR, senior faculty management and the Equity Officer were in contact to ensure Ms Austin was aware of the facilities and support available to breastfeeding mothers.
"It was amazing support. During the initial few months being back at work, I had regular contact from colleagues to see how I was going, they even helped to set up my office as a private space to pump."
Ms Austin is a regular user of the parent room at the Canberra campus which offers a quiet place to feed. Her husband brings their daughter in several times a week during her lunch break.
"I feel very fortunate to have such strong workplace support for my continuing breastfeeding journey with my daughter, and hope other parents realise the support that is available at UNSW."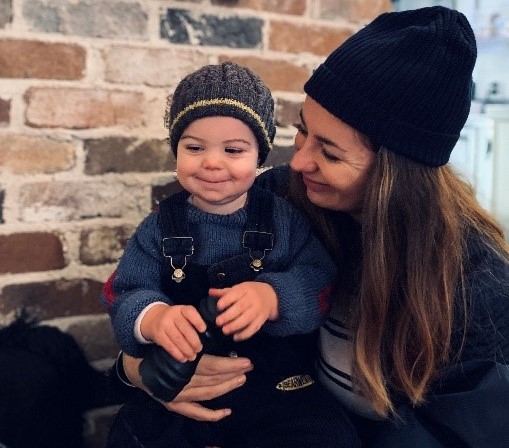 Bliss Forrester - UNSW Sydney, Studnet Communications Officer 
Ms Forrester (pictured above) returned to work from maternity leave late last year when her daughter Issa turned one. It was scary and emotional to be separated from her baby since she was born, but thanks to UNSW's supportive and inclusive working environment she felt it was possible. In her experience, breastfeeding has been one of the greatest challenges since becoming a mother.
"I didn't even realise I had a goal of breastfeeding Issa to 12 months until we were through those first few bleary weeks, everything underway and nothing taken for granted. I feel proud and grateful we've been able to reach 20 months of feeding on demand – continuously navigating our unique, beautiful, sometimes rocky, journey together," said Ms Forrester.
"I felt so supported by my colleagues and manager, to take time to transition back into work life, and to continue to breastfeed and pump using the parent room facilities on campus when I needed to."
Bliss and her family are grateful that Issa can attend one of UNSW's Early Years Centres. "This kind of workplace culture of flexibility and of welcoming your family's needs counts for so much as a new parent – as you navigate your new 'normal' and all the responsibilities that come with it. Hopefully more organisations can look to UNSW as the benchmark for workplace diversity in supporting employees on their breastfeeding journey," she said.
Comments