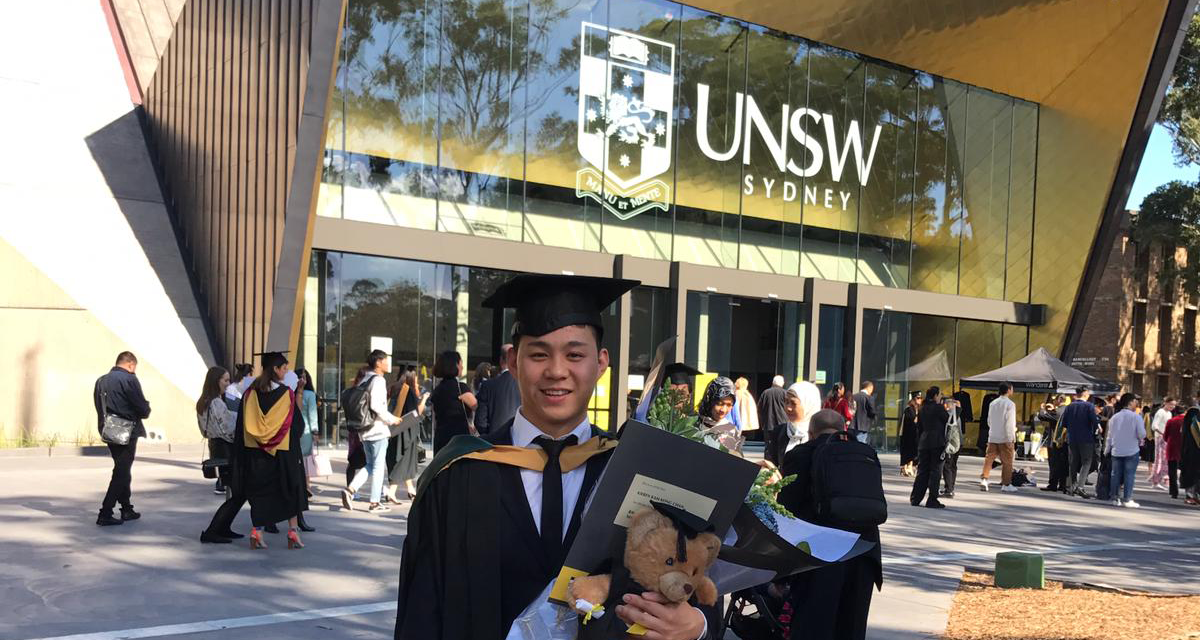 Recent graduate Kieren Chan played a unique role in the Clancy Auditorium foyer refurbishment.
In May 2019, as UNSW student Kieren Chan celebrated graduating in front of the new foyer of the Clancy Auditorium, he knew all too well the amount of work that had gone into delivering its stage 1 entrance canopy, refurbished bar and gleaming gold shingles in time. 
Kieren is an Assistant Project Manager for Mostyn Copper, who is currently delivering the Clancy Auditorium foyer refurbishment. Transitioning from studying a Bachelor of Construction Management and Property to getting a role working on the Clancy project, Mr Chan has seen the building transform, and been among the first wave of students to graduate under its new gleaming canopy.
"The greatest moment was at the end of stage 1 northern foyer. I had stayed back late to help clean up the construction site for graduations the next day. Looking back at the completed works at night took my breath away," said Mr Chan.
In his final year at UNSW, Mr Chan took part in the Co-op program, undertaking an internship with UNSW's Estate Management. Mr Chan assisted the Development team and got a valuable insight into the project management of some of UNSW's largest new developments such as the Science and Engineering building. Through shadowing and learning from key staff in Estate Management, he was able to experience the day-to-day life of construction management and expand his network of contacts in the industry. 
"Everyone in Estate Management was really helpful and would always take time to explain how things worked to me," he said.
Mr Chan's experience and inside knowledge of Estate Management's people and processes gave him a valuable edge and helped him secure a role with Mostyn Copper, a top project management company in the construction industry.
For prospective Construction Management students, Mr Chan recommends UNSW for the vast hands-on opportunities they provide.
"I have taken every single opportunity I could get. From the university lectures, Co-op Program with UNSW EM, overseas exchange and finding a job with Mostyn Copper."
For him, the Clancy Auditorium will be a project and a development he won't forget.
"Graduating in the same building as my first project has been an amazing opportunity. It is not often you get to work on a project you will graduate in. The completion of this project is and will be the stepping-stone to my future career within the construction project management," he said.
 
Comments