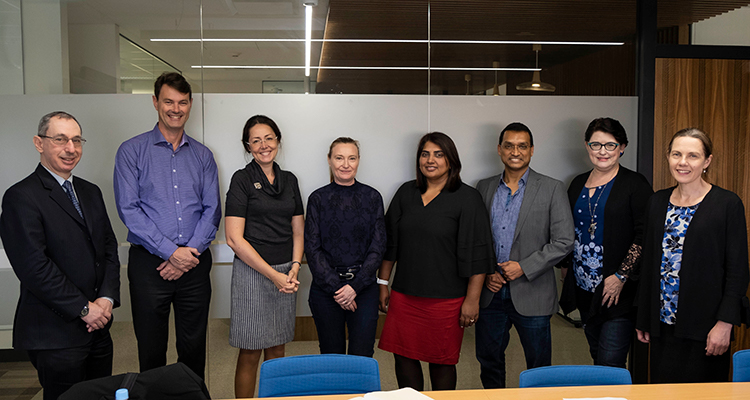 Scientia Education Fellows attest their collegial values by rotating Academy leadership.
Just as the Scientia Professors represent some of UNSW's best researchers, the Scientia Education Fellows represent some of the University's most outstanding educators. The Scientia Education Academy (SEA) began with 15 inaugural Fellows who were selected for their outstanding contributions to education at institutional and national levels. The Fellows were nominated by their faculties and then appointed by the Deputy Vice-Chancellor Academic and the Pro Vice-Chancellor Education in late 2016.
With 40 active Fellows from across all faculties, including UNSW Canberra, the group's primary role is to inspire Educational Excellence at UNSW and beyond.
"Back in 2014, when we were considering the establishment of the Academy, our consultation process led to a rich debate and deep thought about what the Academy could be," said Professor Chris Tisdell (UNSW Science), the inaugural Director of the Academy.
"Through this process the Academy was designed to be a destination for great educators where becoming a Fellow is a sign of recognition, and a launching pad for leadership in Learning & Teaching across the University and beyond. From the very beginning, our Academy has been underpinned by strong collegiality and respect among all Fellows, where everyone's voice is equal and valued."
The founding leadership team also included Professor Alex Steel (UNSW Law), Associate Professor Chinthaka Balasooriya (UNSW Medicine) and Dr Michelle Langford (UNSW Arts and Social Sciences).
"It was indeed a wonderful team in which we accommodated a diversity of views", said Associate Professor Balasooriya. "The respectful way in which we were able to agree, disagree, and find effective ways forward is a testament to the quality and integrity of these wonderful colleagues. Interestingly, all four of us had the opportunity to serve as SEA Directors at various times, and this emphasises the collegial and non-hierarchical spirit of our Academy.
"The formation of the Academy, in addition to the Education Focussed roles, emphasised the University's commitment to enhancing the quality of education at UNSW".
"The academy is truly the sum of its parts, with a structure that values and acknowledges each fellow's diverse contributions to educational excellence," added Dr Michelle Langford. "Having a leadership team helps focus our collective efforts and as soon as the first leadership roles were established it was also decided that the leadership would be rotated in the future."
Following the completion of the first leadership term, the Academy elected a new leadership team who commenced their tenure on 1 July 2019. The team consists of:
Co-Directors: Professor Shirley Scott (UNSW Canberra) and Professor Gary Velan (UNSW Medicine)

Deputy Directors: Associate

Professor Isabella Dobrescu (UNSW Business School), Professor Nalini Pather (UNSW Medicine) and Associate Professor Arianne Rourke (UNSW Art & Design).
"Gary and I are looking forward to working with the rest of the new leadership team and all members of the Academy to enhance the student experience at UNSW, and to encourage staff striving for educational excellence", said Professor Scott.
View the recent publication An Integrated Approach to Enhancing Educational Quality and delve into the Fellows' outstanding educational leadership projects on the UNSW Teaching website. Read more about the Academy at unsw.to/SEA.
Photo [from left]: Prof Gary Velan (new Co-Director), Prof Alex Steel (Acting PVCE and inaugural Deputy), A/Prof Isabella Dobrescu (new Deputy), Dr Michelle Langford (inaugural Deputy and acting Co-Director), Prof Nalini Pather (new Deputy), A/Prof Chinthaka Balasooriya (inaugural Deputy and acting Co-Director), A/Prof Arianne Rourke (new Deputy) and Prof Shirley Scott (new Co-Director).
Comments