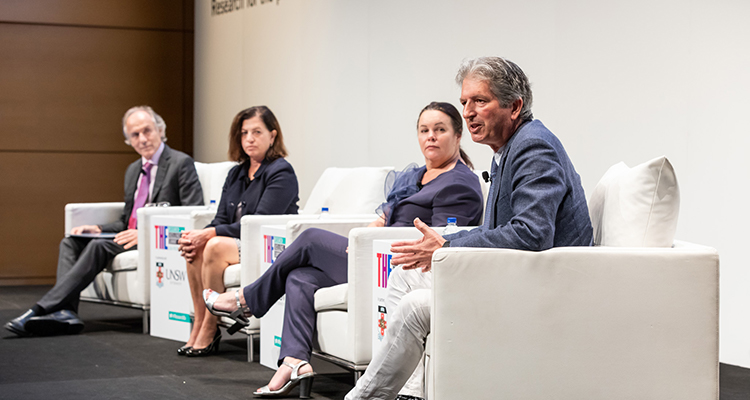 The 2019 Times Higher Education Research Excellence Summit: Asia-Pacific explored the public impact of research on the most critical issues affecting the 21st century.
More than 200 delegates from 17 countries arrived at the UNSW Kensington campus this week for the second Times Higher Education Research Excellence Summit Asia-Pacific. The theme of the Summit, which concludes today, is 'Research for the Public Good.' Thought leaders and academics from STEMM fields are addressing a number of contemporary issues on the contribution of universities and industry to the good of society.
Kicking off with a gala dinner on Tuesday night, the three-day program has seen 35 of the world's leading experts discussing issues ranging from energy and sustainable development, to resistant diseases and artificial intelligence.
Some of the highlights this week have included:
Dean of Science Emma Johnston chairing a panel on How does research achieve public good in the 21st century context
Ana Deletic, Pro-Vice-Chancellor (Research), debating Water of the future: facing the challenges
ABC journalist Sarah MacDonald discussing the war on waste with Professor Veena Sahajwalla 
Australia's Chief Scientist Alan Finkel discussing Energy: renewables — changing the composition of energy and the mining industry with Professor Martin Green 
Professor Raina MacIntyre questioning What's killing us? The age of resistant diseases with Keith Klugman, director of the Pneumonia program at the Bill and Melinda Gates Foundation 
A breakfast seminar on Deal or no deal: the impact of Brexit on Australia breakfast, chaired by journalist Ticky Fullerton with Professor Fiona Martin from the Business school
Professor Michelle Simmons and Sir Fraser Stoddart In conversation: small approaches to big questions with THE editors discussing advances in quantum-based science 
Professor Toby Walsh questioning whether The road to hell is paved with good intentions: Al is our biggest existential threat 
Alongside the official program, delegates and UNSW staff also participated in a Bridge Climb, networking events, an exclusive reveal of the THE 2019 Asia Pacific University Rankings and campus tours.
You can catch-up on any of the sessions from the Summit by watching them on a dedicated website here. The schedule of panels and speakers is available on the Summit website.
Comments