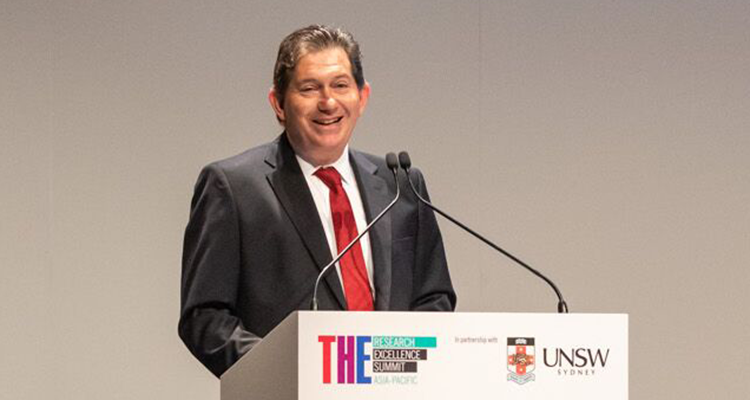 It's been great to see our main campus buzzing with students again these past couple of weeks. Congratulations to all – from our Arc staff and volunteer 'yellow shirts', to student services and those right across the university – who put in a great deal of effort to make O Week fun, enjoyable and informative for our new students. A big thank you also to everyone for ushering in Term 1 of our new UNSW 3 + calendar so smoothly. I hope it feels good to be back into the swing of a new term after the summer teaching break. And a special thank you to our landscaping team from Estate Management who have been working hard over summer to make the Library Lawn the wonderfully inviting meeting place that it is.
It's been a busy start this week, with the UNSW Council's 500th meeting on Monday, and from Tuesday our playing host to more than 200 delegates from 17 countries for the Times Higher Education Research Excellence Summit Asia-Pacific Summit, themed Research for the public good. This is the first time UNSW has partnered with THE to deliver the Summit and the second of its kind with a focus on research in the Asia-Pacific. The quality of the presentations and panel events has been phenomenal, focusing on some of the most pressing challenges facing our region, from water and energy security to climate change, populism, and big data. It has also been rewarding to see how committed our regional colleagues are to the vital importance of pursuing research which will contribute to the public good, and to redoubling our efforts to advocate publicly for this crucial work. Our contributions to the development of sound policy are more critical than ever and we must continue to explain the importance of universities to the future of our region. For those of you who attended or tuned in to the livestream, I hope you've found the Summit as inspiring as I have.
I am thrilled to announce today the appointments of 37 new UNSW Scientia Fellows for 2019. The 37 Fellows, who are listed in this edition of Inside UNSW, have been selected following a highly competitive process, and will be spread across Art & Design, Business, Science, Engineering, Arts & Social Sciences, Law, Medicine and UNSW Canberra. The new Fellows are from a variety of backgrounds, some are already at UNSW, and others will come here from elsewhere in Australia or from top overseas universities. This will be the third year of the Scientia Fellowship Program, which supports early-career researchers to develop their careers, gain leadership skills, and build their profile. My congratulations to our new Scientia Fellows for 2019.
Many of you will have heard of the success of two members of the UNSW leadership team in securing prestigious roles in the sector. Congratulations to Professor Susan Dodds, who has been appointed as Deputy Vice-Chancellor, Research and Industry Engagement at La Trobe University. Sue has made an outstanding contribution to UNSW and the Faculty of Arts & Social Sciences in her time as Dean. She has brought together a strong, resilient academic and professional team to promote the Faculty's commitments to diversity and social justice, enhancement of the student experience and to academic excellence. Her contribution to the University Senior Leadership Team has also been outstanding and includes leading on the UNSW approach to academic freedom and freedom of expression. Sue will finish with UNSW at the end of April and a search for her successor will commence in the near future. I am grateful to Professor David Blaazer for agreeing to take on the role of Interim Dean until the new appointee is in post.
Congratulations also to Professor Geoff Crisp who has been appointed to the role of Deputy Vice-Chancellor Academic at the University of Canberra and will finish with UNSW towards the end of March. Geoff joined us in 2015 as Pro Vice-Chancellor Education and immediately set about the task of modernising and improving our approach to teaching. Among a range of initiatives – establishing the Scientia Education Academy, overhauling our approach to student feedback, and leading the peer review of teaching, to name a few – Geoff was instrumental in establishing our partnership with Keypath. This affiliation will allow us to rapidly expand our offers in Masters Coursework and provide new opportunities for those whose circumstances prevent them from studying on campus. I am sorry to see both Sue and Geoff leave UNSW, but am pleased that they are moving to such important new roles. Thank you and congratulations to them both.
Congratulations also to UNSW Science's Emeritus Professor Raphael Grzebieta, who has been awarded the 2019 Kenneth A Stonex award for his lifetime contribution to reducing road and transport deaths worldwide. Raphael is a global road safety expert who, over his 30-year career, has contributed to research on areas such as pedestrian safety, cycling helmet legislation, and the effect of speed limits. Congratulations to Professor Grzebieta. 
In the margins of the Times Higher Education Summit, it was great to celebrate 10 years of partnership between UNSW and Shanghai Jiao Tong University at a special event held in the Chinese Garden of Friendship. I was joined by SJTU Vice President Professor Xu Xuemin and other visitors from SJTU, as well as staff from the UNSW Confucius Institute, which also celebrates its 10th birthday this year. SJTU is one of UNSW's largest student mobility partners globally, and an important research and knowledge exchange and entrepreneurship partner. To give you a sense of the strength and impact of our research partnership, UNSW and SJTU had 218 co-authored publications in the period 2013-2018, and they have been cited more than 16,300 times globally.
It was a delight to attend the opening of the brand new UNSW Bookshop last week. The Bookshop and UNSW Press team rolled out the pink carpet and invited UNSW alumnus and acclaimed author of The Book Thief, Markus Zusak, to inaugurate their new, expanded space. It was a terrific event, with inspiring speeches and it was a great opportunity to congratulate the team on the completion of this important project. Congratulations to Kathy Bail and her team, the UNSW Press Board headed by Professor Merlin Crossley, and everyone involved from Estate Management for a job extremely well done. You might not know that our award-winning bookshop is one of the few independently run campus bookshops in Australia. If you haven't paid a visit to the newly refurbished space, please do take a look – enjoy the environment and the coffee.  
It was also a pleasure to attend the launch of the ARC Centre of Excellence in Quantum Computation and Communication Technology, or CQC2T, last week. The new centre, based at UNSW and headed by Scientia Professor Michelle Simmons, was launched by Jason Falinski MP and ARC CEO, Professor Sue Thomas. The $33.7 million in federal funding for the Centre will enable Michelle's team to continue their world-leading work in quantum research. Congratulations to Michelle and the multi-university team. I wish the stellar Centre continued success.  
Finally, a reminder that the new Staff Learning Portal is up and running, a place where you can research and access the professional development opportunities available to you. Do take a look at the Portal and talk to your supervisors and team about what is offered. 
Best wishes,
Ian
Comments