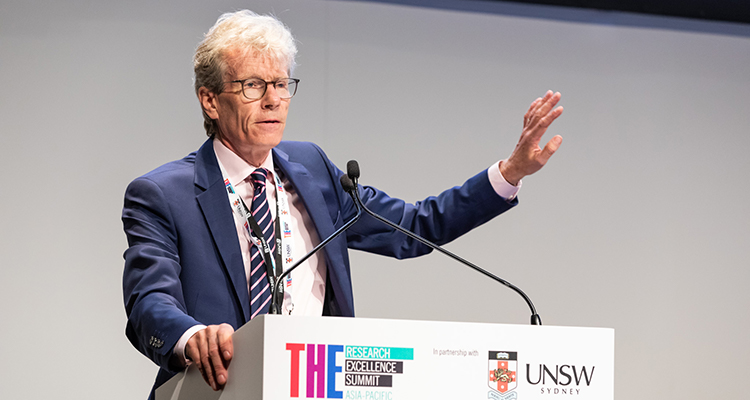 The Times Higher Education Research Excellence Summit: Asia Pacific challenged university leaders and researchers to better showcase how they are tackling the world's major challenges.
More than 200 of the world's brightest minds converged on UNSW Sydney from 19-21 February for the 2019 Times Higher Education Research Excellence Summit: Asia-Pacific to explore powerful ways universities and researchers are addressing some of the planet's most pressing issues. The event underscored the need for higher education institutions to outwardly champion the value and significance of their research.
UNSW President and Vice-Chancellor Professor Ian Jacobs led that charge when he implored higher education leaders to continue to fight for research in the public interest and to work better together, during his remarks at the opening gala dinner.
One of the challenges university leaders were facing, Professor Jacobs said, was lagging enthusiasm for public funding for universities and research. Countries such as Australia and the UK had to fight for funding and recognition of the value of universities and research, he said.
"Academics and university leaders must be proactive in sharing their stories and emphasising the link between universities and the research that, ultimately, advances society," he said. "We have to make our communities care enough to champion our work and influence the government to care as well."
In a first for UNSW, the event was securely livestreamed by the team at UNSW Hospitality for all students and staff via Microsoft's new video platform, Stream. Replays of the event are available to watch on demand.
For a full wrap up of the Summit, read the Newsroom story.
To watch replays of any of the Summit's sessions, visit the dedicated internal site.
Comments