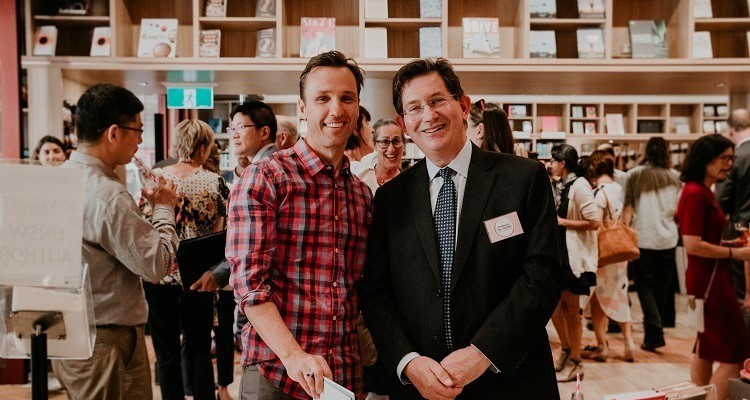 The new UNSW Bookshop is designed to play a central role in the life of the University while offering new services for the broader community.
The newly redesigned UNSW Bookshop has officially opened with the introduction of a café and event space open to the public.
Speaking at the launch on Wednesday, UNSW President and Vice-Chancellor Professor Ian Jacobs said a love of books, reading and writing was a feature of the University's community.
"Great universities are about incredible research and outstanding innovative teaching … but they're about much more than that. They're about thought leadership, equity, diversity, inclusion [and] knowledge transfer about ideas around global impact.
"I think that this bookshop symbolises so many of those things. It brings them together to what I believe will be a truly important new focus for our campus, where people can meet, chat, work and drink coffee...it's a real transformation."
The 430-square-metre store at UNSW's Kensington campus includes a new central room for events, a reading room, and a brand new café, Atomic Press, with indoor and outdoor seating space for 40 patrons.
The refurbishment will support an expanded events program including book launches and talks from top Australian and international authors and performers, book clubs, student events and book readings for children.
Markus Zusak, UNSW alumnus and author of the award-winning novel The Book Thief, welcomed the Bookshop's transformation, saying it had been a special place for him over the years.
"In 2003, I was just about to start writing The Book Thief and I wanted to come to a bookshop. I wanted to come back here because it did feel like a kind of home. It was because it was (here) where I started to truly become a writer and also recognise that I was a reader."
The independently-run bookshop is managed by UNSW Press Ltd, a company owned by UNSW. UNSW Press is the only university press in Australia that manages a bookshop.
"In a world where digital retail has disrupted the traditional bricks and mortar model, bookstores are no longer simply about the stock they carry," said Kathy Bail, UNSW Press CEO. "By creating a new community hub, the reinvigoration of the Bookshop offers benefits to customers that extend far beyond the products we sell."
The independently-operated Atomic Press Café is open seven days a week. It serves a range of seasonal meals and baked goods, with coffee from artisanal roaster Atomic Coffee Roasters. This will be the New Zealand company's first retail presence in Australia.
The Bookshop will continue to sell a wide range of both general and educational books, course materials and UNSW-branded merchandise. It will also provide a targeted selection of the best books available globally and innovative gifts and cards. Its stock ranges from fiction and non-fiction to children's books, illustrated art, design, architecture, food and travel books.
UNSW Bookshop won the Campus Bookseller of the Year Award in 2012, 2014, 2016 and 2017 and was runner-up in 2015.
Continuing its traditional role of selling print and digital content, the refurbishment extends the services provided by the Bookshop for those within UNSW and the broader community.
UNSW Bookshop is located at the Western end of the Quadrangle Building on the Kensington Campus. It is open 9am-6pm Monday to Friday and 10am-2pm Saturday and Sunday. Hours will be extended for programmed events.
Atomic Press Café is open Monday to Friday 7am-5pm and 9am-3pm on the weekend. Find more about the trading hours, location and more here.
Comments