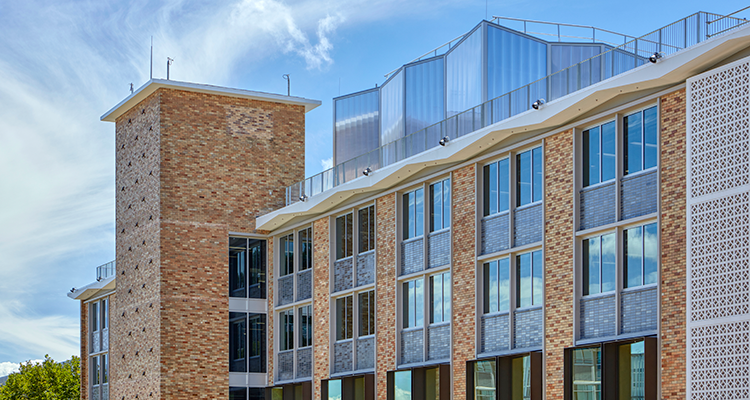 The renewed building has been transformed from the inside, adding a new dimension to the world-class research, teaching and learning at UNSW.
The refurbishment of Electrical Engineering Building (EEB) is now complete. The building, which is home to the School of Electrical Engineering and Telecommunications (EE&T), Learning Environments (CATS) and Nura Gili, is now equipped with new learning, teaching and research spaces to continue the world-class innovation and discovery that UNSW is known for.
Engineering students in EEB will enjoy laboratories designed for technology-based and remote learning and teaching. Large new hubs encourage self-directed learning in the labs and informal collaborative learning areas provide an outstanding educational environment for students. These learning areas front onto the University Mall, showcasing new ways of learning and inviting keen students to participate and use the space.
The new Advanced Design Laboratory will be available for extended hours to students and outreach programs, enabling cutting-edge electrical and electronic engineering projects.
Head of School Professor Eliathamby Ambikairajah said, "the School of Electrical Engineering and Telecommunications is the largest school in Australia, with the widest range of disciplines, and is ranked in the top 50 worldwide. This $104M project has created a landmark facility for generations of future research breakthroughs and innovations in learning and teaching."
The Electrical Engineering Building also features Australia's first quantum engineering teaching laboratory, taking UNSW's leading quantum engineering efforts from research into the classroom.
This building already has a strong history of discovery and breakthrough from within its labs. In 2017, the Australian Centre for Space Engineering Research, which is based inside EEB, developed the EC0 satellite – Australia's first in 15 years.
To continue this tradition of discovery, the building now hosts:
Australia's largest software-defined networking and Internet of Things (IoT) research testbed, which is a new facility for industry collaboration.

Australia's largest power electronic and drives research laboratory, paving the way for electric vehicles and renewable energy grid integration.

A new laboratory for power microgeneration and energy storage, developing capabilities for microgrids that can operate both independently and with a grid connection.

Large audio and radio frequency anechoic chambers for future mobile telecommunications and acoustic systems development.

A new laboratory designed specifically for technology-based and remote learning and teaching.
Electrical Engineering and Telecommunications research and academic workplaces are based primarily on the upper two levels of the building to support and promote research cluster co-location, interaction and collaboration.
Estate Management, the Faculty of Engineering and the School of Electrical Engineering and Telecommunications have collaborated very closely throughout the five-year project, to support this incredible development. The refurbishment, which started in January 2017 following extensive consultation and planning, has provided a building that truly reflects the world-class standing of the School of EE&T, and will hold its own against the facilities of the most esteemed electrical engineering schools in the world.
Comments