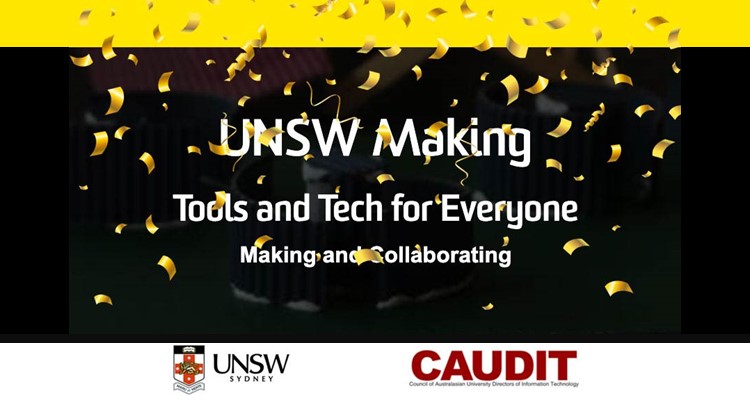 Cybele Wong and Melinda Wimborne have been awarded a CAUDIT Innovation in Teaching and Learning Award for their work on the UNSW Making web application.
A collaboration between UNSW IT and the UNSW Engineering Makerspace has been awarded a Council of Australasian University Directors of Information Technology (CAUDIT) Award.
CAUDIT Awards are the pre-eminent awards for outstanding achievements in Australian University and Scientific IT groups. Led by Cybele Wong (Developer in UNSW IT StARS Faculty Solutions) and Melinda Wimborne (Engineering Makerspaces Network Manager), the UNSW Making application was selected as the winner in the Innovation in Teaching and Learning category against a strong field of nominations, including Queensland University of Technology, University of Newcastle, University of Technology Sydney, Victoria University, Western Sydney University and a second UNSW nomination for the myEducation Portfolio.
Safety is paramount in the Makerspaces where they house heavy machinery and power tools. UNSW Making enables students and staff to complete safety training so they can safely use equipment in the UNSW Makerspace Network. UNSW Making has also been instrumental in allowing equipment to be shared between Makerspaces, removing the need for each Makerspace to buy its own collection of expensive equipment.
Since the release of UNSW Making, safety training and safe use of equipment in the UNSW Makerspace Network has become a quick, user-friendly process for students and staff. Prior to its release, safety training records were kept in separate files and equipment bookings required manual verification by staff as to whether makers were certified to safely operate the equipment that they wanted to use. 
"I couldn't be prouder of Cybele and the team for their achievement," said Mandy Schippers, Faculty Technology Manager, StARS. 
"This is a testament to the innovative and valuable solutions that can be produced through collaboration across UNSW."
UNSW Making was built in close collaboration with students and staff and was a combined effort between several University faculties and institutes, including Engineering, Built Environment, Art & Design and the Michael Crouch Innovation Centre. Among the many people involved alongside Ms Wong and Ms Wimborne were Anthony Ward (Design Lab Manager), Nichola Jephcott (Digital Fabrication Officer), Robin Au (Digital Fabrication Officer), Oni Laughton (Project Coordinator) and Elizabeth Laughton (UX Designer).
Comments