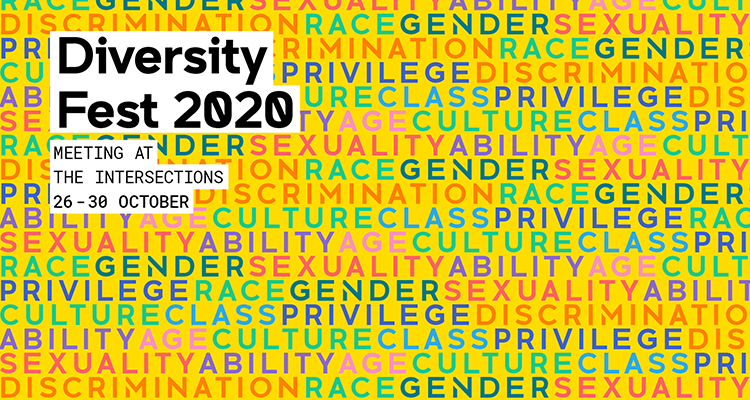 Join us in October to celebrate student and staff diversity at UNSW.
After the great success and popularity of the inaugural UNSW Diversity Fest in 2019, the second edition of the festival will return 26-30 October. An initiative of the Division of Equity Diversity & Inclusion (EDI), the festival is a celebration of student and staff diversity at UNSW.
"The aim of Diversity Fest is firstly to acknowledge that the UNSW community is made up of people from all walks of life, with lived experiences of diverse cultures, sexualities, gender identities and abilities," said Fergus Grealy, EDI Event Manager.
"Through the festival programming, we want to show visible support to these groups and also ignite broader conversations about how we can foster a more inclusive environment where everyone can participate."
The festival program offers more than 40 free events and activities across the week, including panel discussions, workshops, film screenings, art exhibitions and live performances. The program features contributions from students, staff and alumni from all parts of the UNSW community. EDI has also partnered with student union Arc@UNSW to produce their companion Arc Diversity Week, featuring 17 events organised by students for students.
"We asked contributors to respond to this year's theme 'Meeting at the Intersections', and think about how diverse communities and identities can be impacted by other societal factors. The festival is intended to provide a platform for diverse perspectives to be shared, create a space where these experiences intersect, and stimulate discussion on how we can stand in solidarity with each other," Mr Grealy said.
Program highlights include Weaving Together, a virtual weaving circle facilitated by UNSW Adjunct Associate Lecturer Dr Sarah Jane Moore from Tasmania and PhD candidate Luke Steller from the Kensington campus; Through My Eyes, a photographic project initiated by the Black Dog Institute that reveals fresh perspectives on disability; and the Australian premiere of the documentary Mr Emancipation. The program also incorporates events relating to Indigenous Business Month @ UNSW, UNSW Mental Health Month and the Be a Better Human campaign.
"Diversity Fest is now one of the most anticipated annual events at UNSW," said Professor Eileen Baldry, Deputy Vice-Chancellor, Equity Diversity & Inclusion.
"It reinforces that we are committed to ensuring everyone, no matter where they come from or how they identify, has the opportunity to succeed and live their lives free from discrimination and prejudice. Diversity Fest is an opportunity to highlight the strength and beauty in our differences.
"The festival is an opportunity to hold both difficult and joyful conversations, appreciate and honour people from different backgrounds, and truly connect with one another on a deeper level. It is also a chance to reflect on the progress that has been made and the work that still needs to be done."
This is your chance to speak boldly and learn freely, in a safe space. View the complete program of events and register here.
Comments