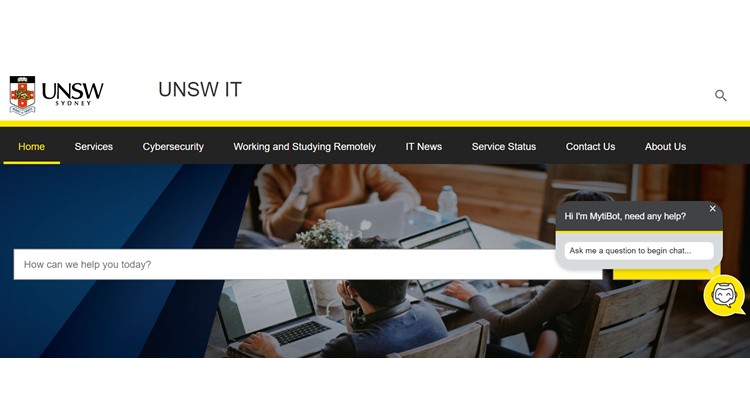 Need to set up your email or reset your password? IT's new chatbot can help.
In March 2019, the IT Service Centre received 6411 requests and incidents requiring IT assistance. In March 2020, the impacts of COVID-19 saw a 15% jump in enquiries, mostly relating to working from home. To improve the customer experience and to avoid long wait times for assistance on general enquiries, MytiBot was developed.
Launched in September, MytiBot has been programmed to answer not only numerous IT related questions but also non-IT related questions. For example, who to contact in the case of a power outage, library information, parking on campus and Moodle usage.
MytiBot has also been designed to learn. The more questions it is asked, the more its knowledge base will grow and develop. Your input is fundamental to this process and we invite everyone who uses MytiBot over the coming weeks and months to provide feedback, so we can continue to improve the bot.
We hope that the rollout of MytiBot will not only give people a quick and efficient way to resolve the most common issues, but also give the IT Service Centre greater capacity to focus on incidents that require more involved troubleshooting.
MytiBot is available 24 hours per day, seven days per week. If there is something that MytiBot cannot help you with, you can raise a request from inside the chat and one of our friendly staff members will assist you.
Comments