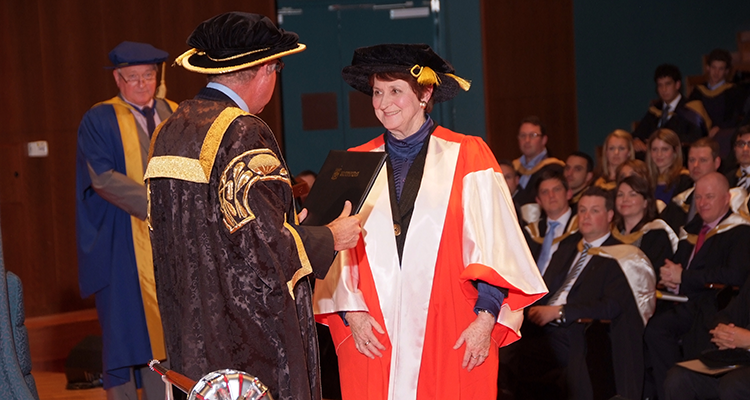 UNSW Sydney pays tribute to the highly respected Susan Ryan AO, who passed away at the age of 77.
Susan Ryan AO had a long relationship with UNSW and pioneered extensive anti-discrimination and equal opportunity legislation.
In 1998, Ms Ryan was appointed one of the first two Pro-Chancellors at UNSW, a position she held until 2011. She was a long-serving member of the UNSW Council and in 2010 was appointed as the inaugural chair of the Advisory Council for UNSW Arts & Social Sciences. In 2012, Ms Ryan received an Honorary Doctorate of Letters from UNSW in recognition of her eminent service to the community.
"Susan was outstanding, both in her contribution as a Council member and for her advocacy around our Council table, and generally for women and all students," said UNSW Chancellor David Gonski AC.
"She was a first-rate person who displayed a wonderful mixture of a love for education, a strong feeling for fairness and opportunities for the educationally disadvantaged, and an outstanding mind and understanding of what was achievable. We, and I suspect Australia generally, will miss her enormously."
Professor Eileen Baldry, Deputy Vice-Chancellor Equity Diversity and Inclusion echoed the sentiment.
"Susan brought her wealth of experience and knowledge from her pioneering policy and reform work and development in the government's education and women's portfolios to UNSW. She not only contributed to the broader University as a Pro-Chancellor but most generously to UNSW Arts & Social Sciences, advising and supporting equity developments in the faculty. Susan continued to advocate for gender equity at UNSW, including mentoring senior women into leadership," Prof. Baldry said.
Ms Ryan served in senior portfolios in the Hawke Government where she was the first woman to hold a Cabinet post and was appointed as the Minister for Education and Youth Affairs in 1983. She was also handed a new portfolio – the Status of Women – aimed at dismantling gender inequities in Australian society. In her time as the Education Minister, secondary school retention rates improved and participation at universities and TAFEs increased.
Ms Ryan retired from Parliament in 1987 and went on to hold several senior positions in industry, including president of the Australian Institute of Superannuation Trustees. In 1990, she was appointed an officer of the Order of Australia for her contribution to Parliament.
Professor Ian Jacobs, UNSW Vice-Chancellor hailed Ms Ryan's distinguished career
"I admire her many years of service to the nation and the impact of her contributions to equality, women's rights, education and to UNSW," Prof. Jacobs said.
In 2011, Ms Ryan returned to public life to serve as the Age Discrimination Commissioner, and in 2014 added disability discrimination to her roles at the Human Rights Commission. She was also appointed as a Fellow at the Whitlam Institute, leading research into gender inequality in 2019.
Professor Andrea Durbach from UNSW Law had worked closely with Ms Ryan at the Human Rights Commission as Deputy Sex Discrimination Commissioner.
"Given her pioneering work in enabling the Sex Discrimination Act decades earlier, she was an inspiring colleague and friend – generous, insightful and a brilliant strategist. What a huge loss when the world so deeply needs people like Susan to help it find its way," said Prof. Durbach.
Ms Ryan died on 27 September, aged 77. UNSW extends its sympathies to her family.
Photo courtesy of UNSW Archives.
Comments