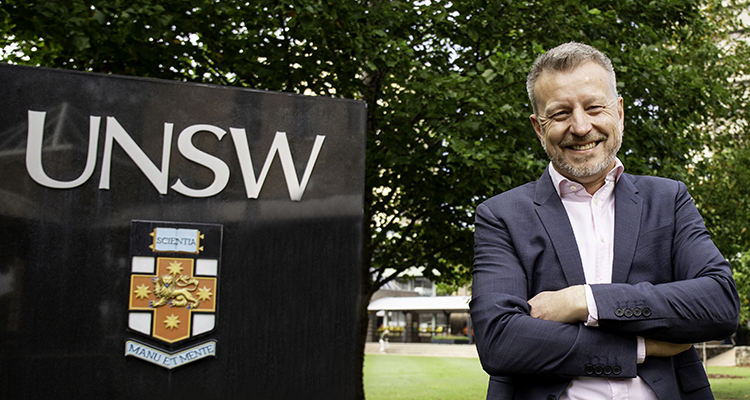 Following the appointment of Tim Catley as Chief Digital Officer in February 2019, UNSW IT commenced developing the University's five-year Technology Strategy.
UNSW IT has released the long-awaited Technology Strategy 2020 which is aligned with the UNSW 2025 Strategic Plan. After undertaking a co-design and stakeholder centric process, which included conducting over 70 interviews and workshops comprising more than 50 stakeholders from across UNSW, the Technology Strategy 2020 has been approved by Management Board and Council.   
"The endorsement of the UNSW Technology Strategy 2020 is an important step as we move forward to meeting our 2025 goals. Technology continues to become more pervasive and commoditised in our everyday life," said Tim Catley, Chief Digital Officer.  
"As a result, technology is not just transforming the way we work, but it also has a profound impact on how we teach, how we learn and how we conduct our research. By approving the Technology Strategy 2020, Management Board has acknowledged the important role that technology plays in the future of UNSW," he said. 
The engagement process identified the strategic needs of the University and technology risks, which informed the development of the investment plan ​and technology roadmap.  
"The aim in developing the Technology Strategy 2020 was to ensure that we best align technology to meet UNSW's 2025 strategic goals," said Adam Freeman, UNSW IT's Director of Strategy and Architecture.   
"We engaged and sought input from across the University, conducting interviews with students, academic and professional staff to ensure that we understood the opportunities for technology to contribute to UNSW's goal of academic excellence."  
The total investment of $239m over five years means the University can deliver on its priorities, including delivering a student centric experience; enabling our people with up-to-date technology; providing exemplary education and career pathways; and ensuring a rich research ecosystem is in place.   
Visits to other Group of Five and smaller universities informed the development of the Technology Strategy 2020.  
"I have gained a greater understanding of the technology environment of the education sector through visiting other Australian universities and further insight into their practices regarding investments in technology," said Mr Catley.   
The creation of the Technology Strategy 2020 was overseen by a Steering Committee which comprised UNSW senior leaders including Deans, Pro Vice-Chancellors, Directors and the Vice-Chancellor.   
"I am looking forward to seeing the successful implementation of the Strategy, shifting technology to be an enabler to improve our student experience, delivering flexible learning and teaching, and empowering our researchers in solving complex problems," said Mr Freeman.   
View the Technology Strategy 2020 document here.
Comments