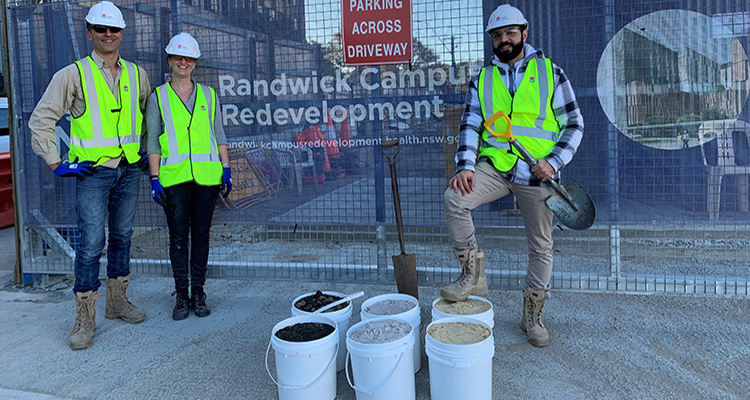 An eager group of postgraduate soil scientists was welcomed to the Randwick Campus Redevelopment site to gather samples which will help inform teaching practices at the University for the next decade. 
Over several months, Associate Professor John Triantafilis from UNSW Science and his students have keenly observed the changing typography of the Randwick Campus Redevelopment (RCR) project's construction site from vantage points within adjacent buildings. After contacting the redevelopment team, they gained a closer look into the site's excavation and inground activity where various soil layers have been revealed. 
During the visit, the group conducted observations and collected soil samples that will provide over a decade's worth of teaching material. The soil will be used mostly in second year teaching of Podosol-type soil. The samples collected are indicative of the three major soil horizons that characterise much of the Eastern Suburbs. Soil horizons are layers of soil that run parallel to the ground surface. Each horizon differs from the layer above and beneath and are defined by their features, colour and texture. 
While the samples from the RCR are purely for teaching, Associate Professor Triantafillis and his students conduct research on mapping soil properties and types in agricultural areas. The team's work extends into far North Queensland where they work closely with sugarcane farmers to manage fertiliser inputs and to mitigate run-off into the Great Barrier Reef and with cotton growers in northern New South Wales to improve understanding of where efficiencies can be made in the use of irrigation water. 
Among other excursions, the #UNSWSoilScienceCentral2020 group continued gathering samples for their digital soil mapping work last year when they visited the sugarcane growing area of the Herbert Valley in Queensland. 
Randwick Health and Education Precinct 
UNSW is partnering with the NSW Government to develop the Randwick Health and Education Precinct, which has received $1.2 billion in funding from the NSW State government and $550 million from UNSW over the next 10 years. 
The Precinct reflects a 50-year plan of the University to better integrate with the adjacent Randwick hospitals. The additional space made available through the new buildings will enable more spaces for health education, training and acute healthcare services, directly benefiting patients, carers and the community. 
Anyone interested in finding out more about the Randwick Campus Redevelopment or the UNSW Randwick Health and Education Precinct more broadly should contact Precincts@unsw.edu.au. 
Comments