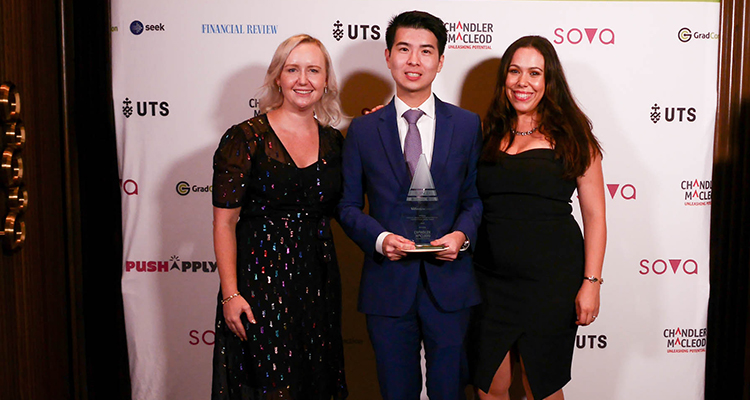 A record 27 students were listed in the Top100 Future Leaders Awards, with three students leading their chosen field.
A record-breaking 27 students from UNSW Sydney have been named in the Top100 Future Leaders Awards. It's the highest number of students to be selected from one institution since the inception of the awards in 2014. UNSW also won the inaugural award for Most Engaged Student Society.
The Top100 Future Leaders Awards, jointly hosted by GradConnection and the Australian Financial Review, aim to connect emerging talent from Australia's graduate pool with leading employers. Students took part in a highly competitive process, including psychometric testing, video interviews, a three-minute presentation, and participation in an assessment event with top employers.
Deputy Vice-Chancellor, Academic Professor Merlin Crossley congratulated UNSW students who made the list and emphasised the value of work experience.
"UNSW has a rich tradition of industry engagement and work-integrated learning opportunities. In 2019, we implemented our new academic calendar, UNSW3+, giving students greater flexibility to undertake internships, volunteering or an overseas experience," Professor Crossley said.
"Our graduates enter the workforce with an advantage as they have the real-world skills and experiences that employers value. It's wonderful to see so many of our top students recognised last night – congratulations."
UNSW's category winners were commerce and arts student Arthur Chao, who won the Westpac Banking, Insurance & Financial Services Award; accounting, banking and finance second-year student Kevin Surjadi, who won the CAANZ Accounting Award; and engineering and science second-year student Lehan Zhang, who won the AECOM Engineering – Mechanical/Electrical Award.
Mr Chao has completed six internships in the four years of his degree to date. The most recent, facilitated by the UNSW Business School, was at ASIC during the Royal Commission into Misconduct in the Banking, Superannuation and Financial Services Industry. In 2019, Mr Chao took a term off – with the added flexibility offered by UNSW3+ – to travel and complete an internship in Hong Kong.
"I'm very grateful for the Industry Experience Program (COMM2222) at UNSW Business School. UNSW is a very professionally orientated university. The Career Accelerator team helped me motivate myself to go out and look for internships to prepare for graduate life."
The UNSW Accounting Society took out the award for Most Engaged Society. The winner of this category is based on the number of references made to the Society in individual applications to the AFR Top100. The Society had three students in the Top100, including the current President and fourth-year Commerce/Law student, Daniel Wang.
More information about the awards, and individual profiles of the top 100 Future Leaders, can be found at GradConnection.
Comments