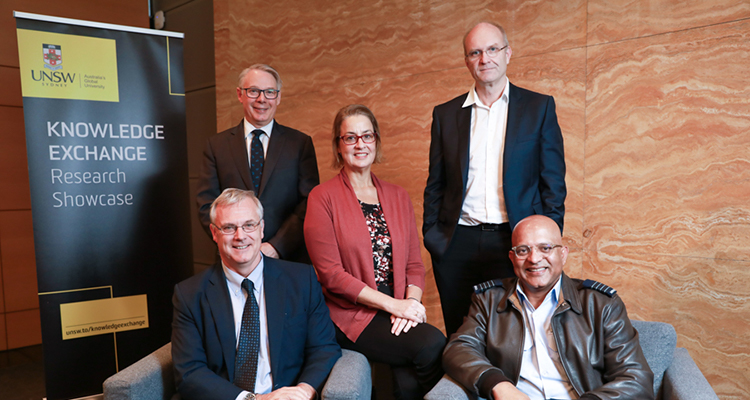 UNSW's world-leading defence knowledge and expertise were on display at the third Knowledge Exchange research showcase event.
Titled 'Defence R&D: An Instrument of National Power', Knowledge Exchange's third research showcase event brought together key groups across the sector. These included Australian Defence Forces, government, academia and industry partners to explore opportunities for collaboration to translate defence and national security research into transformational solutions. 
Identifying the rapid growth within defence R&D, the expert panel – made up of industry, defence and UNSW representatives – drew upon examples and case studies of advancements that have originated from university research labs. They discussed the opportunities and ways in which these key groups can unite to utilise academia's intellect, ideas and desire to make a difference with a view to achieving global impact.  
UNSW Deputy Vice-Chancellor of Research, Professor Nick Fisk, further emphasised the role these partnerships play. Professor Fisk highlighted UNSW's strong relationship with the Australian Defence Force and defence industries, dating back more than 50 years. 
"It is absolutely necessary to bring together experience and knowledge from across the country and across sectors encouraging collaboration and driving innovation if we are to achieve the best outcomes for the communities we serve," said Professor Fisk. "This is a central pillar of our institution's mission and we look forward to strengthening existing partnerships and forming new ones in pursuit of this mission." 
The showcase also marked the launch of the 'Defence R&D: An Instrument of National Power' capability portfolio. It provided insight into UNSW's research expertise across the areas of: quantum computation and communications; space research; engineering and missions; cybersecurity operations; advanced materials and manufacturing; global strategic trends and military futures; and trusted autonomous systems. 
Download the Defence R&D: An Instrument of National Power capability portfolio here.   
What's next?  
Don't miss the next Knowledge Exchange research showcase, Transitioning to a Clean Energy Future, on Monday 11 November. This showcase, the final event in the series, will explore some of the major changes needed to support a clean energy future. 
Invite your contacts within industry, government and NGOs working across the entire energy value chain, from electricity to gas to transport, or anyone who is interested in the latest thinking in these fields. 
When: 4.00pm to 7.00pm, Monday 11 November  
Where: Leighton Hall, John Niland Scientia Building, UNSW Kensington Campus 
Comments