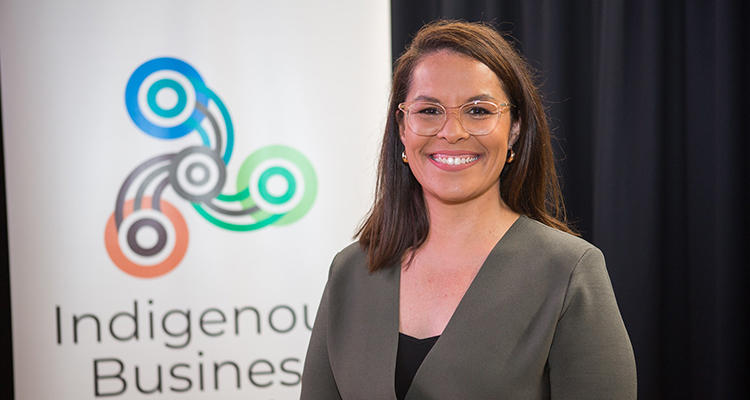 A series of events and workshops will take place at UNSW Sydney to celebrate Indigenous Business Month.
Market stalls, talks, films and book launches – ranging from the Indigenous digital economy and women in business to supplier diversity and the transformational growth of Indigenous business – create a jam-packed program for Indigenous Business Month @ UNSW.
"Since 2010, we have hosted an annual Indigenous business community forum with UNSW Indigenous business students, alumni, Indigenous high school and TAFE students, Elders, community members, industry representatives, and UNSW professional and academic staff," said Rebecca Harcourt, Program Manager Indigenous Business Education in UNSW Business School.
"This year, with the overarching theme being Indigenous ingenuity, we were keen to create a platform that reflects the depth and breadth of Indigenous business ingenuity, centring Indigenous voices and expertise at the heart of every session," she said.
"I'd like to thank Paul Dobing from UNSW IT, William Bailey from UNSW Procurement and Shauna Simon from UNSW Science for their invaluable support," she added.
"We hope you will all join us for a celebration of Indigenous ingenuity at a local, regional and national level."
From 10.30am - 1.30pm University Mall will come to life with a mix of unique and artisanal Indigenous stalls. A feast of film launches and talks by leading Indigenous entrepreneurs and trailblazers will take place in the Galleries, John Niland Scientia Building.
A series of specialised workshops will follow, including:
Navigating Indigenous business pathways @ UNSW

IP Business and the law – Terri Janke and Company

Design Making with Gregory Davis from UNSW Founders

Jilbamun Juwan (Our Journey): Indigenous Rights and the UN Sustainable Development Goals in action

Free tax skills workshop
The day will conclude in the Galleries with further keynotes, book launches and special announcements, culminating in a celebration at Scientia Lawn catered by Wiradjuri chef Jo Wolles from Goanna Hut.
Registrations are essential, so please register now via Eventbrite.
Indigenous Business Month is an initiative of the MURRA Indigenous Master Class Program (MURRA) alumni, to promote the variety and depth of Indigenous businesses nationally and to provide an Indigenous business voice to the national conversation. The Indigenous Business Month initiative is driven by MURRA alumni who see business as a way of providing positive role models for young Indigenous Australians. http://www.indigenousbusinessmonth.com.au/
Comments