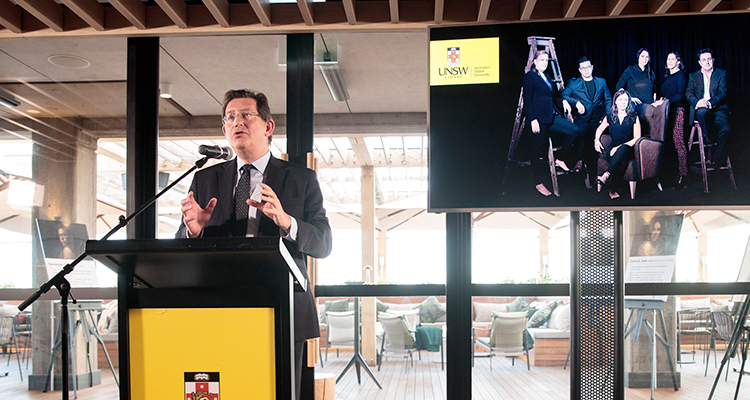 Last night, UNSW celebrated its 70th anniversary at the annual Town and Gown gala dinner. It was a chance to reflect on how far our University has come – from our start as a technology institute, providing opportunities for people who could not otherwise obtain them in the post-war era, to a global research and teaching leader. His Excellency General the Honourable David Hurley AC DSC (Retd) Governor General of Australia was a guest and speaker at the event, and the Prime Minister, the Honourable Scott Morrison, sent a video message of congratulations. In a unique moment in UNSW's history, the Prime Minister and Governor General of Australia, and the Premier of NSW are all UNSW alumni.
Farewell DVC Enterprise, Professor Brian Boyle
On Tuesday, a farewell was held for DVC Enterprise, Brian Boyle. Brian is retiring after a brilliant career, both as an astrophysicist and in his roles at UNSW where, since 2015, he has served as PVC Research, Acting DVC Research and, since August 2016, DVC Enterprise. In this role, Brian has led major growth of industry engagement and entrepreneurship at UNSW – doubling UNSW industry revenue from research and increasing the number of start-ups by a factor of four over the same period. I will personally miss Brian's thoughtful, wise counsel, his friendship, his willingness to take on responsibility beyond expectations, his wonderful sense of humour – and, of course, his Sean Connery impressions.  On behalf of UNSW, I wish Brian all the very best as he embarks on this new chapter.
Some encouraging news from the prestigious Nature Index which measures research outputs in the physical, chemical, life, and earth and environmental sciences, rating institutions for their contribution to papers published across 82 of the world's leading science journals. For the first time UNSW was the highest ranked Australian university following a steady rise over the last 3-4 years.     Strong contributions to UNSW's current position came from chemistry, quantum computing, climate change and biomedicine. Well done to all who played a part in our rise up the index. Read more about it here. 
70th anniversary UNSW alumni dinner
As mentioned in my last message, I travelled to Singapore to meet with senior regional university leaders to discuss the future organisation, funding and focus of university research looking ahead to 2040. It was an excellent meeting and we will be holding more of these roundtables in Australia and with other international partners. During the visit to Singapore I also had the pleasure of hosting a 70th anniversary UNSW alumni dinner. Since UNSW welcomed its first Singaporean students in the early 1950s, they have been some of our greatest ambassadors and our Singaporean alumni are some of our most engaged and supportive former students.  Special thanks to UNSW Singapore Council member FF Wong whose generosity made the dinner possible, and Singapore Alumni Association President, Joseph Kwok, for organising the event with the support of the Alumni committee. 
I was honoured to be among eight UNSW and UNSW-affiliated researchers to be elected Fellows of the Australian Academy of Health and Medical Sciences, at an event in Perth last week. DVC Research, Professor Nicholas Fisk, noted that our success reflects UNSW's strong links with the nation's top hospitals and medical research institutes. UNSW now boasts 14% of the nearly 400 Fellows Australia-wide. Congratulations to my fellow Fellows! You can read more about Professor Minoti Apte, Professor Sally Dunwoodie, Professor Stephen Jan, Professor Tuan Nguyen, Scientia Professor George Paxinos, Professor Balasubramanian (Bala) Venkatesh and Professor Mark Woodward here.
Congratulations to Dr Janet Paterson from Food Science & Technology in the faculty of Engineering, who was awarded a Lifetime Achievement Award by the International Association for Engineering and Food at the International Congress on Engineering and Food. Dr Paterson was an academic at UNSW for almost 30 years and is an alumna. She was among 13 people, selected from an international field, who were recognised in this way at an event in Melbourne last week. Janet was not just the only woman to receive the award this year, but the first and only woman to be awarded this lifetime achievement. It's a great first for Dr Paterson, for women in STEMM at UNSW and for Engineering.
President's Awards and inaugural Emerging Thought Leader Prize
I have had the pleasure of attending two events in this past week that showcase the spirit and talent in the UNSW community. The first was the President's Awards which celebrated the people who 'light up' our university and personify UNSW values in action. The awards attracted a record 300 nominations from right across the university's academic and professional staff. Congratulations to all the nominees and especially to the awardees, Isabelle Dobrescu and Alberto Motta (Builds Collaboration), David House and Kane Murdoch (Drives Innovation), Anthony Dever (Demonstrates Excellence), Gavin Greenfield (Displays Respect), UNSW Women in Maths and Science Champions (Embraces Diversity) and Eliathamby 'Ambi' Ambikairajah (People's Choice).  You can read more about the President's Awards here. The other event was the inaugural Emerging Thought Leader Prize, the aim of which is to recognise outstanding individuals who demonstrate courageous and creative leadership in the public interest. All six finalists were inspiring and the embarrassment of riches the expert judging panel had to choose from augurs well for UNSW as we seek to be considered a prominent thought leader on the many challenges facing our society. Congratulations to all the finalists and to awardee, Associate Professor Adriana Vergés. You can read more about the prize and the finalists, here.   
Congratulations to Professor Chris Davison and Dr Greg Vass and team, including Katherine Thompson, Michelle Bishop and Dr Richard Niesche, on receiving an award at the 2019 NSW Minister's and Secretary's Awards for Excellence.  The UNSW School of Education and their primary school partners – Matraville Public School, Matraville Soldiers' Settlement Public School, Chifley Public School and La Perouse Public School – received the Secretary's Award for an Outstanding School Initiative. The Culture, Community and Curriculum Project was a collaboration which aimed to provide engaging learning experiences that embedded authentic Aboriginal perspectives across the curriculum, in turn forging great connections between the schools and the local Aboriginal community. Read more about the team's award here.
New Academic promotions
Our DVC Academic, Professor Merlin Crossley, has approved the promotion of UNSW staff to Associate Professor, effective 1 January 2020. A full list is available here. I congratulate all who have reached this career milestone and look forward to your continued contribution to research and teaching excellence at UNSW.
NSW Planning and Public Spaces Minister, the Honourable Rob Stokes, last week officially launched the new UNSW-hosted Circular Economy Innovation Network. A circular economy aims to minimise the creation of waste, pollution and carbon emissions through recycling, repair and reuse. UNSW Circular, funded through the Office of the NSW Chief Scientist & Engineer, brings together industry, government, local councils, researchers and the community, and is led by Scientia Professor Veena Sahajwalla, Director of the Centre for Sustainable Materials Research and Technology (SMaRT). I applaud all involved in this great initiative. The collective power of the Network has enormous potential to establish the pathways to market that have, according to NSW Circular Board Chair, Emeritus Professor Margaret Harding, largely eluded the sector to date. The launch of UNSW Circular follows the federal Minister for the Environment, the Honourable Sussan Ley's, launch of a new federally-funded microfactory at SMaRT last month. You can read more about UNSW Circular here and more about the microfactory here.    
The Australian Government's announcement of $1.6 million for the New Colombo Plan Mobility program is good news for UNSW. This will give more than 380 UNSW students the chance to complete short-term study and work experiences in – and the opportunity to deepen their knowledge of – the Indo-Pacific region in 2020. The importance of student exchange cannot be overestimated. The Colombo Plan and New Colombo Plan, from their genesis in the 1950s, was about nurturing understanding between regional neighbours and making long-lasting connections. It did so with great success. UNSW's determination to leave a positive global footprint makes this type of outreach invaluable in that quest. You can read more about the NCP Mobility program here.
Comments