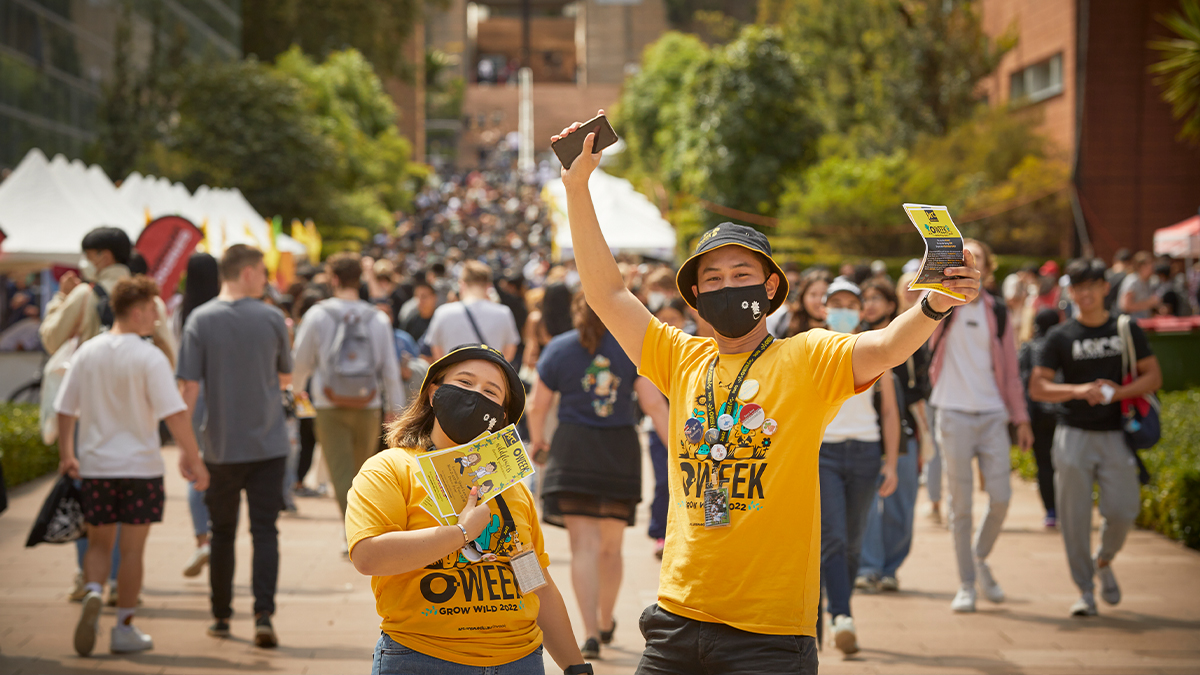 Kicking off Term 1 2022, thousands of students enjoyed experiencing our campuses in person again.
Thousands of domestic and international students descended onto the Kensington and Paddington campuses from 7 – 11 February for an Orientation Week (O-Week) like no other. The promise of 'the biggest O-Week ever' lived up to the hype with new students experiencing the fun side of University life, along with community, connection and lots of freebies.
The rainy weather early in the week didn't deter students from participating in on-campus outdoor events and activities. The Library Lawn, Main Walkway, Alumni Park and surrounds were brilliantly activated, ringing with the lively chatter of our new students, Arc Yellow Shirt volunteers and the 230 club and society fete stalls. Students were also encouraged 'to beat the crowds' by booking an ID card appointment and ensuring they had their enrolment and administrative needs sorted, to enable them to fully participate in O-Week.
Official O-Week events began with a Welcome to Country Ceremony provided by Aunty Yvonne Simms, a Bidjigal Traditional Land Owner from the La Perouse community. A live broadcast to three outdoor cinema screens meant that students were able to safely watch our new Vice Chancellor and President, Attila Brungs provide an official welcome to undergraduate and postgraduate students. Each of UNSW's six faculties delivered a welcome address, complete with an expert Q&A panel, which proved to be an exciting opportunity to connect with their first-year cohort. While UNSW has warmly welcomed back some of our international students to Australia, those still offshore could watch all official events via YouTube livestream and participate in online networking and Student Life sessions.
The vibrant energy across campus saw a level of high student engagement and initial evaluations have shown this was also the case for our offshore students, with over 6,500 views of official livestreamed events.
If you ask students what their favourite part of O-Week was, there is no doubt making friends and lifelong connections is high on the list… however, this year the free hoodies would have to be a close second.
A huge thank you and congratulations to all staff and student volunteers involved in the design and delivery of O-Week, T1 2022.
Comments